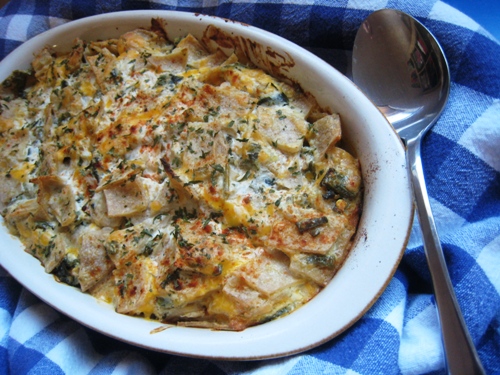 When critiquing freezer cooking, lots of folks will say, "but we don't like casseroles." And to a point, I get that. Especially if those casseroles are filled with metallic-flavored, canned cream of something soup. It can get a little trite if all your casseroles come from the same sauce or feature the same flavor profile.
But, I know from much experience that a casserole is cozy, filling comfort food. It's also easy to delegate to someone else in the family to cook up. If I'm gone at dinner time, my husband would much rather pop a lasagne into the oven than have to prepare a three-course meal — even if I've already made those three courses in advance.
Casseroles, depending on how they're constructed, can be one-dish dinners. You can serve a salad and bread on the side, but you don't have to. This makes for super easy serving and clean-up, perfect for mom's night out, or when the chief cook just wants to put his or her feet up.
I've created my November cooking plan (available next week in an easy download) to involve mostly casseroles and one dish dinners for this reason.
Here are some of our favorite casseroles for freezing:
Chicken Divan with Cheddar Crust*
Creamy Chicken Enchiladas*
Spinach and Feta Manicotti*
Shepherd's Pie*
Bean and Cheese Nacho Bake*
French Toast Casserole*
* indicates a cookbook recipe.
31 Days of Freezer Cooking
For more ideas about how to make freezer cooking work for you, follow along with us here in October as I post 31 Days of Freezer Cooking. You can see past posts here.
For even more Freezer Cooking how-to's you can also buy my book, Not Your Mother's Make-Ahead and Freeze Cookbook.
Don't want to miss a post in this series? Subscribe to 31 Days of Freezer Cooking by RSS oremail.