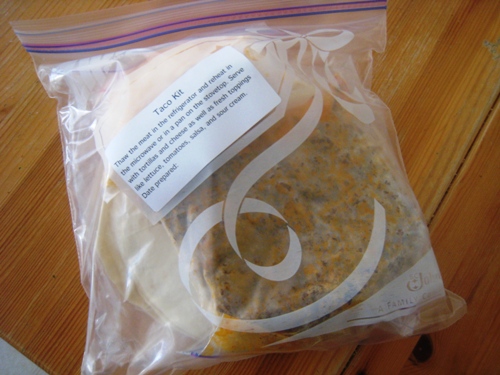 Years ago in my couponing days, I found these pasta kits that came with all you needed to create a full dinner. No doubt you've seen similar kits for tacos, burritos, or even pizza.
Why not make your own kit and stash it in the freezer?
I did this yesterday, creating taco kits complete with seasoned taco meat, tortillas, and shredded cheese. We'll thaw a kit in the fridge, reheat the meat, supplement with fresh lettuce and salsa. Voila!
Dinner is served.
You can make kits for pizza, tacos, burritos, and stirfry. Simply package the components individually and combine them in a larger freezer bag. Be sure to label it so that the fam can prepare dinner on their own on the night when you're out.
31 Days of Freezer Cooking
For more ideas about how to make freezer cooking work for you, follow along with us here in October as I post 31 Days of Freezer Cooking. You can see past posts here.
For even more Freezer Cooking how-to's you can also buy my book, Not Your Mother's Make-Ahead and Freeze Cookbook.
Don't want to miss a post in this series? Subscribe to 31 Days of Freezer Cooking by RSS oremail.