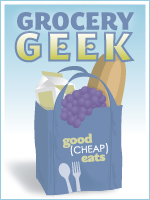 I'm calling this the end of the month. I know, it's only the 27th. But, I'm going to be doing a big freezer cooking fill on Monday, so my mind and my budget will be in November by this time next week.
The Eat-Down-the-Freezer experience went fairly well. We chipped away at quite a few freezer meals and freezer meal components.  Meal prep is getting a little more complicated, especially on the nights I'm away from the house during dinner time. So, I've created a new cooking plan for November.
I think I should call it the "husband-friendly meal plan" because many of the items are one dish dinners that your spouse or kids can put in the oven while you do other things. Anywho, I'll be sharing that on Friday over at Freezer Cooking Days at Life as MOM.
So, how did our October shopping end? Here's how:
Costco
Somehow I don't have a good picture of my Costco purchases. I was able to shop alone (good). Costco had stocked all the holiday party foods (bad). I'm thankful that self-control won the day and I did not veer from my list of half and half, turkey, cream, feta, cheddar, bagels, tortillas, and bread.
Total spent $52
Trader Joe's
On date night we cruised by TJ's for a few items: eggs, sunbutter, milk, almonds, mushrooms, cheese, olive oil, sour cream, and broccoli.
Total spent $40.
Abundant Harvest Organics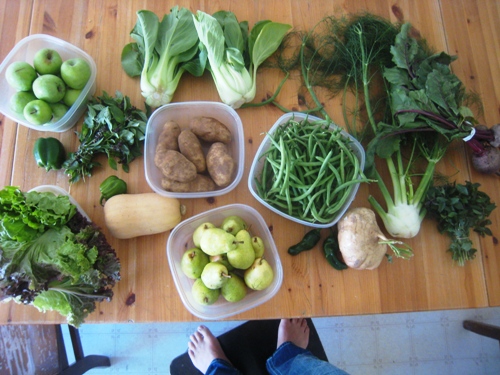 The produce box from AHOrganics was very GREEN this week, in more ways than one. It included fennel, lettuce, pears, apples, mint, basil, peppers, green benas, jicama, beets, potatoes, and choy.
Total spent $36
Total spent this week $128
Monthly expenditures to date = $668
Looking at the big picture
So far this year, our grocery expenses have bounced all around! But since we buy things in one month to use in the next month, it makes sense to average our spending over the course of a year. Here's how the numbers are crunching:
January = $442
February = $800
March = $1142
April = $615
May = $820
June = $940
July = $595
August = $912
September = $982
October $668
Total spent year to date: $7916
Average monthly spending for 2012: $791.60
So we're back below our monthly goal of $800/month for our family of 8. I'm hoping that next month will be able to keep pace. I know that batch cooking should help that a lot. We'll see…
How did your month go?