Time is money. Saving time in the kitchen is a great way to eat well and spend less. And winning a copy of my book is a great way to do it all!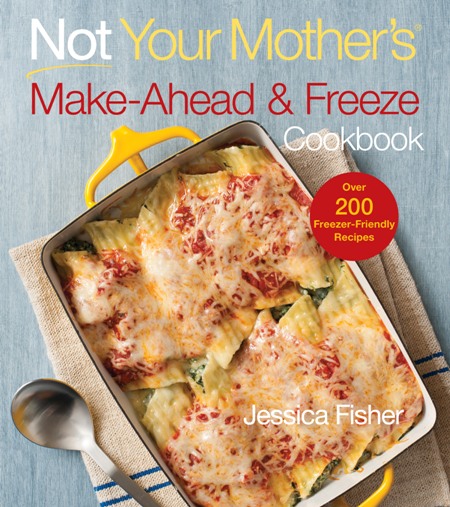 Each month on Life as MOM, I collaborate with a great group of bloggers to bring fresh inspiration to the topic of eating well and staying under budget. This month's Eat Well Spend Less posts address ways to save time in the kitchen.
Several of the bloggers are hosting giveaways of my book as well. In case you missed one of the posts, check them out for kitchen inspiration as well as enter the giveaways.
:: Save Time in the Kitchen with a Little Prep Work – Mandi has inspired me with her new Easy Homemade ebook. Over on the Easy Homemade Blog she shares tips on how to save time by prepping foods in advance.
:: Save Time and Money on Grocery Shopping – Since I am such a grocery geek, I share how I save time shopping. And it's not by clipping coupons!
Enter my book giveaway here.
:: My Morning Routine and a Cookbook Giveaway – Tammy posted how she saves time with a morning routine.
Enter her book giveaway here.
:: 5 Crazy Ways I Save Time on Prep Work – Katie K. is always thinking outside the box. She's got some great ideas for multi-tasking in the kitchen and saving time.
Enter her book giveaway here.
:: How to Bake Bacon and Other Time-Saving Tips for the Kitchen – Katie G. is a whiz in the kitchen. Be sure to check out her tricks for no-fuss prep, like baking bacon and using plastic bags to fill stuffed shells.
Enter her book giveaway here.
:: 9 Tips for Spending Less Time at the Kitchen Sink – Carrie is a girl after my own heart. I hate to clean. And she's got that area covered by sharing some secrets to lightning fast KP.
Enter her book giveaway here.
:: Eat Well and Spend Less with Kitchen Time-Savers: The Slow Cooker – New mom Amy loves her slow cooker. And for good reason. Who else will slave in the kitchen while you cuddle your new baby?
Enter her book giveaway here.
:: On Batch Cooking – Aimee is a busy mama with a busy household and urban homestead. One of her secrets is having a stash in the freezer. I like her style!
:: 5 Ways to Save Time Making Family Dinners – Mom of four, Shaina reveals her secrets to making dinner happen in a timely manner.
31 Days of Freezer Cooking
For more ideas about how to make freezer cooking work for you, follow along with us here in October as I post 31 Days of Freezer Cooking. You can see past posts here.
For even more Freezer Cooking how-to's you can also buy my book, Not Your Mother's Make-Ahead and Freeze Cookbook.
Don't want to miss a post in this series? Subscribe to 31 Days of Freezer Cooking by RSS oremail.