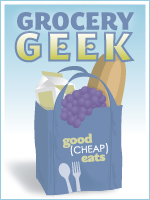 The month is half over. When did that happen?
The last two weeks have been a whirlwind for me, prepping for our vacation, going on vacation, and recovering from vacation.
Note to self: a vacation takes three times as long as the actual trip.
This weekend I've spent time doing some housekeeping and getting things back in order. I gave my office and kitchen — they're both my offices, aren't they? — deep cleanings, cracked the whip on the kids to get their rooms in order, and did the bookkeeping (got all our bank accounts reconciled, bills paid, budget meeting with the hubs, etc.)
The one thing that I didn't do, thus the title of my post, was be a hard-core grocery geek. Something had to give this past week, and that would be it. So, the star of the show (Elvis, aka Grocery Geek) has left the building.
And it's just me, Survival Girl and the Grocery Bags.
All this to say, don't expect great things from my grocery shopping. I looked for deals when I could, but I bought what I wanted, more or less.
Sprouts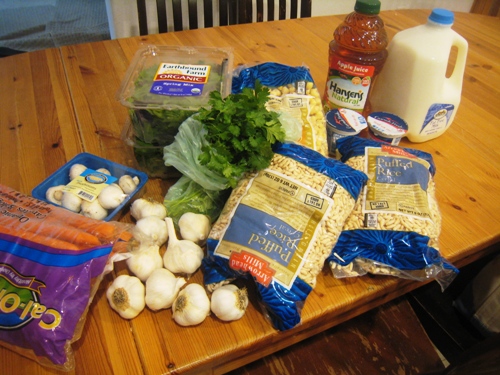 Sprouts has a great buy-one-get-one sale going on; it's great for stocking up on cereal and baby greens.
Sprouts is not a great place for things that aren't on sale. I needed milk, so I got it, even though it was a lot cheaper somewhere else.
milk $3.29
yogurt 2/$0.99 (BOGO deal)
apple juice 2/$3.99 (BOGO deal)
puffed cereals 2/$1.99 (BOGO deal)
cilantro $0.50
garlic 3/$1
5# bag organic carrots $2.99
organic baby greens 2/$3.49 (BOGO deal)
mushrooms $1.29
Total spent at Sprouts : $24
Abundant Harvest Organics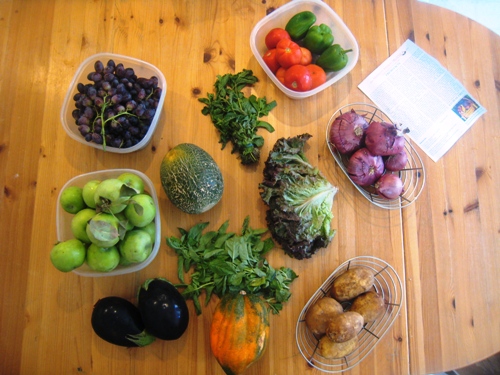 It's been several weeks that the produce box hasn't been "all that". I'm hoping this will pass soon.
The box had potatoes, melon, acorn squash, basil, grapes, apples, peppers, eggplants, red onions, mint, lettuce, and tomatoes.
Total spent on produce box : $37
Vons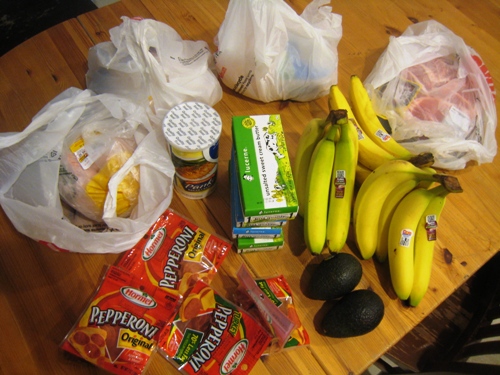 I cruised by Vons for some of their sales on stuff that we regularly use. These weren't things that we actually "needed", but this post from Mara got me thinking about stockpiling some things in case food prices really do jack up in the coming months.
And who are we kidding? The way my kids eat, we'll whip through these three chickens pretty quickly.
whole fryers $0.77/lb
pork chops $1.77/lb
avocados $1.50 each
bananas $0.47/lb
hormel pepperoni $1.82/pkg (a weird combination of coupons and sales)
butter $2.49/lb
panko bread crumbs $2.49
apple juice $2.49
Total spent : $54
Ralphs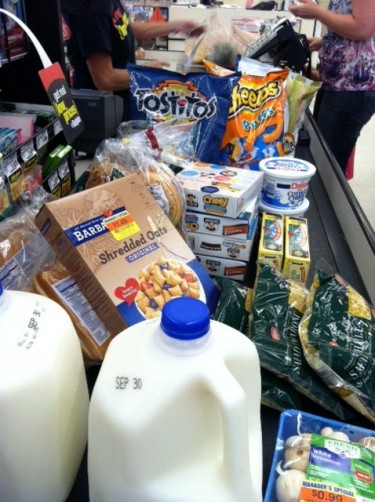 This is the doozy of the trips where I bought things I never buy. Packaged granola bars and Cheetos?! Say it ain't so!
Hubby bought Cheetos on our vacation for the kids. I realized there will be more occasions for Cheetos in the coming months, so I bought a couple bags on their "Buy 10" sale. I'd rather pay $1.77 for junk, than $3.99. Just saying.
The boys have hockey snacks to bring in the next couple weeks, so I'm planning ahead and paying $1.66 to feed junk to other people's kids. I kid! Sort of.
The plan is that we'll also provide juice boxes, frozen yogurts in the tube, and clementines, so it won't be all junk. But, the standard has been set with some kind of junky treat, and my sons don't want to be shunned by their teams.
Count on me to keep it real.
milk $2.69
cottage cheese $1.89
mushrooms $.99 markdown
bagged chips $1.77 to $2.49
pasta on close-out $0.83
granola bars 3/$5
hot dog buns $0.99
egg noodles $1.29
butter $2.99
cereal $1.49 markdown
Total spent $43
Total spent this week $158
Spent Month-to-Date : $709
With two weeks left in the month, I'm not sure how close to my previous budget goal ($800) I'll be. Let's face it, I'll be over since there are two more produce boxes in the month as well as the milk we'll need. And quite honestly, keeping a super trim grocery budget make just be the thing that has to give in this season.
None of us can "do it all". But I feel good that we had our money meeting this weekend. We know where we stand budget-wise and how far we can stretch it.
Tune in next time to see the continuing saga of Grocery Geek and her alter ego, Survival Girl. 😉