Fluctuating grocery prices can make it tempting to overbuy. So, what's the plan to conquer that?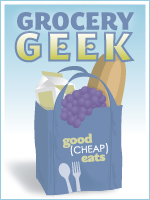 I knew that I would go over budget on groceries this month. Thankfully, hubs and I have always had a little slush fund to make up for that kind of thing. It's a safety in case my math is wrong somewhere.
In thinking about why we went over budget, I can narrow it down to three things:
a desire to stock up on seasonal produce, like apples to process for freezing
a yearning for some type of convenience in my busy days
an anxiety about rising grocery prices and potential shortages
I know that I bought more than "we needed" based on these three factors. Going into next month, I'm thinking through how to stave off these issues. At least some of them.
Seasonal stocking up – I'm going to continue to stock up on items that we want to enjoy throughout the winter when they become unavailable. I won't have the option to buy them later and I remember that it was great to have corn and beans last winter. We've got pickles and jam galore in the pantry, so those are things that I won't need to buy in the coming months.
I bought another 20 pounds of apples this week and ordered another 20 pounds for next week. These will become applesauce and apple pie. I also plan on making a load of pesto next week with extra basil I ordered. This freezes well and makes mealtimes a little more exciting.
Convenience – Between mine and hubby's diet and the start of school, meal prep has been a crazy affair. Now that we've both reached our goals — he lost 20 pounds and I lost 8 — we can adjust our diet a little more and not be such sticklers on keeping the calorie count low.
My solution? A more in-depth freezer cooking session this next week. I want simple, convenient meals, so those are the ones going on the plan.
Speculation on food prices – I'm not sure how to handle this one. It's an election year, so who can you believe? These are the techniques that got us out of debt years ago:
stock up on great prices
don't spend more than you have.
Thankfully, I haven't gone into debt over boneless, skinless chicken breasts. But, I know that it's easy to overbuy when you're in a panic. So, I'm going to go back to the envelope budget system for my groceries this month. This will force me to be more intentional about what I buy and not rely (too much) on the aforementioned slush fund.
Here's how the shopping went down this last week of the month:
Vons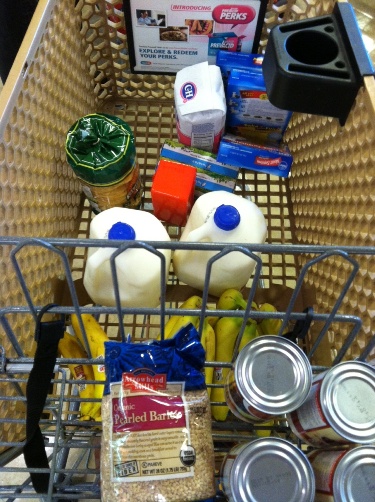 My Vons list was mostly to round out some things that I wanted for meals (tostada shells, cheese, milk, bananas) and stocking up on things that were a good deal, like sugar, cake mixes, and beans. I bought the barley because it's really hard to find at Walmart and such, and I want barley soup soon.
Total spent: $41
Abundant Harvest Organics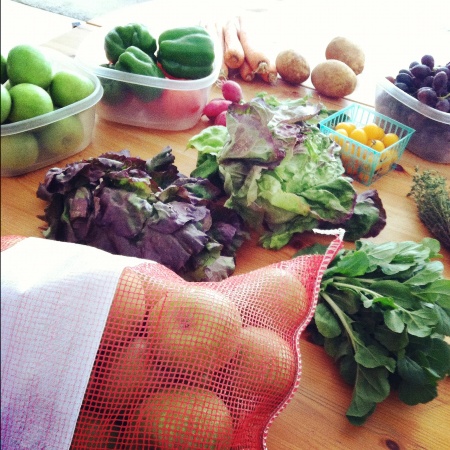 The produce box was beautiful this week, filled with eggplant, apples, lettuce, arugula, peppers, thyme, tomatoes, radishes, carrots, potatoes, and grapes. Just need to get busy processing it all and serving it up.
Total spent: $52
Not pictured:
More milk, and some meat stocked up at Sprouts.
Total spent: $20
Total spent this week $113, bringing the monthly total up to $982.
Looking at the big picture
So far this year, our grocery expenses have bounced all around! But since we buy things in one month to use in the next month, it makes sense to average our spending over the course of a year. Here's how the numbers are crunching:
January = $442
February = $800
March = $1142
April = $615
May = $820
June = $940
July = $595
August = $912
September = $982
Total spent to date: $7248
Average monthly spending for 2012: $805.33
So, there. I'm officially over our monthly budget by an average of five bucks a month. With three months left in the year, we can easily make up for the difference. If I play my cards right.
How do YOU handle your grocery challenges?