The weather just can't make up its mind. With cool drinks on hot days and hot beverages on cool nights, we've got the best of both worlds.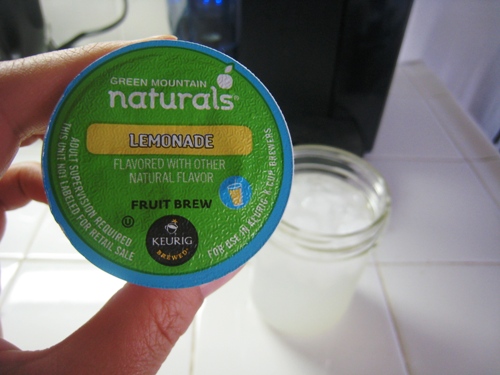 We had record temps here in San Diego over the weekend. I just stopped sweating yesterday. This week is supposed to see the 80's but Friday and Saturday topped 100 degrees. Post Labor Day. Go figure.
Last night we actually pulled on sweatshirts at the hockey game, so cool weather is not too far off. That's why I love the new beverages from Keurig. They've got "brew over ice" drinks like the Green Mountain Naturals Lemonade as well as cozy, hot drinks, like the  Hot Apple Cider. My kids love both.
A word from Green Mountain:
Made with real apples and a total of only five simple ingredients, Green Mountain Naturals® Hot Apple Cider contains no artificial colors, flavors or preservatives – just honest apple goodness with a hint of brown sugar and just a touch of cinnamon.

The first ever lemonade in a K-Cup® pack, Green Mountain Naturals® Lemonade combines the refreshing, sun-splashed flavor of freshly squeezed lemons with the convenience of the Keurig® single cup brewing system. This variety also contains no artificial colors, flavors or preservatives.
We've had our Keurig for over a year now and it's an amazing machine. I love it to brew a morning cup of joe. My kids use it to make hot cocoa or even boil hot water for their oatmeal. It's a safe way to help them be a little more independent in the morning.
This month you can get a discount on K-cups when you use the code GMN8163. This promo code offers 15% off all Green Mountain Naturals K-Cup® packs. The code is now active and will be available through October 3 on Green Mountain Coffee.
Disclosure: I have received product samples and product information from Keurig as a K-Cup Ambassador. All opinions are my own.