Rubio's offers up fantastic fresh Mexican food, including sustainable seafood. THIS GIVEAWAY IS NOW CLOSED> CONGRATS TO THE WINNERS: cdavisa@, Ktl157@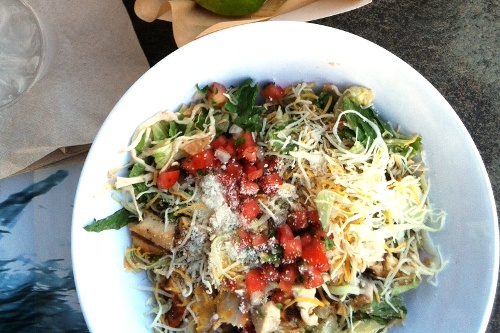 Our family just acquired a new favorite place to eat! Over the summer, we've enjoyed burritos, salads, and bowls from Rubios — and loved every bite.
Hubby and I first ate at Rubios last winter when we learned that fish tacos were only a buck fifty on Tuesdays. But, since we're on our new diet, we figured that was probably off the menu for awhile. However, a closer look at the menu showed us that there are a wealth of great dishes that aren't crazy on the calories!
I am in love with the Chopped Salad. In love.
Rubio's is a San Diego favorite that is slowly making waves in other parts of the country (Arizona, Colorado, Nevada, Utah). Its signature dish is, of course, the fish taco (which is amazing, by the way), but they offer a range of different fish, chicken, steak, and vegetarian options on the menu.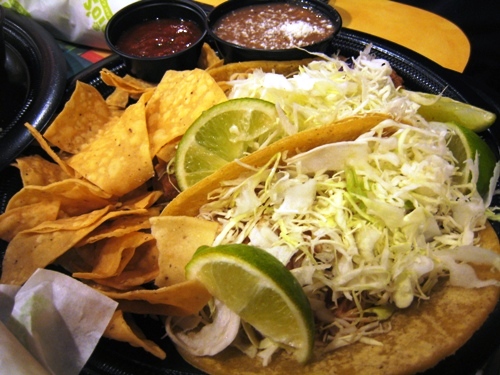 A plus is that the fish is all sustainable, making it a good choice for seafood.
Hubby usually chooses the Steak Grande Bowl, while our eldest son enjoys the Burrito Especial with Grilled Steak. The other boys have enjoyed the Bean and Cheese burritos and the girls split one of those. It turns out to be the perfect amount of food, especially since all the burritos come with chips as well.
(It's a nice little treat, especially when your son breaks a bone in his hand and the radiologist calls you late in the day to come in and get it wrapped and you miss making dinner. Ask me how I know.)
This week, I've got good eats to share with you, courtesy of Rubio's!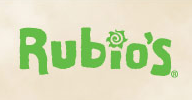 Two Good Cheap Eaters will each win $20 in gift cards from Rubio's.
To Enter:
Simply complete the information on this form. Please know that the information is only being gathered for the purposes of mailing you your prize in the event that you are chosen as the winner. This information will not be sold, traded, or given away.
This promotion is open until Friday, August 31st, at 8 pm PST and is limited to US residents, 18 years or older. Friends and family of Jessica Fisher and Good Cheap Eats are ineligible for entry. The winners will be chosen randomly. This post will be updated with the beginning of the winner's email address. The prize for this promotion is provided by and shipped by Rubio's and/or its representatives. Jessica Fisher and Good Cheap Eats will not be held responsible for unclaimed or undelivered prizes.
Disclosure: Rubio's treated our family to a meal, but we've gone back twice since on our dime. It's that good. All opinions are my own.