Healthier eating isn't free. We're spending more money, but the investment in better food is worth it!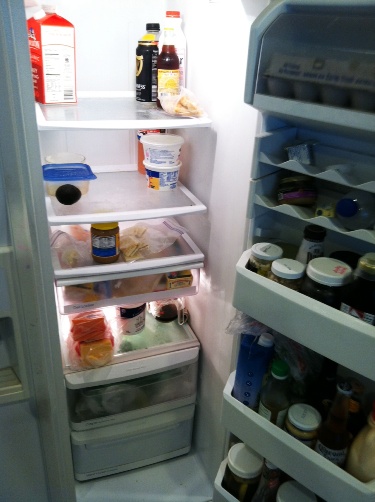 I think all SIX kids must be going through a growth spurt right now. I can't seem to keep any food or fruit in the house! The bread is long gone as are most of the items I bought at the beginning of the month, like crackers, frozen fruit, and milk. Oh the milk!
We're rich in condiments, whipping cream, and cheese as of this writing. And five melons ripening on the counter.
I put the produce box on hold this week; I'm not exactly sure that was a great idea. Hubby and I are seeing the value of low calorie veggies with our new little diet changes. I don't know that we've ever eaten so many veggies. I am ecstatic!
Despite two grocery stops this week, the fridge was pretty bare by Friday night.
Gulp. I guess I'm going to be going over the grocery budget this month. But, the flip side is that we're not eating out as much, so that money can get diverted to the grocery fund. And I think we're getting healthier. Hubs has lost at least 12 pounds and I've lost 5. We're looking forward to "maintenance mode".
We've learned so much about which foods satisfy our taste buds and our tummies — and which ones just really aren't worth the calories.
Again, my learning curve is changing direction!
While the fridge is looking bare today, here's what trafficked through it this past week:
Trader Joe's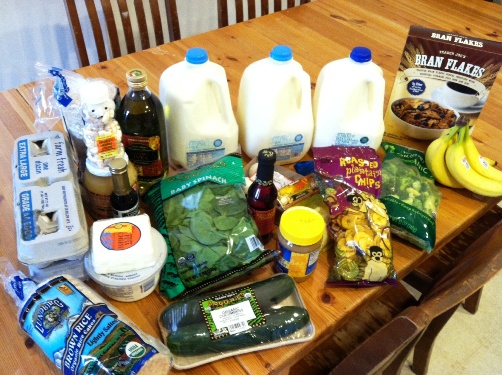 Pretty much just the basics at Trader Joe's this week: olive oil, red wine vinegar, mushrooms, cereal, bananas, broccoli, bran cereal, garlic, sunbutter, plantain chips, eggs, milk, children's vitamins, applesauce, rice cakes, yogurt, feta cheese, spinach, cucumbers, pork tenderloin, fish.
I lost the receipt, so I can't tell you what the break-down was.
Total spent: $70
Sprouts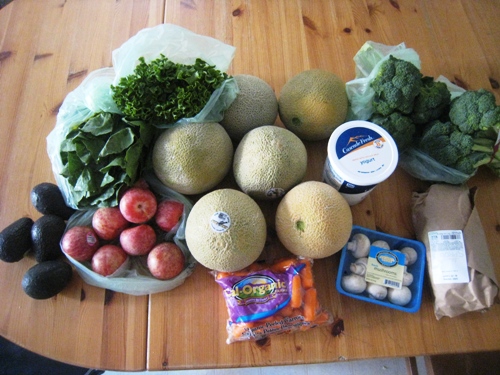 Hubby ran by Sprouts for me this week for more veg. We splurged on shrimp, but the deal on melons (3 for $1) helped balance it out. I wouldn't do that again. The shrimp wasn't "all that."
canteloupes 3/$1
organic lettuce $0.99 each
extra jumbo shrimp $6.99/lb
Cascade yogurt $2/large carton
avocados $0.69/each
organic baby carrots
organic pluots $0.99/lb.
mushrooms $1.25
organic broccoli $1.50/lb
Total spent: $32

MTD: $820
The good news is that everyone is eating really healthy stuff. The bad news is that we've gone over budget this month. Considering the contents of my fridge at this moment, however, we'll be going a little farther over this month.
But, as I said, less eating out is making up for that.
It may be that healthier eating — and less time to travel hither and yon for "the deals" — will increase our grocery spending come this fall. I've heard that food prices will be going up, so we'll need to get even more creative to stretch a buck.
Since I'm a numbers geek, I love to have some rational comparison. Considering that the most recent USDA food cost reports that our family should be spending $1157.80 on food on the "thrifty plan", I guess we're doing okay so far.
How's your grocery budget doing?