We continue to tweak our family's diet, adding more real food and eating good and cheap.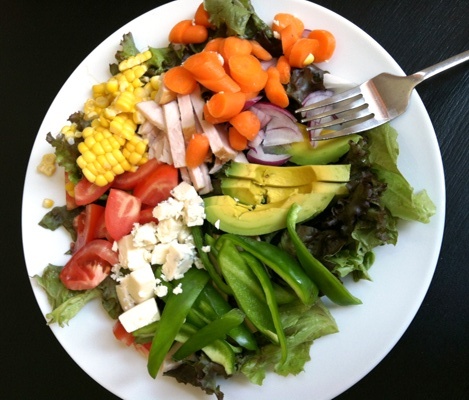 This week makes the second week in a row of some diet changes for the adults in our family. Hubby and I both realized that we were carrying around a little too much baggage, overeating a little too often, and not really operating at maximum capacity.
We started tracking our meals in the Livestrong Calorie Tracker app (lite version, aka FREE) and have had an eye-opening couple weeks. After the first few days our bodies are adjusting to eat lighter meals than we were used to. We're drinking more water. And we're shedding a few pounds.
As James Brown would say, "I feel good."
Checking the nutrition facts on everything has really been a lesson. Who knew that my very favorite meal at Red Robin was over 1000 calories?!
While we're "watching" what we're eating, we're also becoming more mindful of what we really enjoy and which meals satisfy, provide great nutrition, and don't bump us over our limits.
Take the salad above, for instance. It doesn't look like I was deprived at lunchtime. There's plenty of fresh produce, some good protein in the Costco oven-roasted turkey, and the pièce de résistance? That one ounce of Maytag bleu cheese. That was amazing.
It was a beautiful meal.
Diet Changes, Kitchen Changes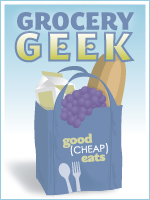 Since we're instituting a few new meal changes, my grocery shopping and cooking have been different. I'm reading labels. I'm measuring more. We're running out of vegetables!
Hubby is zeroing in on what meals work for him before work and while he's away for the day. I'm thrilled at his motivation. (This was all his idea.) He's ten years older than me, so I love it that he's mindful of his health and taking care of himself.
I intend to keep him around for a good long while.
So, my shopping was a little different this week. Probably not obviously so to the outside eye. But, where I previously might have shrugged when we ran out of vegetables, I went out and bought more this week. Thus, I spent a little more than I might have planned.
No-GMO with Trader Joe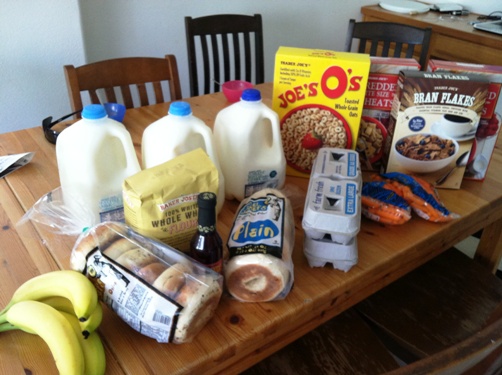 Hubby has found that eating breakfast before work is just the ticket to helping him manage his hunger. Trader Joe's store brand cereals (and all their store brands, actually) are GMO-free, so those are the ones we are fitting in the cart. The cereals range between $2 to 3 per box and can last him through several meals.
Here's how the TJ's run broke down this week:
bagels $1.99/6
milk $2.79/gallon
bananas $0.19/each
cereal $1.99 to $2.69/box
red wine vinegar $1.99
eggs $1.49/dozen
organic baby carrots $1.49/pound
white whole wheat flour $2.99
Total spent: $33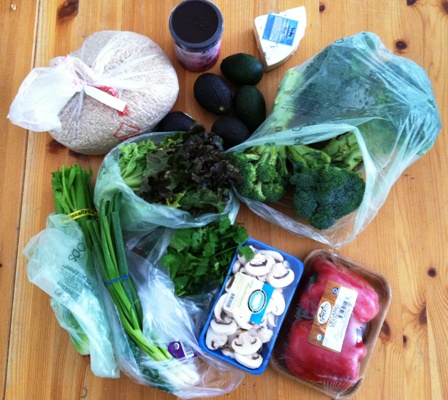 Sprouts for great produce and bulk items
Health food stores don't always have the greatest of prices, but Sprouts rocks it on produce and bulk items as well as meat and dairy sales. There are some items that aren't landing in the produce box that we really enjoy, so I'm buying those at Sprouts.
I was pleased to find Talenti sorbet on sale. The Roman raspberry has a mere 120 calories per serving making it the sweet treat that will fit the diet! Yeah! (Don't forget to enter the giveaway here.)
brown rice $0.69/pound
bleu cheese $4.55
Talenti sorbet $3/pint
cilantro 3/$1
avocados $0.77/ea
organic broccoli $0.99/pound
organic red bell peppers $2.50 each
organic leaf lettuce $1.25 each
organic celery $0.99
organic green onions $0.99
sliced mushrooms $1.99
Total spent at Sprouts: $28
The produce box rocks.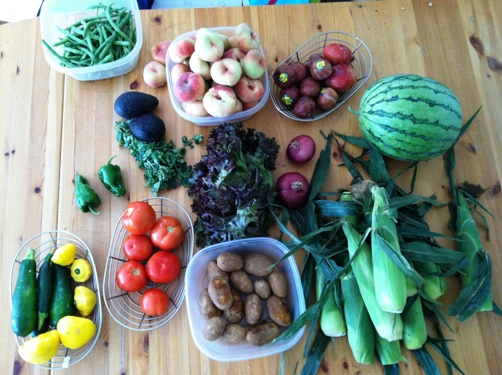 When I first started subscribing to our weekly produce box, I think my family was lukewarm to it. But, now they're practically on fire. We've discovered such wonderful tastes and foods.
We were stunned when I cut open that melon to find out it had yellow flesh?! See: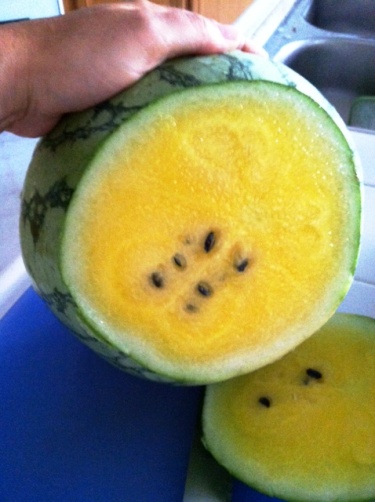 It disappeared in a matter of hours. I had refrigerated it for a day or two so it was amazingly delicious.
I'll be honest, the peaches are killing me. There are just too many of them; everyone's getting weary of peaches. If such a thing is possible. I may have to can them and just see how we like them that way.
Everything else has been well-received and devoured. The produce box from Abundant Harvest Organics has proven to be a boon to my kitchen.
Total spent: $42 (including delivery to my doorstep)
So, there's my grocery geekiness for the week. I spent $103 for the week, bringing our monthly total to date to $598.
How are things in your kitchen?