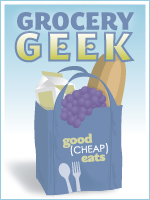 August has been hot. And low cal. And a little over budget. Not sure if this is a sign of the times, or what. I'm glad to say goodbye.
I've got a big freezer cooking plan for September. That's how I'm spending my weekend. And I'm trying to set our month up for success. My goal is to stick under the Thrifty Plan for all our food. (This means I won't be including cleaners and toiletries in my grocery budget.)
This past week I made one run to Trader Joe's. It was super easy because I had already taken an inventory of what we had. No need to go up and down every aisle because I knew what we needed.
Trader Joe's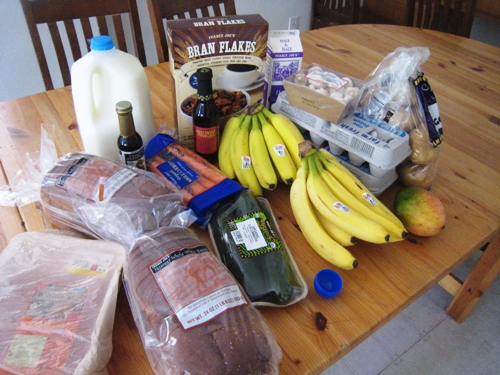 milk $2.79
bread $1.99
eggs $1.79
bananas $0.19/each
cukes $2.49
potatoes $3.99
cereal $1.99
ground turkey $3.95
sesame oil $2.29
mango $1.59
carrots $0.79
half and half $1.99
red wine vinegar $1.99
mushrooms $1.69
Total spent = $36
Abundant Harvest Organics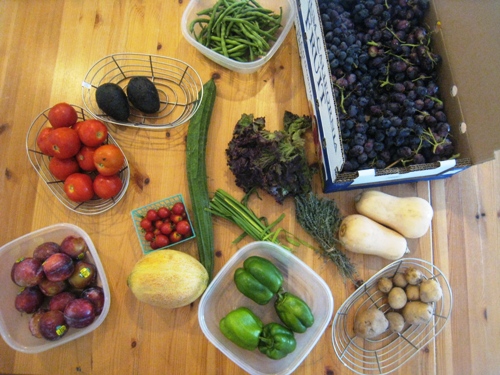 The produce box was surprisingly sparse this week. I'm guessing it's between crops? The grapes were an add-on, though there were some included in the box as well.
We had tomatoes, plums, melons, peppers, potatoes, squash, thyme, garlic chives, avocados, lettuce, green beans, and grapes.
Total spent $56 (includes delivery to my door)
Also in this month's food expenses were two more gallons of milk at $5 total. The total for the week was $92.
Looking at the big picture
So far this year, our grocery expenses have bounced all around! But since we buy things in one month to use in the next month, it makes sense to average our spending over the course of a year. Here's how the numbers are crunching:
January = $442
February = $800
March = $1142
April = $615
May = $820
June = $940
July = $595
August = $912
Total spent to date: $6266
Average monthly spending for 2012: $783.25