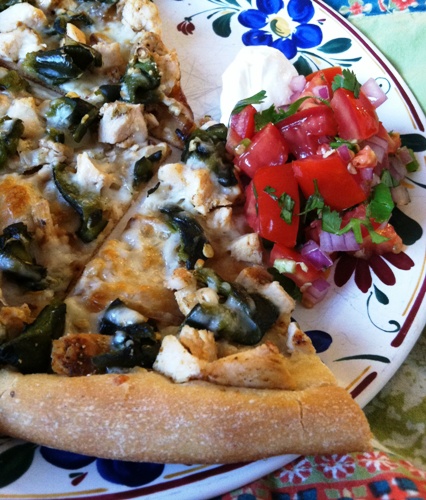 This week ends hubs' and my third week of watching what we eat a little more carefully. How this translates into real life is that he doesn't grab lunch at any old place anymore. I don't just stuff bread and cheese for a meal when I don't have a plan ready to go.
Instead, I'm stopping at Sprouts on my way home from a 2-hour drive in 95-degree heat to make sure we have enough vegetables. Wow! What happened to the girl I once was?
Well, hopefully, she's getting a little more fit!
Food is a huge deal to both me and my husband. HUGE. It's a hobby, if you will. We love to eat — both for nourishment and as a form of entertainment. I'm thankful that this new eating plan hasn't put a crimp in either.
I don't think either of us really thought we were overeating. It took a week to get over the withdrawals; we were so used to feeling FULL after a meal. We had to retrain our bodies that FULL isn't necessarily the goal. It was eye-opening to say the least. Now we're doing really well and seeing some changes on the scale, too.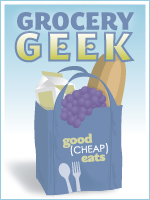 We're also saving money by having take-out less often. Hubs is packing a lunch more often. And our dining fund isn't emptying as quickly as it used to.
And we're eating well at home, too. Instead of putting gobs of cheese on the pizza, I'm measuring it out and finding out that we can do with a lot less than we were previously. I'm better able to stretch our ingredients this way, too.
Yet, even though we're saving money from our dining budget, we're probably going to take the grocery budget to the max. The freezer is still full and the snacks and cheese that I bought to last the month are looking like they just might, so that's good. But, we're going through milk and veggies! So, we may go over this month.
Here's the grocery round-up for the week: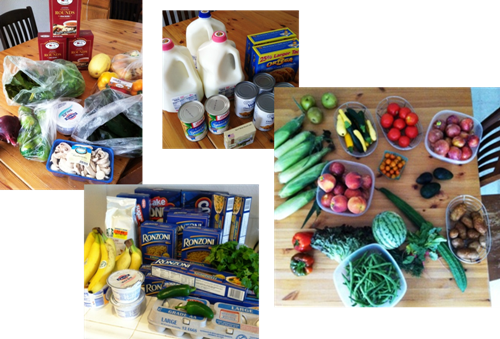 Sprouts
I picked up veggies, yogurt and pasta at Sprouts on my way back from LA. Not pictured, two gallons of milk.
Total spent $31.
Ralphs
Ralphs had a really great sale on pasta ($0.49/lb) so I bought ten boxes in addition to bananas, eggs, yogurt, sour cream, coffee, jalapenos, cilantro, and ice cream cones.
Total spent $31.
Walmart
We needed more milk. While I was at Walmart, I got the random ingredients that are pricier elsewhere: taco shells, sauerkraut, and garbanzo beans. Exciting, I know.
Total spent $17.
Abundant Harvest Organics
The produce box was full of beautiful things: corn, edible loofah, peaches, plums, peppers, radishes, potatoes, avocados, watermelon, beans, tomatoes, zucchini, tarragon. I froze the corn and beans and pickled the zucchini. Report later on the latter.
Total spent $41 (includes delivery).
This week we spent $120. More than I might have wanted, but some of it was stockpiling for the future (frozen veg and pasta). I put the produce box on vacation next week so that we can catch up. Yes, I'll probably buy some produce at the store, but not as much as the box might provide.
Total spent month to date: $718