In real life, dinnertimes don't always go according to plan. But, that's okay. The plan is there to serve YOU.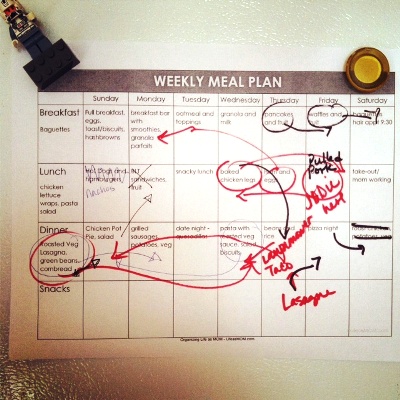 So last week I made a 3×7 meal plan and slapped it on the fridge. As you can tell, I referred to it frequently.
And made quite a few changes!
Hut one, hut two, hike! It looks like a football play, doesn't it?
It might bother some people if they didn't follow the plan, but this just makes me laugh. The plan is there to serve me, after all. And it did, even though I changed the plays often.
If you really don't want to commit each meal to a certain day, you are totally fine with just making a list of possible meals. In fact, that's a method I often use. But, since I want to make sure I'm making plans for every meal of the day during the pantry challenge, this 3×7, day-specific plan is working.
Even if it doesn't look like it.
This week, we're getting close to the end of the line. While there are still lots of bits in the freezer, the freezer that I desperately need to thaw out, I may or may not continue the challenge into next month. Our variety is dwindling. One can only eat pulled pork so many nights in a row.
As I mentioned yesterday, I'll probably do some freezer cooking with the meat that's left. I think it's gone fairly well so far.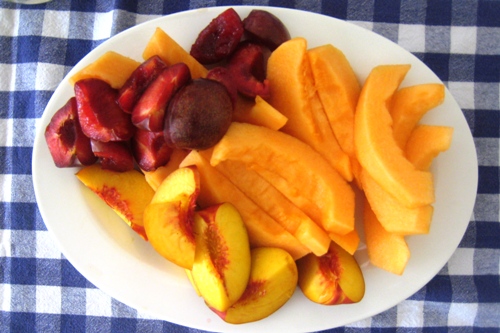 I put the produce box on vacation this week, so we're going to have a very clean refrigerator by the end of the week. That will be good for the massive freezer cooking I'll do next week.
Here's the meal plan for the week:
Monday
oatmeal with toppings
BLT sandwiches, fruit
enchiladas, beans, rice, salad
Tuesday
smoothies and muffins
cheese and crackers, veggie tray
pasta with vegetable sauce
Wednesday
pancakes and fruit
pasta salad, fruit, veg
sandwich night, potato salad, veggies
Thursday
waffles, fruit
salad bar with eggs and beans for extra protein
burgers and hot dogs,
Friday
eggs and bacon, english muffins, fruit
SBJ's
pizza night
Saturday
petit dejeuner
chef's choice
Sloppy Joes
What are you having this week?