This month as I tackle a pantry challenge, I'm writing a 3×7 meal plan, planning three meals for every day of the week. Here's a peak at this week's plan.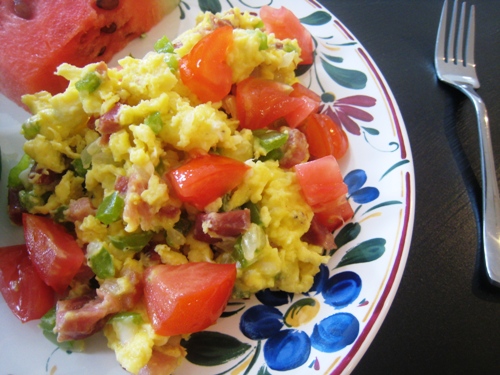 Last week, things didn't always go according to plan. We had a few more "snacky dinners" than I intended. But, we ate food we had at home, so that's what matters most. We had one meal of take-out after a long amusement park adventure. It was worth it.
Here's the week's plan, subject to change, of course:
Sunday
Breakfast: full breakfast – eggs, toast/biscuits, hashbrowns
Lunch: hot dogs and hamburgers (switched from last week)
Dinner: chicken pot pie (carried over from last week)
Monday
Breakfast: Breakfast Bar
Lunch: BLTs, fruit
Dinner: Grilled Sausages, Potatoes, Veg
Tuesday
Breakfast: Oatmeal and Toppings
Lunch: Snacky lunch
Dinner: Quesadillas, fruit salad
Wednesday
Breakfast: Granola and milk
Lunch: Baked chicken legs, veggie tray
Dinner: Pasta with Roasted Vegetable Sauce, Salad, Biscuits
Thursday
Breakfast: Pancakes and Fruit
Lunch: Denver Scramble
Dinner: Beans and Rice
Friday
Breakfast: Waffles and Fruit
Lunch:Sunbutter and Jam Sandwiches
Dinner:Pizza Night
Saturday
Breakfast: French Bakery
Lunch: Take out (Mom gone)
Dinner: Roast Chicken, Potatoes, Veg
What's cooking at your house?