To set my family up for success in the pantry challenge, I stocked up on basics so that they don't notice what they're missing.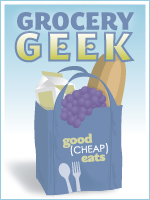 The first week of the pantry challenge is almost done. At this moment, I'd like to point out that this is not a "no-spend challenge". I've tried those before for groceries and it drives me crazy. It's just too hard in this season of life to squeak by without buying something.
That said, I'm hoping to buy less this month than in months previous. But, like I said last weekend, I don't want to stress it.
Sunday we got back from our staycation and the cupboard was bare. Well, not really. But since I like to start the week on a good foot, I did a 21-meal plan and hopped over to Sprouts for a few things.
Sprouts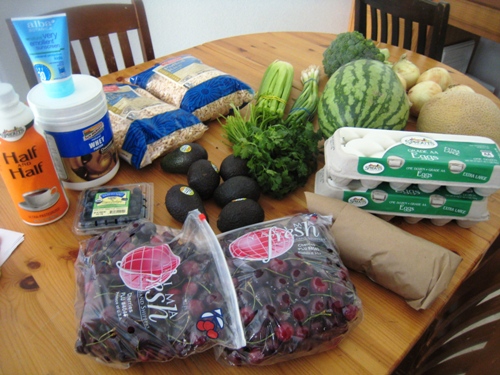 15yo boy requested protein powder and we needed more sunscreen, so those were the high priced items in the cart. Since folks seem to like the price breakdown of different items, I'll try to start recording them here. That may give you a better idea of how you can replicate or avoid my shopping adventures.
half and half $2.59
eggs $1.89/dozen
puffed rice $1.25/bag
sunscreen $7.99
chicken sausage $2.99/lb
melons $0.50/lb
cherries $1.49/lb
cilantro $0.33/bunch
green onions $0.33/bunch
avocados $0.50/ea
organic broccoli $1.49/lb
organic blueberries $2.50/pkg
organic celery $1.49/eac
watermelon $0.25/lb
yellow onions $0.33/lb
protein powder $17.59
Total spent $64
Costco

It may seem odd that I went to Costco during a pantry challenge. What is she thinking?!
This is what I'm thinking: I want to plan for success this month. If my family thinks we are lacking, it will be hard on them. We were out of cheese, pasta, milk, bread, and tortillas at the beginning of the week. These are veritable staples around our house. I knew that having these would make the rest of the challenge to eat down the pantry.
nonfat milk $2.24/gallon
#10 can of tomatoes (for pasta sauce at the end of the month) $2.89
Cascade $9.39
heavy cream $6.49/half gallon
half and half $3.99/half gallon
pepperoncinis $4.99/2 jars
English muffins $6.49/4 packages
organic spaghetti $7.99/8 packages
organic whole wheat spaghetti $9.39/8 packages
chocolate chips $10.99/72 ounces
hormone-free shredded mozzarella $10.29/5 pounds
romano cheese $5.99/pound
sourdough $3.39/2 lb loaf
cheddar $8.79/2.5 lb
medium cheddar $7.99/2.5 lb
pepperjack $7.99/2.5 lb
tortillas $3.39/2 dozen
organic ground beef $17.99/4 lb
bacon $10.99/4 lb
turkey breast $15.28
Italian sausage $8.69/3 lb
Total spent $173
Abundant Harvest Organics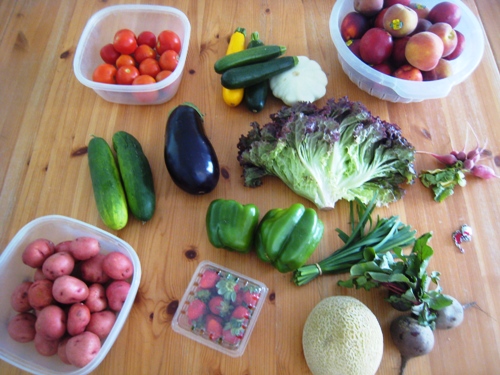 The produce box doesn't look like much, but it's lasted us quite some time. This week's box includes potatoes, strawberries, melon, beets, radishes, chives, peppers, cukes, nectarines, peaches, eggplant, tomatoes, squash, and lettuce.
Total spent $42 (delivery included)
Target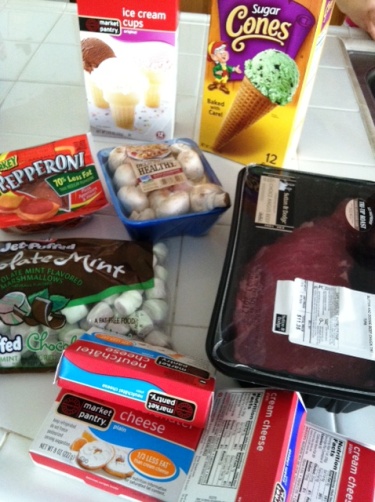 I didn't intend on any more grocery shopping, but we stopped at Target for a birthday present and one thing led to another. I realized I hadn't thawed anything for dinner. A child asked me for chocolate mint marshmallows. I remembered we didn't have pizza toppings. And I saw that Target's cream cheese is hormone-free, something that is hard to find in my neighborhood.
So, yes, we bought a few comestibles.
In my defense, I also had Target gift cards to burn, so I didn't spend anything out of pocket. I would have spent:
cream cheese $1.49 each
tri-tip $11.35
pepperoni $2.84 (best price I've seen anywhere)
marshmallows $0.99
sugar ice cream cones $1.99
wafer ice cream cones $1.42
mushrooms $1.79
Total (not) spent $26
The plan for the rest of the month
I've got my work cut out for me for the remainder of July. I'm going to need to do some baking to curb our bread spending. We have fruit and veg and cheese and meat to cover us. But, I really want to empty the big freezer, so I'm going to need to be strategic.
Total spent July, to date: $279