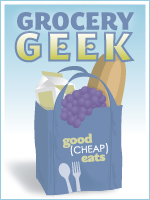 This last week flew by in a flash. We had a house guest from Kansas City. We did the beach and Legoland and the movies. The days were just packed! And I ended up making two trips out to the stores during the week.
Ralphs
Early on I headed to Ralphs to stock up on milk and tp as well as some fruit and veg on sale or markdown. Stocking up on three gallons of milk instead of my usual two was a good call. It kept me from too many trips out.
I thought I had scored with my markdowns, but no. Unfortunately that kale salad was a wasted dollar. It was a little past its prime. Bummer!
We were low on fruit when I went so it was nice to find organic berries on sale. I kind of splurged, but they made for really nice breakfasts.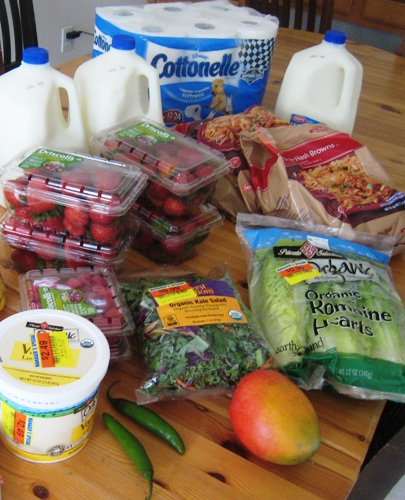 toilet paper $7.29
hashbrowns $2.49/2 # bag
milk $2.55/gallon
organic raspberries $1.99
organic strawberries $1.99
bananas $0.29/lb
mango $0.34 each
organic kale salad $0.99
serrano peppers $0.12
organic romaine $0.99
organic yogurt $2.49
Total spent $39
Walmart
I stopped at Walmart later in the week to check out the school supplies and picked up a few things we could use while I was there.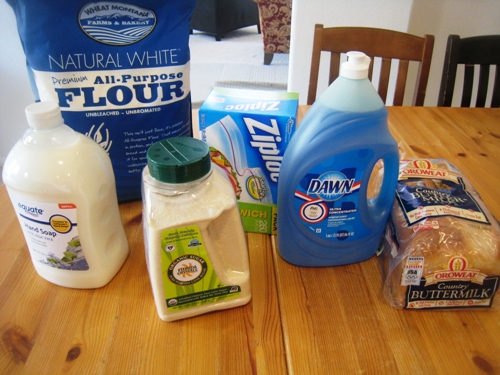 flour $5.72
bread $2.98
organic sugar $3.98
dawn $5.64
sandwich bags (mega pack) $5.98
hand soap $3.88
Total spent $29
Produce Box

We're not short on fresh produce now. The race is on to eat these peaches before they're too ripe. The produce box held corn, watermelon, rosemary, green beans, lettuce, peaches, squash, plums, tomatoes, peppers, and potatoes. I bought an extra 15 pounds of peaches for ten bucks.
Total spent $52
This week's expenses totalled $120. Still more than I wish I had spent. Time to buckle down next week.
Total spent month to date: $399