Finding affordable sources of the foods you want makes all the difference in how you spend and in how you eat.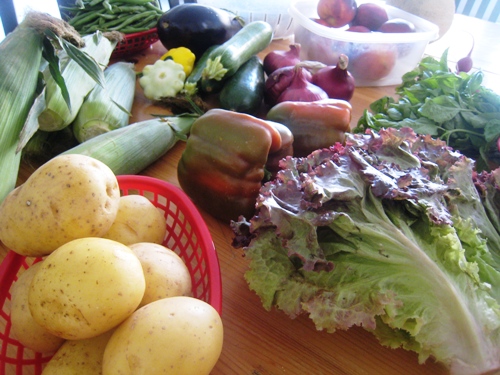 For some reason, getting the produce box each week is like opening a Christmas present. Especially now that summer is in full swing. So fun! And my mind just whirls with what to do with it. There are so many options!
In case you missed it, last week I shared some tips for making the most of your produce box or CSA share. Slowly, but surely, I've been working on ways to use all this up in ways that we enjoy before it goes to waste.
In some ways it's like a dream come true. A little over a year ago I was bemoaning the fact that I lived in the bread basket of the country and couldn't find farm fresh produce at a price we could afford. And Eureka! I've found it.
It's all about sourcing.
What I've realized about this budget eating + healthy food + good tastes conundrum is that it's all about sourcing. If you find a great source of the thing that you're looking for at the price you can swallow, that makes all the difference! To your eating pleasure, to your budget, to your grocery geekiness.
These sources of great deals and good food vary by region and by the stores and sales in our various locale. For some folks, Aldi is their go-to source for great food prices. Aldi only goes as far west as Texas. For others, Trader Joe's is where it's at. For someone else it's a cool grocery store that triples coupons on a regular basis.
We all gotta just go with it.
I love hearing about how people make it work for where they live. I know how it feels when you find just the right place for you. I danced a happy dance with Renee on her vacation when she found such great produce prices in Montreal, something that's hard to do in her regular Canadian home. And though I have no intention of following suit, I love it that Connie is milking her own goats and making frozen yogurt from it! I totally "get" Anne's initial struggle to raise her family's grocery budget.
I know what it is to struggle to find good deals, to struggle to find room in the budget to buy more of what you want. I have not forgotten what it is to be deep in debt. And I'm saddened when I hear of folks struggling to make the ends of the months meet. I remember those days all too well.
So what do we do? We rejoice with those who rejoice and weep with those who weep. Even if it's just about groceries.
It's kind of where real life is.
And then we swap stories and tips so that we can help each other find the right food sources for our family.
When I posted my very first grocery geek post in 2008 on my personal blog, it was, quite honestly, to brag about the great deals I got and all the free stuff that coupons scored me.
These days I'm simply sharing my grocery purchases to give a real life look into how one family of 8 makes it work for about $800/month. Our budget might be different than yours, but I hope that you can see examples of stockpiling or ways and places to shop in order to feed your family good cheap eats.
My learning curve is straight up on feeding my family whole foods on a thrifty budget. But, it's a pretty tasty adventure. And I will not go quietly.
The Pantry Challenge, week 3
The Pantry Challenge continues. I've not been "hardcore" this month because I knew we didn't have a ton of stuff to begin with. I'm buying just the basics to make the weeks doable and then drawing on what we already have.
That said, I'm not sure we'll be able to use up all the little bits in the freezer by the end of the month, so I may need to carry this little adventure into next month.
I've actually added stuff to the freezer what with the produce box and all, so at the very least we'll do some stock rotation.
Here's my weekly grocery update, in case you were wondering:
Ralphs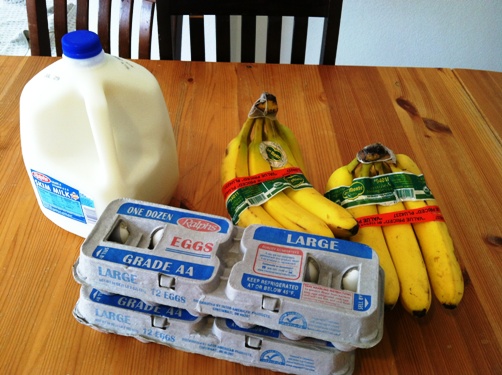 I spent $8 at Ralphs on milk, eggs, marked down organic bananas, and tortillas. Prices went this way:
milk $2.55/gallon
bananas $0.29/pound
eggs $1.50/dozen
tortillas $2
And yes, I did exercise great restraint. There were all kinds of markdown stickers all over the place.
Total spent $8
Trader Joe's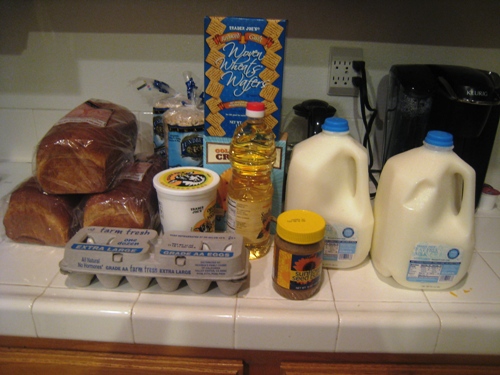 A few days later, I stopped at Trader Joe's for a few more basics. We'd already gone through quite a few eggs. And the milk supply was dwindling. I decided to stock up on their Harvest Bread. At $2 a loaf, with no soy or hfcs, it's a good deal for store bread. And it made a few lunches a lot easier!
milk $2.79
eggs $1.49
bread $1.99/loaf
crackers $1.99 and $2.29
sunflower oil $3.99
organic yogurt $2.99
sunbutter $4.99
ricecakes $2.49
Total spent $35
Abundant Harvest Organics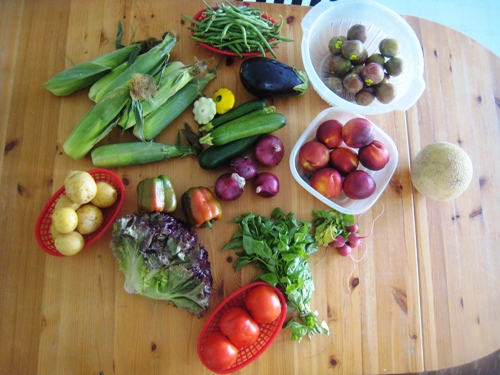 The produce box held a veritable cornucopia of goodness this week: tomatoes, basil, radishes, lettuce, peppers, melon, potatoes, onions, nectarines, summer squash, corn, plums, eggplant, and green beans.
Even though it's all beautiful and yummy, I put next week's box on vacation to save some coin and help us catch up. I might need to buy a few things at the end of the month, but certainly not forty-dollars' worth. I'm thinking that three weeks on and 1 week off may work really well for us.
Total spent $42 (delivery included)
Target
I didn't plan to shop groceries at Target but I had a high value meat coupon to redeem and couldn't find the product anywhere else. So, while I was there on a school shopping trip with some of the kids I checked out their market area.
Lo and behold! Not only did they have the pork tenderloin I was looking for, but they also had marked down their pork shoulders that were too close to the pull date. I got three large roasts for $4 each! It worked out to just a little over a dollar a pound for all this meat. You just can't say no to that.
I've found lots of great meat deals like this at Target before. I need to keep that in mind in the future. I don't go there that often, but when I do, I need to check the meat.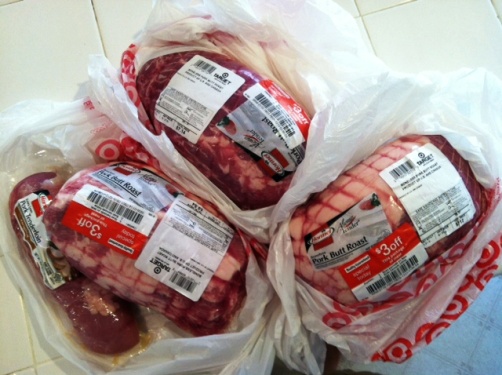 Total spent = $13
This week's expenses totalled $98. Slowly the number is creeping down in the month. We have lots of food still to carry us into next month. It's just darn sales and creativity that are tempting me.
I know we have milk to buy next week and probably some veg, but we should be able to keep it under $600 for the month which is yielding us a $200 savings for this pantry challenge.
If it weren't for school starting in a week, I'd say let the challenge continue. But, I'm teaching SIX KIDS this year and I'm going to need to buy some things to make things easier if I can — or go batty.
Total spent month to date = $497
How about you?
If you've got a great food source in your neck of the woods, please tell us about it in the comments. Be sure to share your general region, the name of the store/source, and how it benefits you. We want to help each other find the right food sources so we can all have good cheap eats.