A pantry challenge can be a great way to reduce expenses, use what you have, and waste less.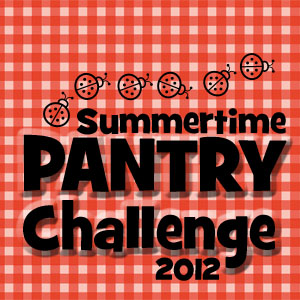 Twice a year for the last several years, I've spent the months of January and July doing a "pantry challenge". This is a time when I try to make good use of what we have in the fridge, freezer, and cupboards as well as make a concentrated effort for stretching our dollars as far as I can.
Within reason, of course. Life is always subject to change.
Yesterday, I shared my monthly and yearly grocery spending update. Even though I went over budget, our yearly grocery spending is averaging just under $800/month to feed eight people and buy necessary toiletries, cleaning supplies, and paper products.
This number is not as low as some, but having done a grocery spending audit earlier this year, I know that it's legitimate for a family of our size and age as well as for one that is trying to reduce processed foods and eat more real food. My kids are pretty ravenous these days, so I don't plan on lowering our monthly average until someone leaves home!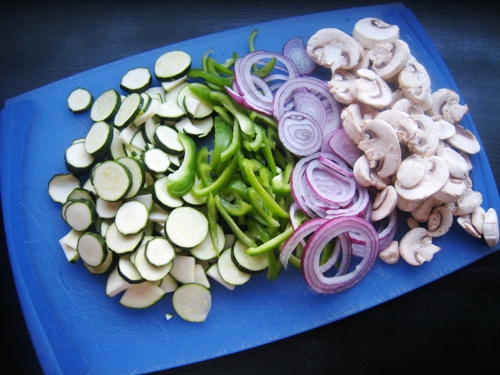 I hesitate to do a traditional pantry challenge this month for several reasons:
My six children are ravenous, particularly my teen and tween boys.
This is the season for great summer produce and preserving it. I don't want to miss out.
I haven't been stockpiling like I did in my bigtime couponing days.
It's been a tricky dance to keep under budget. Some months have been way over, some less.
Basically, I want to relax this summer and not work too hard. However, since I'm such a traditionalist, I am going to attempt a pantry challenge again this July. In the old days, I made extreme goals of spending as little as possible. But, I didn't have the four circumstances above working against me.
I also know the benefits of eating down the pantry. Check out my recent post on Keeper of the Home if you missed it. I know that a Pantry Challenge can help me waste less, learn to make do, discover old and new favorites, shop better, be more creative, and save money.
So, I'm in! Are you?
My goals for the Summer Pantry Challenge
I sat down and took mental and physical snapshots of our food storage. We've got food, but it's mostly disorganized. See?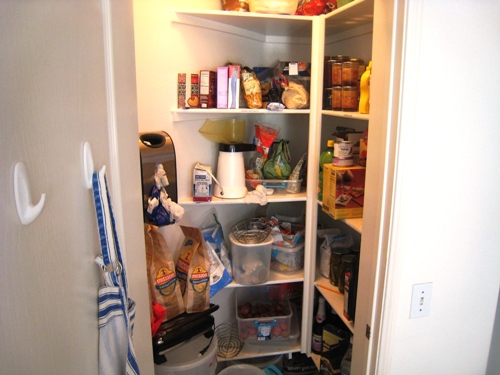 Goal #1 – Inventory what we have.
I plan to take an extensive inventory of the fridge, freezer, and pantry. Knowing what I have will help me cook and shop better in the coming month.
Our pantry holds food as well as some small appliances. I think I might need to find a new home for those appliances so I can make the pantry more focused on its purpose of food storage.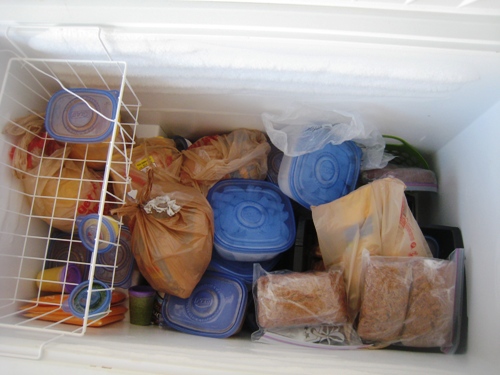 Goal #2 – Empty the freezer to thaw it out.
This is the current state of our deep freeze. There's mostly baked goods, chicken, ice, and some odds and ends. I'd like to focus on clearing it out so that I can defrost it. There's a fair amount of ice accumulation developing at this point.
Plus, I'd like to do a big, big freezer cooking session for August and September and want some space to start fresh.
The freezer itself is going on 14 years now. I'm amazed that it's lasted this long. [knocks on wood]. We've looked at upgrading it, but the prices of freezers are just not coming down. And I don't see that they have too many more bells and whistles than this baby.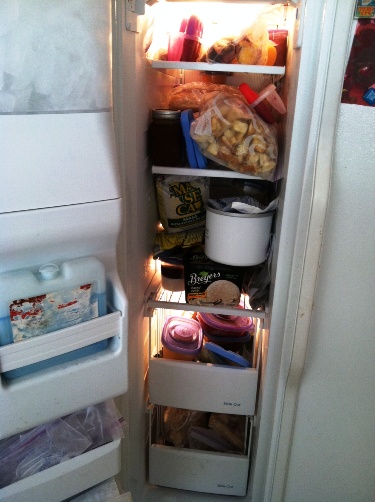 Goal #3 – Make better use of the in-house freezer.
Usually, when I thaw out the deep freeze, I transfer all the little odds and ends into the fridge/freezer. And forget about them.
During the interim between thaws, the in-house freezer becomes the holding spot for little bits of odd leftovers. So, this time I'm going to focus on emptying this freezer first and organizing it better.
The kids are becoming more adept at making their own smoothies, so this is going to become a better smoothie-making station. I have big dreams.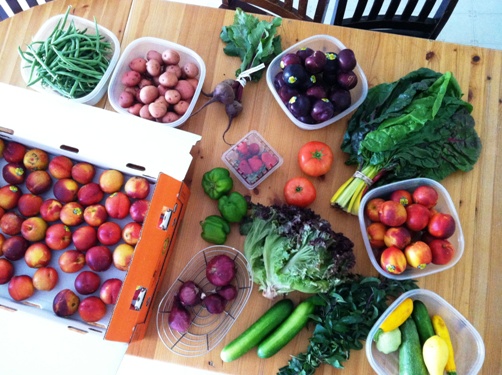 Goal #4 – Enjoy the produce box.
This is a wonderful season to enjoy a huge variety of fresh fruits and vegetables. I don't want to miss out! There are four deliveries for the month ($42 each) plus any extras we want to stock up on. I'm giving myself a $200 budget for produce which will allow us all four weeks, plus a few extras.
I've ordered another 15 pound box of stone fruit at $10/box. I know surplus green beans and corn are just around the corner, so I definitely want to stock up for later in the year. Can't wait!
Goal #5 – Save some money!
I'm not sure how this one will work out. I'm hoping to reduce my total grocery spending some, but I'm afraid to put a number on it. We're running low on lots of things. So, let's just say, we'll see how that works out.
Join me for a pantry challenge!
I'm going to be live blogging our pantry challenge, posting daily updates of what I'm cooking and serving my family. Just check this page here.
Are you interested in eating down the pantry and making the most of what you have? Share your goals for the month in the comments section or link up a post. This will be on the front page (just scroll down) for a week. We'll have weekly updates each week, so come share how it's working for you!
You don't have to have a blog to participate. Just share your challenges, questions, and successes in the comments of each weekly post. We'll help each other out!
Are ya with me?