THIS GIVEAWAY IS NOW CLOSED. CONGRATS TO THE WINNER: kim_capsi@
Today's my Momiversary! My first baby turns fifteen today. And in honor of him and the last decade and a half of refining fire motherhood, I'm hosting a bunch of giveaways on both Life as MOM and Good Cheap Eats. So, stay tuned and be sure to enter them all for your chance to win.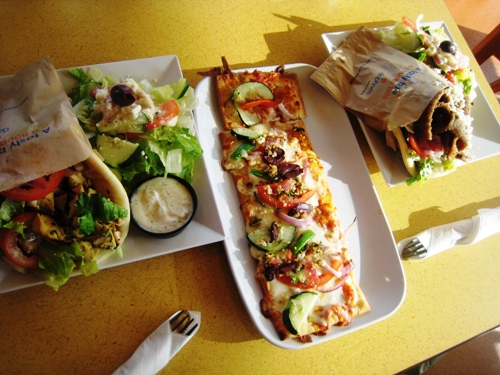 Our family has a new favorite place to eat: Daphne's California Greek.
I have always embraced Mediterranean food, every since my dad took me for a Gyro sandwich at the now defunct Pop's Deli on Seco Canyon Road. I had never tasted anything so yummy and flavorful. Juicy meat, tangy feta, crisp lettuce, succulent tomatoes, and pungent red onion, all doused liberally with tzatziki sauce atop a soft fresh, flat bread. The gyro had me at hello.
And I always will choose a gyro if that is an option.
Hubby on the other hand has never jumped at the chance for Mediterranean food — until now. It seems like he's asking for Daphne's practically every week. This, my friends, is unheard of.
Daphne's sent me some gift cards to try out their food. Man, are we impressed! Hubby and I have gone to Daphne's Greek Cafe just the two of us as well as taken the whole family. We've visited two different locations. And it's on the list for our upcoming staycation in Carlsbad.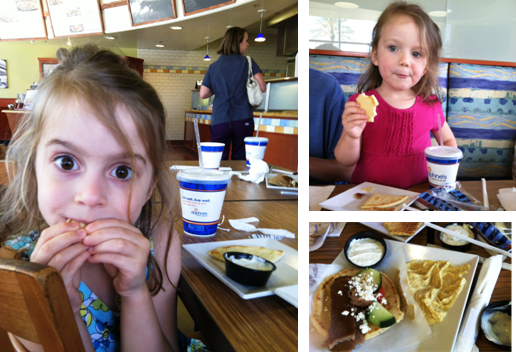 The Food
As I've already mentioned, the food was a hit with my husband. He loved the chicken pita. The gyro and I are fast friends. As well as the Greek pizza. And the Greek salad.
But what about the kids?
They are smitten. The girls are hummus fiends. I had them split a kid's meal since I wasn't sure how much they would eat. Pictured above, the kid's meal is a generous "street pita" with tzatziki and a choice of two sides. The girls chose apple slices and hummus. We ordered extra flat bread for dipping. They went to town.
Two of the boys each had a gyro. The other two split a pizza. And we ordered extra pitas all the way around. Hubby waxes eloquent about the pita bread. They are really good. Whole wheat pitas are available on request.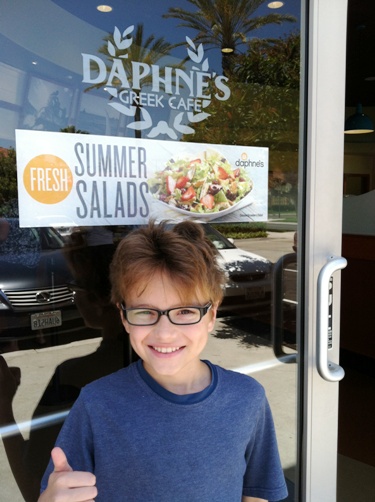 The Service
Since we were able to visit two different locations, we got a glimpse at the larger Daphne's network. Both locations were clean and well-maintained. The service was impeccable. And the servers were extremely helpful.
We had a few hiccups with the gift cards, but the manager was super pleasant about it and took care of it right away. We also had one issue with the apple slices being out of date. They were replaced lickety-split. When I asked about the ingredients in their sauces — as a precaution for my daughter with food allergies — the manager was quick to look it up for me, despite the fact that I was asking in the middle of the lunch rush.
It was a great place to take our kids, knowing that the extra work of serving a party of eight doesn't phase them at all.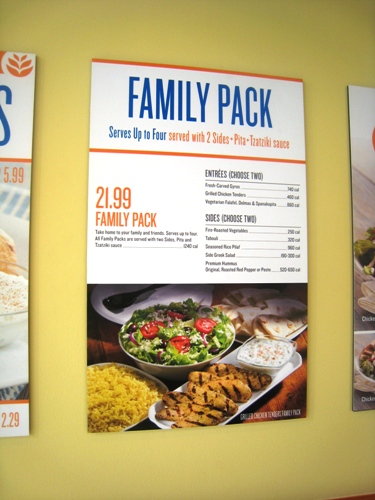 The Price
The prices at Daphne's California Greek are very reasonable, especially since the portions are so generous. A meal for one adult can range from $5 to $10, depending on what you order, how many sides you want, and if you order a drink. Kids' meals are $5, but my girls, aged 3 and 5, easily split one with an extra order of flatbread.
Daphne's also offers family packs for $21.99, which serve up to four, including two entrees, two sides, pita, and tzatziki sauce.
For a limited time only

Daphne's is serving up Summer Salads for a limited time. Selections include:

Chicken Strawberry Salad
Chicken Spinach Apple Salad
Mango Shrimp Salad with Grilled Shrimp
This week Daphne's California Greek is offering one Good Cheap Eater a gift card for $25.
To enter:
Simply complete the information on this form. Please know that the information is only being gathered for the purposes of mailing you your prize in the event that you are chosen as the winner. This information will not be sold, traded, or given away.
For a second chance to win, head over to Life as MOM and enter that giveaway.
This promotion is open until Sunday, June 17, at 8 pm PST and is limited to US residents, 18 years or older. Friends and family of Jessica Fisher and Good Cheap Eats are ineligible for entry. The winner will be chosen randomly. This post will be updated with the beginning of the winner's email address. The prize for this promotion is provided by and shipped by Daphne's California Greek and/or its representatives. Jessica Fisher and Good Cheap Eats will not be held responsible for unclaimed or undelivered prizes.
Disclosure: I received complimentary gift cards for review purposes. All opinions are my own.