Fresh jalapenos give heat and flavor to this simple chili that comes together in 30 minutes or less. Enjoy Jalapeno Chili for an easy weeknight dinner.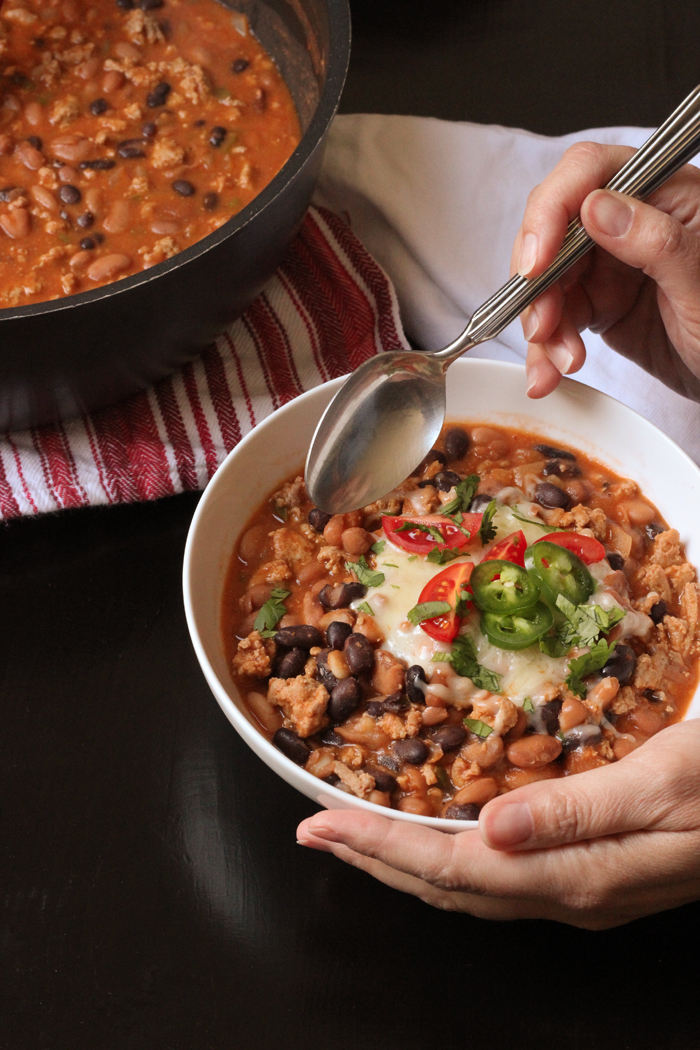 Chili is one of my go-to meals. It's got spice and heat which keeps things exciting. It's got lots of beans, a cheap, plant-based ingredient with lots of fiber. And chili is a great vehicle for using up whatever meat and exciting toppings you have on hand. This Jalapeno Chili is a perfect example.
Typically, I add spice to chili via chili powder, but in this recipe I use fresh jalapeno pepper. It's a great way to get a kick of heat into the chili for a really low cost. You can buy fresh jalapenos at the grocery store for a few pennies. They're lightweight, so a single pepper doesn't cost all that much.
Pro tip: Alternatively, canned chopped green chiles are extremely expensive. Consider using fresh chiles instead to lower the cost of your dish!
In this Jalapeno Chili, I've designated that you can use whatever meat you like: ground beef or turkey, cooked chopped pork, shredded chicken or beef. Anything goes which means that you can use up leftovers from earlier in the week and save some money.
Or just go without. This chili is just as tasty without the meat.
Just be sure to offer some toppings. The toppings really make this an eye-catching dish.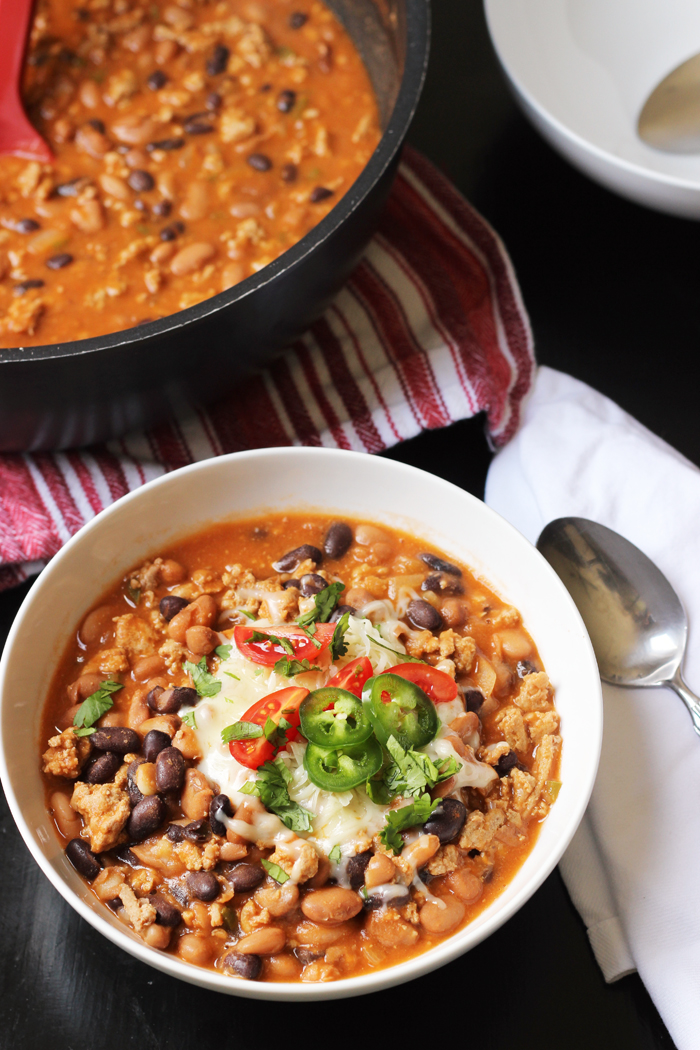 How to make this good and cheap:
Here are some of the strategies you can use to make this recipe more economical:
Stock up on ingredients when they are on sale. When you see a good price on tomato sauce, beans, or your favorite meats, buy a few extra to stash for later. You know you'll use them.
Cook your own beans. It's a lot cheaper to cook dry beans than to buy canned. Recently I've started using my electric pressure cooker for beans and it just may be a game changer.
How I make this recipe easy:
This recipe really couldn't be easier than it is, but having the right kitchen tools can really make your time in the kitchen more enjoyable. Over time, I've honed my collection so that they are perfect for my needs.
Here are the tools that I use for this recipe:
Jalapeno Chili
Fresh jalapenos give heat and flavor to this simple chili that comes together in 30 minutes or less. Enjoy Jalapeno Chili for an easy weeknight dinner.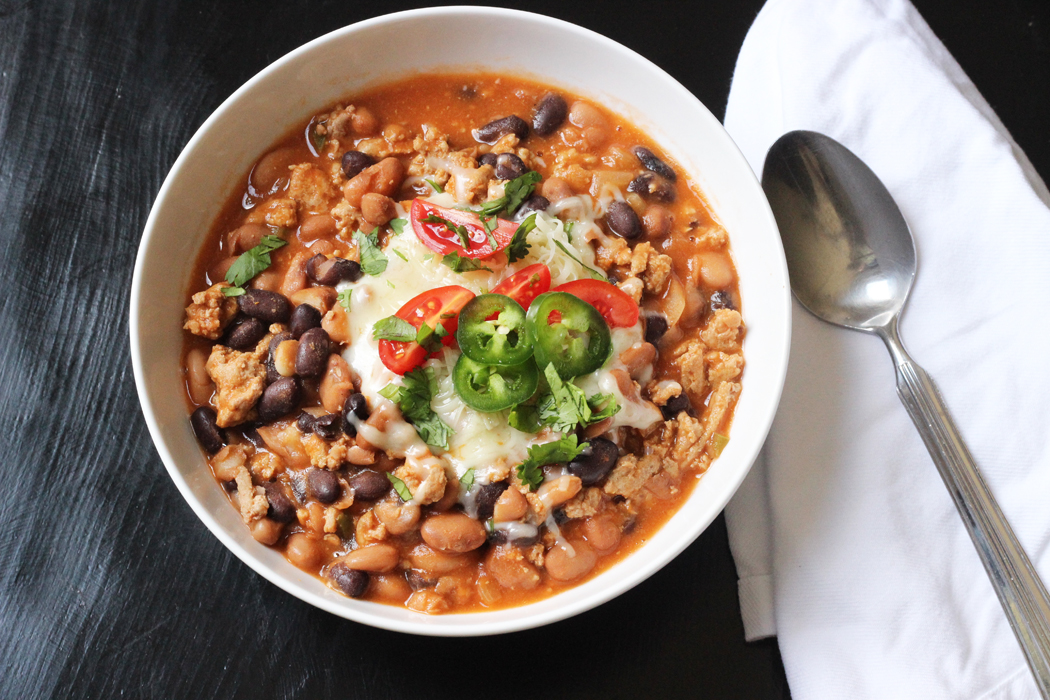 Preparation Time: 10 minutes
Cook time: 20 minutes
Total time: 30 minutes
6 to 8 servings
Ingredients:
1 tablespoon oil

1/4 cup chopped onion

1 jalapeno pepper, chopped

1 teaspoon crushed garlic

1 cup tomato sauce

2 cups cooked meat, like ground beef, chopped pork, shredded chicken, etc.

3 cups cooked and drained pinto beans

2 cups cooked and drained black beans

1 to 2 cups water

Toppings: cooked rice, shredded cheese, diced tomatoes, sliced jalapeno, chopped cilantro, etc.
Instructions:

In a large stockpot heat the oil until shimmering. Add the jalapeno, onion, and garlic. Cook over high heat for 3 minutes or until the onions are clear.
Deglaze the pan with the tomato sauce, scraping up any browned bits. Add the meat, pintos, black beans, and enough water for your preferred consistency. Stir until blended.
Simmer for 20 minutes. Serve with toppings.
Chili can be frozen. Chill completely before storing the chili in an airtight container in the freezer. Thaw in the refrigerator before reheating to serve.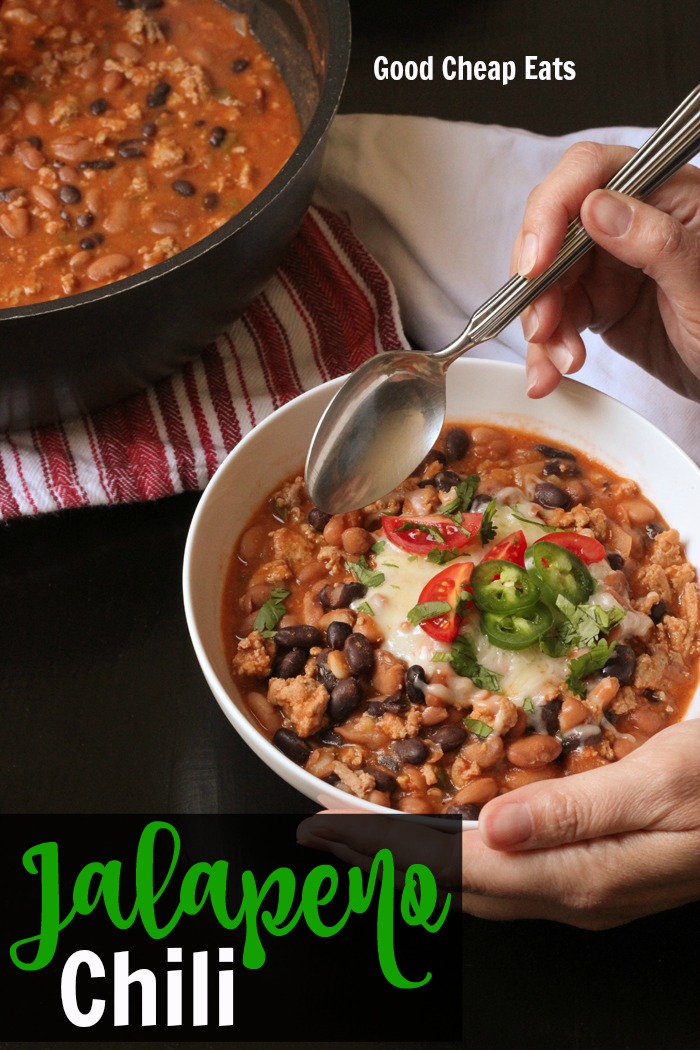 Are you looking for more good cheap eats?
Updated March 18, 2017.