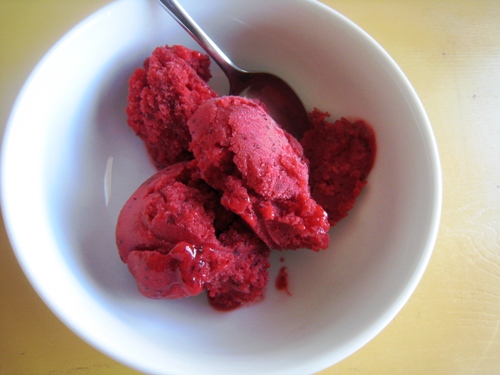 So, I have some good news and some bad news. Which do you want first?
The good news is that I've got lots of pickles and jam for the coming months just waiting in the cupboard. Also, if you blend up ripe plums and lemon juice and lemon zest and sugar and churn it in your ice cream maker, it tastes very good and plummy.
The bad news is that I think I'm going over my grocery budget this month. That's in part due to preserving and making the most of summer produce and in part due to poor planning.
Rather than beat myself up about it, I'm just going to lay out the facts, eek through the rest of the month as best I can, and plan better in July.
So, here it is:
I went to the store four times this week. I had a meal plan, but we kept running out of things unexpectedly. Rather than do one big stock up at Trader Joe's or Costco, I thought I'd just go by the store for a few things. A few things turned into great deals, but four stops of little things still add up.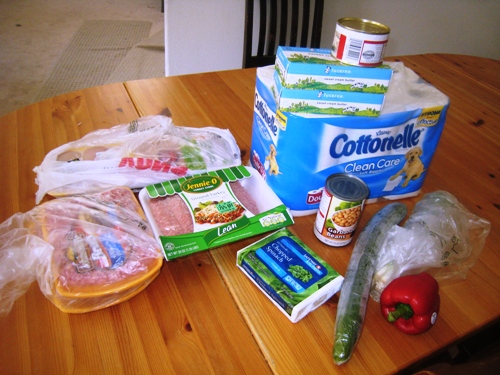 Vons #1
We were out of toilet paper. So, I had to go. While I was there, I picked up the brats and butter that were still on sale as well as a few odds and ends to round out the meals for the week.
That ground turkey? I got it for less than a buck. There were all kinds of pricing issues and it was the "best buy" date, so I got it for a steal. I made a really yummy Greek lasagne with it, using spinach, feta cheese, and some greek seasonings.
Toilet paper, on the other hand, is expensive! I stocked up in January, but our supply was dwindling. When you gotta go, you gotta go. So, I paid almost 75 cents a roll! Yikes!
Highlights:
boneless, skinless chicken breast – $1.97/pound
brats – $2.99/package
butter – $1.99/pound
ground turkey breast – $0.62/20 ounce pkg
Total spent on this trip = $33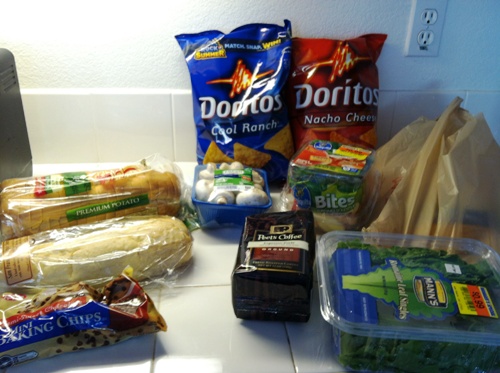 Ralphs #1
The girls had checkups this week, including shots. So, we headed into Ralphs for ice cream as a treat. (The 5 quarts I bought didn't make it into the picture.)
Since the doctor appointments took longer than I had expected, I grabbed bread for quick lunches at home as well as some markdowns, odds and ends, and yes, msg-laden chips. It was one of those kind of days.
Highlights:
chicken leg quarters – $1.47/pound
romaine lettuce leaves – $0.99
apple slices with caramel dip – $0.99
Dreyers/Edys ice cream – $2.69/package
Total spent = $45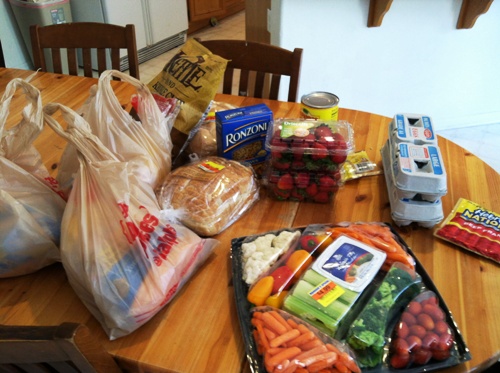 Ralphs #2
Two days later, we were back at the doctor to read the TB test, and again, I found myself without a lunch plan. So, we got a few more markdowns and sale items on our way home.
Highlights:
whole chickens – $0.79/pound
veggie tray – $4.99
kosher hot dogs – $2.99
eggs – $0.88/dozen
Kettle chips – $1.99 on clearance
organic strawberries – $1.99/pound
Total spent = $40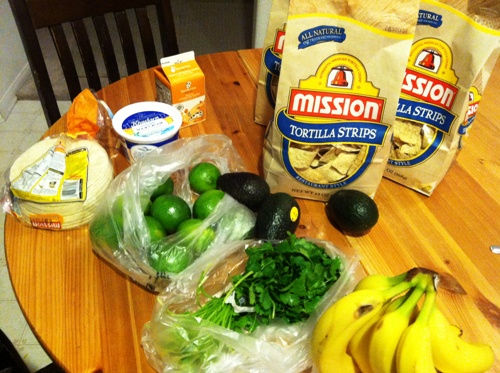 Vons #2
And then, because I forgot milk at the store earlier, I ran by Vons again on my way home from another errand. Milk is not pictured, but I did buy it! I also got a few of their loss leaders so I wouldn't be tempted to go back!
Highlights:
limes – 5/$1
tortilla chips – $1.88/bag
bananas – $0.47lb
cilantro – $0.33
avocados – $0.79/each
tortillas – 1.44/30 count package
sour cream – $1.99
Total spent = $20
Total spent this week = $138
Obviously, I could have done the same with one big stock-up at Trader Joe's. But, I did get a lot of different meats to last us into next month as well as some seasonal items that may or may not hit these low prices again for awhile. We've got extra cash elsewhere in the budget, so it's "fine." But I was really hoping to stay under my $800 this month.
I've put the produce box on vacation next week so I won't have that added expense. I will still have milk and cheese to buy at some point, but I'm not going to stress it if we go over. We're already over, aren't we?
Maybe this is the cost of eating a better diet than we have been doing? (Ice cream and chips purchases excepted, of course.)
Total spent this month to date = $826