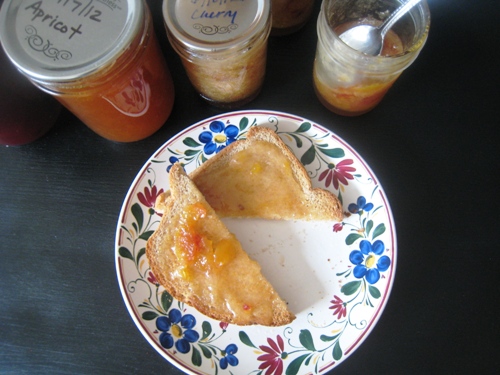 I've become a canning fiend this week. I'm sure my husband wonders what's come over me. I spent much of Sunday afternoon making jam: plum and cherry. And then Wednesday night, I burned the midnight oil making pickles. Yes, really.
I'm just as surprised as you.
I'm sure that if I were still heavily couponing, I might not need or want to can my own pickles and jam. But, here's my rationale:
The sales and coupons in California aren't what they were in Kansas — or even what they used to be here just a few years ago.
I don't want high-fructose corn syrup or food dyes in my jam and pickles. And that's mostly what's available.
I've always loved the idea of putting up your own preserves. My Gramma grew and canned everything.
Homecanned often tastes better than much of the stuff I can buy in the stores. This is true with my jam. We'll see how the pickle experiment turns out.
That said, I'm not sure that home canning is the most economical venture. It's not cheap. My organic pickles turned out to be about $3/quart. I know I can buy a gallon of conventional pickles for that price at Costco, but like I said before there's dye in those. So, it's a trade-off.
If my kids like the taste, then it will be a winner. And I'll wait for a slightly cheaper price on pickling cucumbers. (I paid $18.50 for 10 pounds.)
Grocery Geeking Out
So, obviously, I was filling the pantry in more ways than one. I shopped. And then I canned. And some of the funds spent on those things will stretch into the coming months. I don't think I need to buy or make jam for about a year.
But, the more I read, I realize that it's a great way to use fruit that might be on its way to overripe. Some food for thought….
This week's grocery shopping looked like this: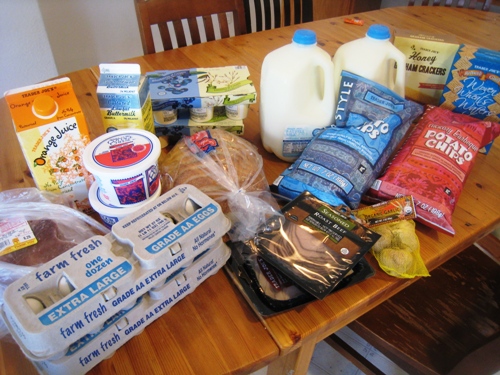 Trader Joe's
It was the final week of celebration shopping this week. I had a birthday party, a family birthday, and Father's Day to shop for. One of our birthday traditions is to let the Birthday Person choose the menu for the day, including a meal out. Many of these TJ items were bought expressly for the birthday.
Total spent = $55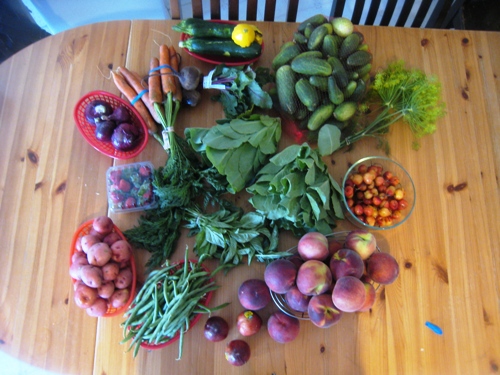 Abundant Harvest
This was our last produce box for the month. I need to exercise some control, so I set the last two weeks on vacation. That should give us plenty of time to catch up and use all that we have. We're doing a staycation of sorts at a San Diego resort at the end of the month, so I won't worry about produce needing to be used up.
This week's box included potatoes, pluots, green beans, basil, peaches, strawberries, lettuce, carrots, squash, beets, and onions. I also received replacement cherries and lettuce and extras of cucumbers and dill heads.
Total spent = $62 (includes delivery)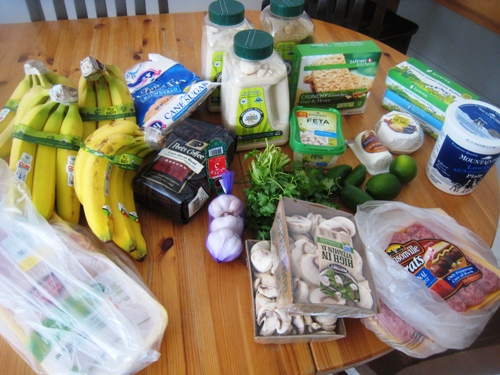 Walmart, Vons, and Target
I must say I love Vons' Just for U program. They have been successful in getting me in the door. And I've been successful in not buying things that weren't on sale. Hehe. We both win. Here are the "deals" I grabbed:
mushrooms $1.50/pkg
yogurt $2.19/32 oz
brats $2.99 and $2.44/pkg
bananas $0.59/lb
b/s chicken breast $1.97/lb
butter $1.99/lb
gourmet cheeses – clearanced to 50% off, making them a doable splurge
Total spent at Vons = $50
At Walmart I picked up the sugar that we were out of thanks to jam making and birthday cake baking.
Total spent at Walmart = $14
At Target (not pictured), I got juice and other comfort foods for all of us that came down with a terrible cold virus by Friday morning.
Total spent at Target = $12
Total spent this week = $193
Total Month to Date = $688
So, the month is half over and I've spent most of our budget. That means it's eat from the pantry for the next two weeks. I think we'll be fine as long as I'm careful and plan ahead. Time to take off the gloves.
How's your grocery shopping going?