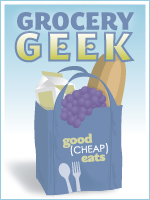 Apples and oranges are a thing of the past. The produce box tells us what season it is: Summer! Our box has been bursting with cherries, apriums, nectarines, and plums these last few weeks, a sure sign that summer has arrived.
Unlike summers of the past when we mostly ate things fresh, I'm trying to make the most of our organic produce source and "put up" food for later in the year. The first batch of jam, aprium, was a huge hit. And I've got plum jam, cherry pie, and dill pickles on my list for the next week or two.
That means my produce bill is going to be a little higher this year. Hoping it will all work out in the wash. We shall see….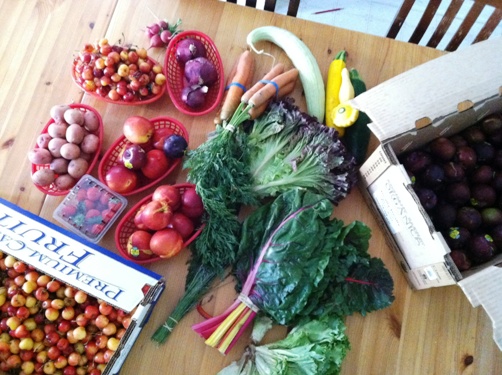 Abundant Harvest Organics
I bought a few "extras" this week with the fresh cherries (10 pounds for $27.50) and the plums (15 pounds for $15). In the box itself was lavendar, lettuce, chard, nectarines, plums, cherries, strawberries, cucumbers, carrots, squash, potatoes, and radishes. I plan to get a box next week with some extras for pickle making and then we'll take a few weeks off to catch up and save some coin.
Total spent = $84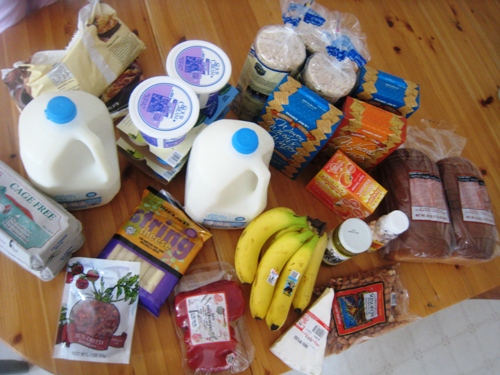 Trader Joe's
A cruise by Trader Joe's stocked us up on some basics. Nuts, vitamins, cheese, peppers, green salsa, bread, eggs, sundried tomatoes, bananas, milk, rice cakes, crackers, yogurt, sour cream, and frozen hashbrowns for a birthday casserole.
Total spent = $78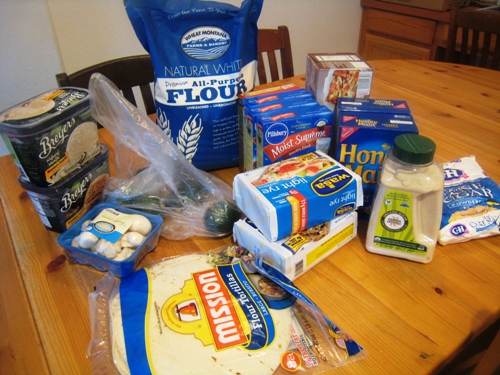 Walmart
I did some birthday shopping the other night and picked up the random cheap stuff that we needed for our weekend of celebrating, including tortillas, mushrooms, ice cream, avocados, crackers, sugar, flour, and cake mixes. Because my birthday cakes from scratch never turn out.
Total spent = $44
And for the month?
I'm not really loving how costs are shaking down. Especially with three weeks left in the month. But, I'm set on the home baking — and we've got lots of fruits and veggies. Time to stay home from shopping! Once the birthdays are out of the way, I think we'll do better. I should have allotted for that in my budget, but I wasn't thinking. Birthdays cost more than non-birthdays. So, we'll adjust.
June spent month to date: $495
Our budget is $800 for all groceries and toiletries. We should be fine as long as no one decides they "have to have" something special in the next three weeks.