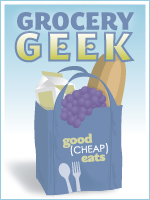 This week was a struggle as concerns cooking and groceries. I tried to stretch what we had instead of going to the store. We have a lot.
But, a lot of that lot needs significant preparation.
One night early in the week, the mystery freezer items that I had planned to experiment with just didn't sound appealing. Hubby suggested a run for burgers. So tempting on a lazy summer night when we've got a Marvel Universe movie waiting to be watched!
Instead, I ran to Walmart and picked up groceries to supplement other things that I already had. My bill was almost to the penny the same as I would have spent on burgers and fries. While I was bummed to be going over budget, I was satisfied that I was stretching that $22 a little farther than if we just ate take out.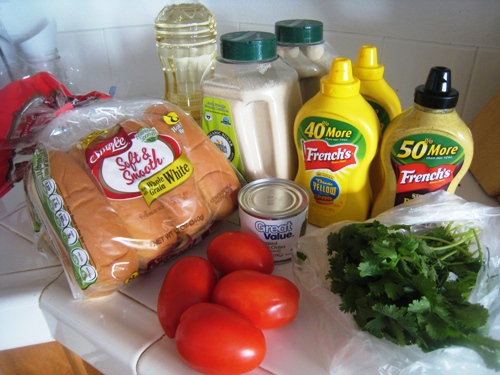 walmart – $22
A call for desperation dinners
The idea of having some "desperation dinners" on hand has hatched in my brain. Next month I plan on stocking up on quick and cheap meals for those nights when the alternative might be expensive, less-than-healthy take out. Those hot dog buns couldn't be worse than what I'd get at the burger joint!
The week's trend of running out of things was set. By Wednesday night we were out of milk, bread, crackers, fresh fruit, and coffee. Pride would have us limp along until we left on vacation on Friday night, but that meant two days of kids asking for stuff to eat — constantly. So, I picked up stuff to hold us over, meaning that we've gone over budget by a fair amount.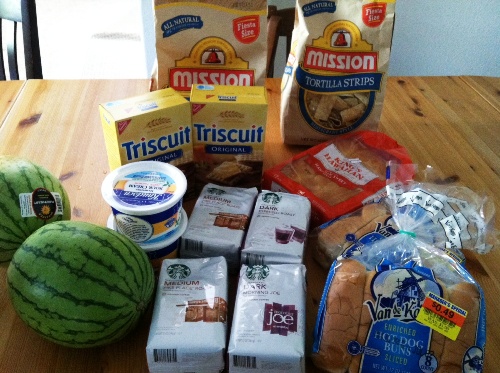 Ralph's – $52
It helped that Ralph's had some great sales to soften the blow.
watermelons – $1.50 each
sour cream – $1.88
chips and crackers – $1.49/box when you buy 4
coffee – $5.99
hot dog buns – $0.49 on clearance
Hawaiian rolls – $2.50 (a treat for the kids)
(unpictured) milk – $2.55
chicken drumsticks – $0.99/pound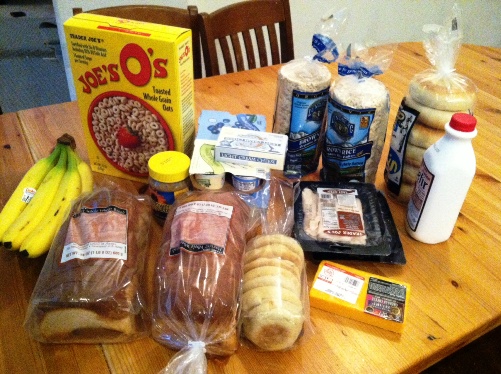 Trader Joe's – $40
That same night hubs and I stopped at Trader Joe's on date night, so I finished off the staples stock-up with bananas, cereal, bread, yogurt, sunbutter, english muffins, cheese, turkey, kiefer, rice cakes, cream cheese, and bagels.
This week's spending totalled $114. Added to previous weeks' spending, I ended the month at $940, significantly over my budgeted $800.
But, we do have lots of organic pickles and jam! Ha!
Looking at the big picture
So far this year, our grocery expenses have bounced all around! But since we buy things in one month to use in the next month, it makes sense to average our spending over the course of a year.
January = $442
February = $800
March = $1142
April = $615
May = $820
June = $940
Total spent to date: $4759
Average monthly spending for 2012: $793.17
Whoohoo. I just squeaked under the average. Whew. [wipes sweat from brow]
I have a plan for next month. It involves a pantry challenge and making the most of what's already here. Stay tuned. I'll be sharing more about it tomorrow.
How's your grocery spending going this year?