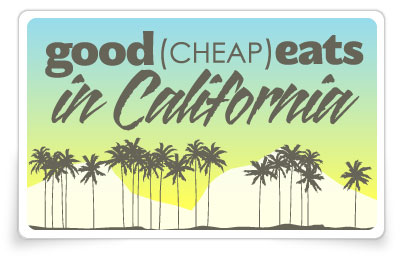 Next up on our eating tour of California is a small BBQ chain in San Diego. Phil's BBQ ranks as my brothers' very favorite spot for 'cue. I saw it flash up on their Facebook check-ins for months. My curiosity was piqued after multiple visits.
Hubby, who isn't big on sweet sauce, is even a fan. We've been a few times now, just the two of us as well as the whole family.

Simply writing about it is making my mouth water. Unfortunately, there's no location close to our home. Hmmm….. might need to remedy that.
Phil's BBQ is not something that I would describe as "health food". There's lots of fat and grease, by the very nature of BBQ, fries, and onion rings. I don't think I can even claim it to be "good fat". But, it is good.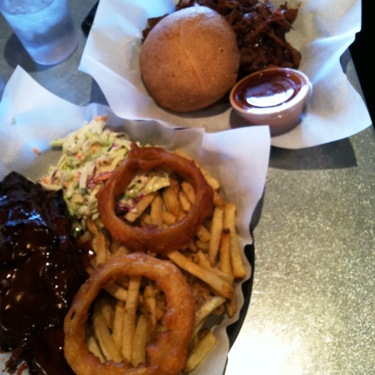 Ordering at Phil's is a little complex. And unfortunately, if they are busy, they might not explain it very well. Order food at the food counter and pick up a pager. Order your drinks at the bar. Find a seat, if you can.
When your pager rings, go back to the counter and get your food. You will not be allowed to carry more than two plates at a time. So, don't think that you're going to get tricky.
The portions are extremely generous. For $7 you can order a tickler like the bottom plate in the picture. It includes meat, fries, onion rings, and the best cole slaw in the world. I had a hard time deciphering if it was horseradish or Dijon mustard that gives it a kick. It's good stuff. This plate was really filling. Meat choices include pork ribs, beef ribs, or boneless chicken. I've had both the pork and the chicken and both were great.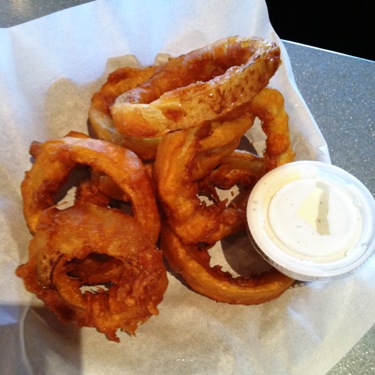 Hubby prefers the tri-tip sandwich, also known as El Toro. It's filling on it own and costs $7 as well. However, it doesn't come with any sides.
There are no kids' meals, so we simply ordered a few plates of fries and a few orders of chicken for our kids to share. The bigger boys had sandwiches. We ended up with way too much food. Don't be afraid to under order. You can always go back for more.
The service is great at Phil's. We've been on slow days as well as during the mad dinner rush. The folks are quick to offer help, bring you more of something, turn on a hockey game or answer your questions.
Know that there are lots of televisions as well as music. Thus, it is loud, especially if you have a team of little leaguers at the next table tossing paper wadded balls back and forth across the restaurant while their mothers ignore them.
The atmosphere can be a little, ahem, lacking when all those things are going on at once. But, Phil's is also available for take-out, too. So, you can always take your 'cue home.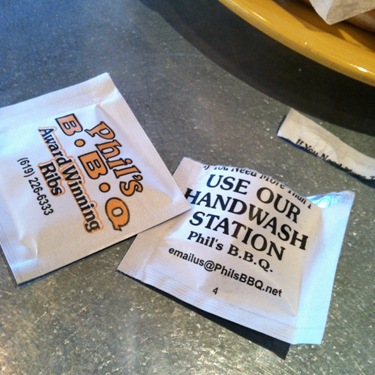 There's only one sauce, a thick and tangy variety. And there are plenty of wipes and rolls of paper on the tables. There's also a washing station.
Phil's BBQ is a great option for family dining in San Diego. Locations are available in Point Loma and San Marcos as well as a new location opening in Santee in the Fall.
Do you have a favorite BBQ dish?
Disclosure: Phil's BBQ does not know I exist. All opinions are my own.