Having a meal plan is a great way to get a head start on the week. You gotta eat, right? Plan for it.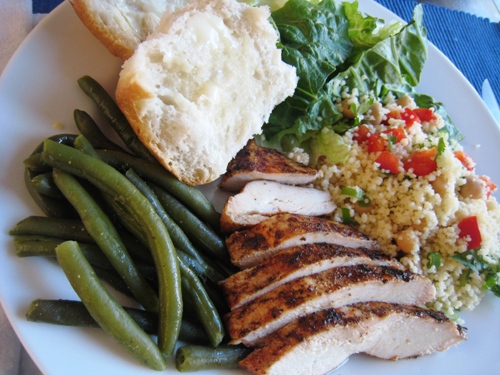 Today I'm in the air and airports heading home to my fam after a few days away. I do this very infrequently, but I know that our regular schedule has been interrupted and that it will take a few days to get back on track. So, I've planned some easy dinners to accommodate that.
Thanks to freezer cooking, many of these items are ready and waiting in the freezer. I just need to thaw them a day or two before hand. Quesadillas, sandwiches, and pizza come together quickly. While I may not quite be back into the swing of things, at least dinner will be.
6. Quickest Chili in the West, Chips, Veggie Dippers
7. Pasta with Red Sauce, Tossed Salad with Feta and Peperoncini, Buttermilk Cornbread
8. Quesadillas, Rice, Beans, Salad
9. Grilled Chicken, Quinoa Pilaf, Salad, Homemade Baguette
10. Sandwich Bar with Focaccia, Veggie Dippers, Fruit
11. Pizza Night
12. Grilled sausages, Lemon Roasted Potatoes, Vegetables
What's cooking at your house this week?
For more meal planning inspiration, visit Menu Plan Monday each week.