Adding a few creative ingredients to your grocery cart can help you regain your passion for cooking and help get back your mojo.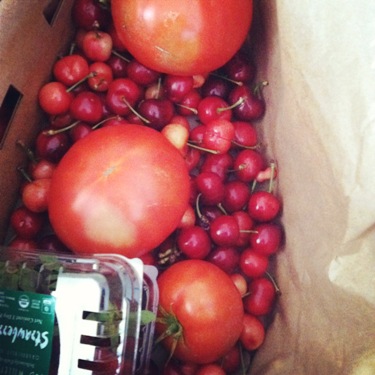 (Heads up! If you make a purchase through any Amazon links in this post, I do receive a small percentage of the sale.)
It's been a quiet couple weeks around Good Cheap Eats, in case you hadn't noticed. I've been having a hard time getting on my game. I fell off the vitamin wagon and am definitely feeling the effects of that. Exercising went kaput. I haven't really wanted to cook. I've been tempted to get more takeout.
I've done some reevaluating and some more careful meal planning to see if I can boost my energy and get my cooking mojo back. I started reading a great book about eating and cooking simple, real food; it's made me eager to get back in the kitchen. The Husband and I went grocery shopping on date night so that I could have more raw materials to work with. The kids and I spent a happy morning prepping a large salad and veggie tray. They devoured it in two days.
And the produce box had cherries this week. Things are clearly looking up.
This past week I've been cooking a lot. One day I made homemade aprium jam (a cross between an apricot and a plum), baked bread, made homemade ice cream, and used a heating pad to make yogurt. However, these are not any recipes of my own to share. I'm happy to draw on the wisdom of those who've gone before me.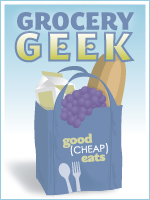 I did do a few experiments that have worked out really well. Homemade hummus (without the tahini because I don't like the taste or the price point) was a great hit with the aforementioned veggie tray. We'll be making that a lot more in the coming weeks.
And one night I made a huge pan full of roast potatoes, onions, carrots, and chicken. It was fab. Hubby said it was missing something. The day he took the leftovers to work he called to say he ate them cold and it's the ideal potato salad. So, I guess we have some more testing in our future  to verify that it's just as good cold as it is hot.
For grocery shopping this week, I tried not to go many places.
Vons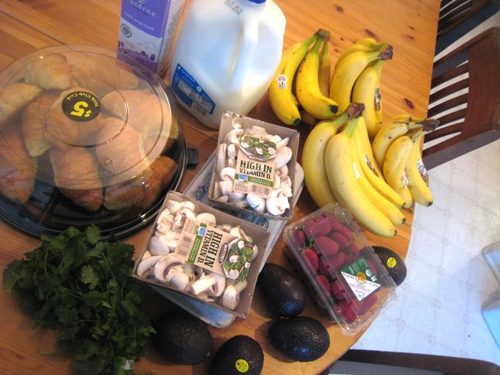 One morning I made a quick run to Vons. I've been doing that more often since I signed up for their Just for U program. The savings have been significant. All this food: croissants, mushrooms, cilantro, avocados, strawberries, bananas, eggs, milk, and half and half. Some items, like the organic strawberries were pricey ($4.39), but the other things were at some of the lowest prices I've seen, justifying the splurge on berries.
18-ct eggs $1.70
gallon milk $2.60
quart half and half $2.69
15-ct croissants $5.00
bananas $.39/lb
avocados $0.97/each
mushrooms $0.65/pkg
Total spent $24.
Date Night Grocery Shopping
I love it that my husband doesn't mind spending date night in a grocery store! We prefer to spend the time talking so we rarely go to movies. And we can shop and talk just as well as sit and talk. Oh, we're so efficient.
We did runs to both Albertsons and Trader Joe's that night.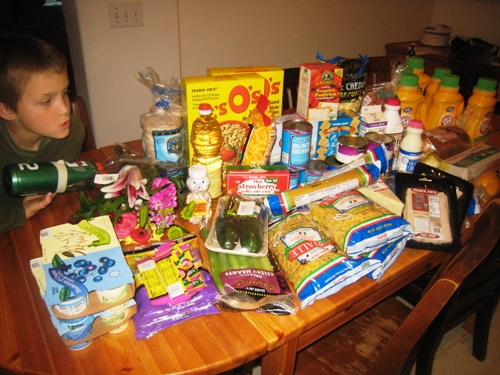 Sorry for the poor picture. It was late, and I was tired.
Albertsons
To be honest, the trip through the regular grocery store (Albertsons) was a little distressing. All the sales and deals were for highly, HIGHLY processed foods. I just really don't get that. So, I guess you could say that I'm voting with my pocket book.
My purchases at Albertsons were limited to olives, water chestnuts, and laundry soap. I stocked up back in October and just used up the last bottle. These six bottles should last us about three to four months.
I spent $25 at Albertsons.
Trader Joe's
I breathe a little easier at Trader Joe's because of their no GMO, no artificial colors guarantee, and the dairy is hormone-free. Many foods are still processed and I still have to read labels, but I can let my guard down a little more.
I think part of the lull in my cooking was not feeling like I had enough to work with. So, while I didn't have a plan per se for each item I bought, it lifted a huge burden knowing that I had stuff to be creative with, pasta, cheeses, peppers, cucumbers, etc. The kids devoured all the fresh produce within a few days. And we're stocked on pasta, cheese, and a few basics.
(Yeah, I got some junk food, too, for a birthday boy. He's never had a pop tart. So, these are "organic". Hehe.)
I spent $110 at Trader Joe's.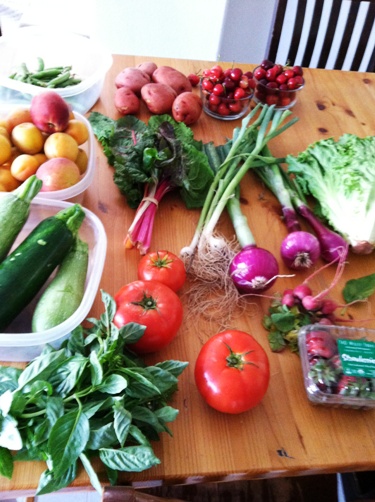 Abundant Harvest Organics
We continue to enjoy our weekly box from Abundant Harvest Organics. I've switched to the home delivery option so that I can save the time. We'll see if that continues to work out. So far, so good.
In our box we had cherries, strawberries, basil, tomatoes, zucchini, radishes, lettuce, onions, garlic, chard, apriums, peaches, potatoes, and snap peas. The apriums made a fabulous jam. And the basil went right into a garlic-infused compound butter that I froze for another day. Can't wait to try it!
I spent $42 on the produce box.
After the shopping trips, it confirmed it for me. Adding a few creative ingredients to your grocery cart can help you regain your passion for cooking and help get back your mojo. I spent a tad more than I normally might, but it's worth it to make sure we're not getting take out — or worse, eating like bachelors. 😉
Total spent this week: $201
Total spent this month to date: $738
I've put the produce box "on vacation" for next week since we'll be going out of town. We're pretty well stocked on milk, cheese, and meats. So, I think the $62 left in the budget should be good for us. I'll have to do a lot of baking to make it happen, though. We'll see…
How do you use grocery shopping to help you be a better cook?