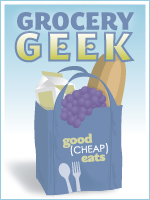 I was sweating it a little one night at the grocery store, hoping that I could keep my end of the month purchases under my limit.
The freezer is still full of meals to carry us into next month, but we were out of milk and other basics. So, I did go a tad over. But the monthly spending is all averaging out for the year, so we're good.
Trader Joe's
Earlier in the week, I went to Trader Joe's. We had a birthday and a trip to Disneyland planned back to back. That means snacks and not just "making do." Suffice it to say, I could have planned better earlier in the month. Anyway, I sent hubs and the boy and this is what they came back with. The cereal was not on the list, but that was the only superfluous thing. I think they did quite well.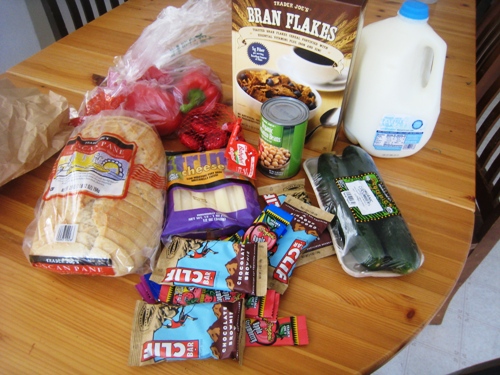 Total spent at Trader Joe's: $30
Vons
Vons has finally got my attention with their Just for U program. I am amazed at some of the very decent deals they are offering. It takes a little tricky work to go online each week, click on the discounts I want, and then email myself the list. However, it's much less work than clipping coupons, so I'm pretty happy.
I love it that they offer $3 off a produce purchase of $10. That is a nice way to get your veggies for cheap.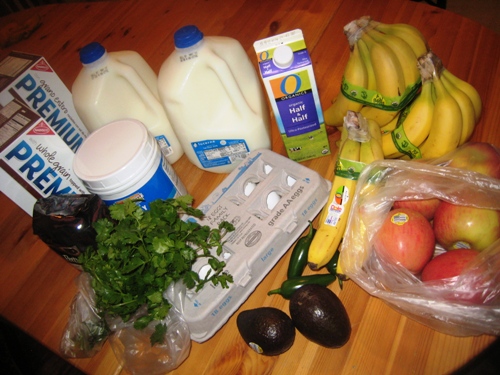 The breakdown:
milk $2.50
crackers $2.50
coffee $8.99
cilantro $0.33
18 eggs $1.95
organic half and half $2.99 (they were all out of the brand I could get Just for U at $2.45)
avocados $0.88
organic bananas $0.59/lb
organic apples $1.89/lb
On that trip I also bought a package of protein powder at Sprouts for my big guys.
Total spent $52, bringing my May total to $820.
Looking at the big picture
So far this year, our grocery expenses have bounced all around! But since we buy things in one month to use in the next month, it makes sense to average our spending over the course of a year.
January = $442
February = $800
March = $1142
April = $615
May = $820
Average monthly spending for 2012: $764
See? It all works out. We are still under budget for the year. And here's to better planning next month!