With warm weather and the scent of flowers in the air, I want some easy meals.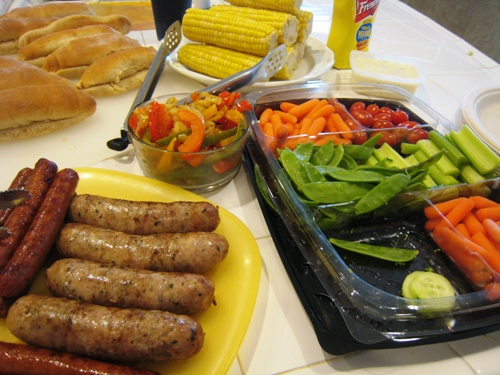 Spring has sprung. And we can now leave our windows open 24/7. Despite living in Southern California, it tends to be chilly near the coast. So, the windows have been tight shut for months. Except in the teenager's room. He likes to freeze.
But, now, we're ready for six months of fresh air night and day. Yeah! Love that.
And as such, I want some easy meals, including some to throw on the grill or into the crockpot, so we can enjoy more time outside.
Here's the plan for the week:
22. Hot Dogs on Homemade Buns, Sunshine Cole Slaw, Veggie Tray
23. Pulled Pork on Pumpkin Rolls, Veg, Cornbread
24. Beans and Rice, Corn Tortillas, and Toppings
25. Pasta Night, Salad or Veg, Drop Biscuits
26. Mexibar – with Cheese Enchiladas, Rice, Beans, Salad, Toppings
27. Pizza Night, Green Salad
28. Sandwich Bar, Fresh Fruit, Chips
What's cooking at your house this week?
For more meal planning inspiration, visit Menu Plan Monday each week.