Having meal components in the freezer ready to go makes meal time prep so much easier.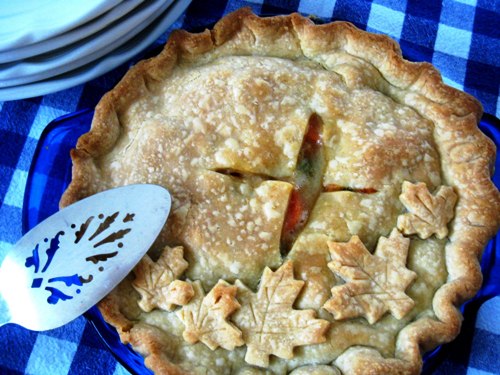 For quite some time, my people have been requesting one of their favorite meals: Chicken Pot Pie. This week I'm going to deliver. Unless you just fixed a large roast chicken or turkey dinner, it's a fair amount of work to cook the chicken, mix up gravy, roll a pie crust, etc. Since I make this from scratch, Chicken Pot Pie is a labor of love.
I made it easier on myself this month during my freezer cooking session. I cooked the chicken overnight in the slow cooker and then deboned and chopped it the next morning. After a chilling time in the fridge, I tossed four bags of chicken into the freezer. The drippings went into a big pot of gravy that I mixed up right away. This week, I just need to cook some vegetables and mix the pie crust. Assembling all these components is super easy — and makes for a great meal that my family loves.
Here's the meal plan for the week:
15. Chicken Pot Pie, Layered Fruit Salad
16. Mexibar – with Cheese Enchiladas, Rice, Beans, Salad, Toppings
17. Soup Night, Herb and Cheese Biscuits
18. Grilled Chicken, Quinoa Pilaf, Vegetable
19. Beans and Rice
20. Pizza Night, Veggie Dippers
What's cooking at your house this week?
For more meal planning inspiration, visit Menu Plan Monday each week.