Budget grocery shopping can be tricky. Especially if you want to eat well and spend less. But I'm gonna try my darndest.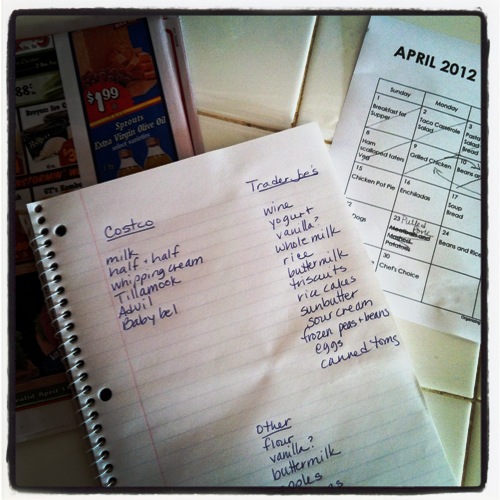 After really keeping the shopping to a minimum last week, we were out of a lot of things this week. I was starting to feel like Mother Hubbard. We had "food," certainly. The freezer meals are still holding strong. All the same, milk, eggs, and a bunch of staples were gathering on my list.
I divided my list by stores with the idea that I would go wherever my list was longest and/or wherever my driving route took me. The lowest gas I've seen recently was $4.19/gallon and since my vehicle gets about 12 mpg, I need to conserve whenever possible.
So, last weekend we went out to breakfast as a family and then headed into Trader Joe's which was in the same parking lot. Multi-tasking all over the place. And with full tummies, we didn't overdo our shopping.
Trader Joe's
The kids love Trader Joe's. They have free samples and a stuffed animal to find. Once you find the stuffed animal hiding in the store, they reward you with a lollipop. Organic, of course. 😉
They also have these cute mini shopping carts that my littles love — and which drive me nuts. Imagine me with a train of three little shopping carts following me throughout the store. Unfortunately, my people aren't the best drivers and sometimes abandon their carts in random places, so we don't do this very often. Crabby people (besides me) shop at TJ's and I'm not loving the snarls.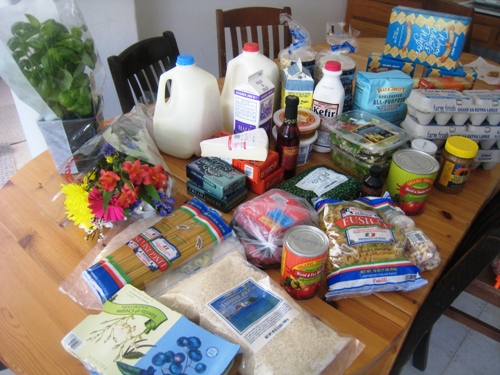 Here's the haul for Trader Joe's. Pasta, rice, rice cakes, crackers, cheese, butter, ground beef, canned tomatoes, sunbutter, yogurt, eggs, flowers, milk, kefir, buttermilk, flour, sour cream, hummus, flowers, 2 ready-made salads for a couple easy lunches, 2 bottles of wine, and a basil plant. The basil plant was only $0.50 more than a package of basil. It's the gift that keeps giving.
In total, I spent $120.
Costco
Then later that afternoon, I made a quick trek to Costco.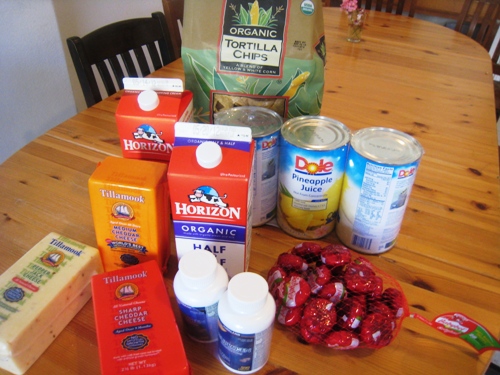 I stocked up on cheese, cream, half and half, chips, juice, and Advil. I spent $64. But, that's a lot of cheese and cream!
Abundant Harvest Organics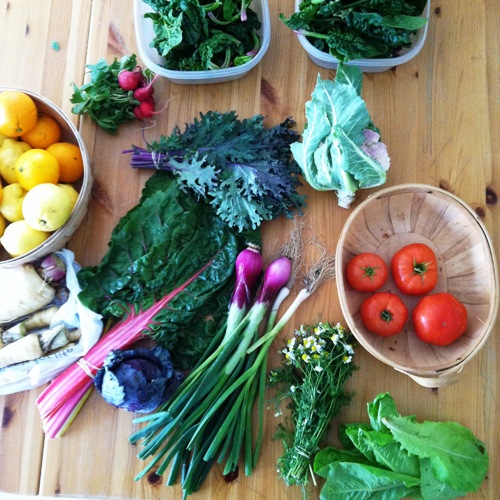 Later in the week, I picked up the produce box. Isn't that beautiful? Lettuce, chamomile, green garlic, tomatoes, cabbage, chard, parsnips, lemons, oranges, radishes, spinach, cauliflower, and kale.
This lot was about $37.
Walmart
Included in the week's spending was also a quick stop at Walmart for bananas and paper plates. Our dishwasher has been broken for over 2 weeks now. And while we wait on a decision from the management company, I'm dying. Dying. Only as a mother feeding six children three to five times a day can. So, I caved and we're using paper plates so I can live.
I spent another $13 at Walmart.
The Month To Date
The week's spending totals $234. Combined with previous purchases, we're now up to $492 for the month. With ten days left in the month, I think we'll be good for being well under budget ($800). But, I'm going to need to be careful.
Per my grocery spending audit, I've been baking all our bread this month. At $0.25/loaf, the Artisan Bread in 5 Minutes method is possibly helping me shave some off my spending. I'm not sure how the increased oven usage is crunching. But, it's great bread! The Olive Oil Dough made fabulous foccacia this week. And I literally pulled a pizza together in 5 minutes one night for the kids when hubs and I went out on a date.
In case you haven't guessed, I'm endeavoring to shave our spending to make up for last month's gross overspending. I plan to get our average back down — or try my darndest.
How's your grocery budgeting going?