Staying away from the stores — and yes, even the sales, is a great way to save money.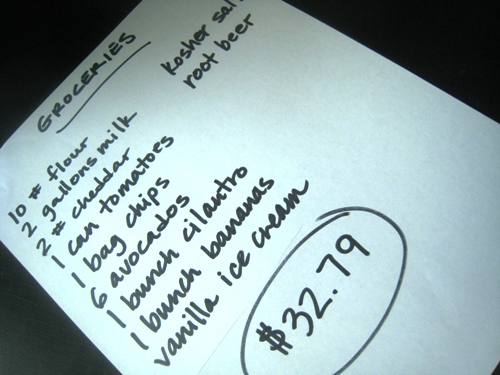 As I mentioned earlier this week, there's not much that we "needed" from the store: Milk, kosher salt, and flour were top on my list. I knew we'd want some more fruit, and incidentals popped up.
While there were some interesting items in the sale ads, I chose not to "go grocery shopping" this week. I didn't do a big trip and that saved us some cash this week. Having a week off from the produce box helped, too.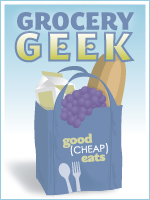 I did end up in or by a number of other stores during the week, though, so that's when I picked up the above listed items. Flour at Walmart while I was there for other reasons. Kosher salt at Target. And milk at Trader Joe's since we were right across the street. Hubs picked up some salsa fixings and rootbeer float stuff one night, but other than that, restraint was the name of the game.
Shopping the sales is a great way to save money — as is staying away from them.
We ended up spending $32.79 this week on those miscellaneous items.
Grocery Spending MTD = $258
In order to "make do," I baked bread every day using the Artisan Bread in 5 Minutes Method. That was a high point as everyone loves it and it is so easy! We enjoyed cookies from the freezer and meals at home most days.
However, we were short on some of the things that make lunchtimes easier: individual yogurts, cheese, sandwich fixings, etc. As a result, I didn't pack hubby very good lunches this week and he ended up going out more during the week. So, I need to find that happy balance between saving money and having convenience items on hand. I sense a trip to Trader Joe's and/or Costco in my future.
Maybe I better take a calculator with me?