I'm starting the month fresh and trying to institute some new goals for shopping and cooking.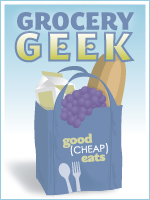 I'm amazed at what great conversations we've been having about grocery spending and healthy eating. Y'all offered such wonderful encouragement when I shared my dilemma as well as when I posted my grocery spending audit.
Thanks for the fabulous input. It definitely got my wheels turning!
Going into the new month, I had it in my mind to combine at least three of my audit conclusions:
make more snacks
bake more bread
do a mega freezer cooking session
You can read ALL about my Fly-by-the-Seat-of-My-Pants Freezer Cooking Session. We have a very full freezer now. Hallelujah! Hopefully, with breakfasts, lunches, snacks, and dinners all premade, we'll also be able to avoid trips to the store and eating out.
Maybe.
But, of course, all that cooking took some shopping. I confess that I was loathe to do it all at once. I made several ventures out for things. I ran out of flour twice. In fact, I used almost thirty pounds of flour this week. Can you even believe it?
Here's how I geeked out over groceries last week: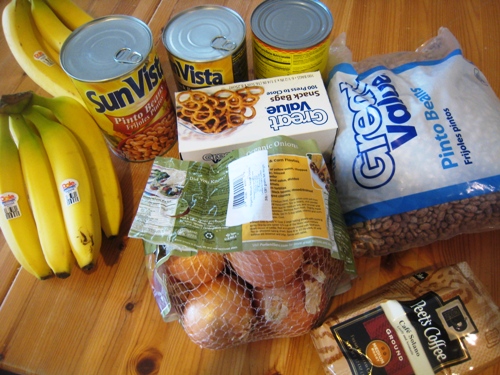 Walmart – $33
My mom and I cruised Walmart while she was here, picking up random things, including these groceries:
bananas @ $0.59/pound
organic onions $2.88/3 #
8 pounds of pinto beans $8.22
enchilada sauce $1.98
coffee minus coupon $8.48
snack bags $2.48
pinto beans $1.64
black beans $1.34
10 pounds flour (unpictured) $4.58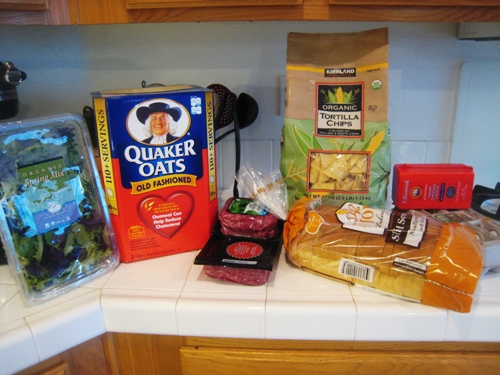 Costco – $49
I know, I was just at Costco! But, there were a few things I forgot. And then more that I remembered later that I refused to go back and get. Clearly, I need to audit my list-making system next!
4 pounds of organic beef $17.99
organic baby greens $3.79
Tillamook cheese $8.79/2 pounds
large box of oats $7.89
tortilla chips $4.49
eggs $2.41
sourdough bread $3.39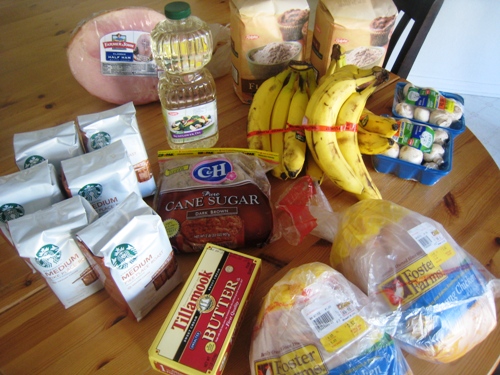 Ralphs – $77
Ralphs is my local Kroger affiliate. And while there are three other chains, some of which are just a little closer to my house, Ralphs has won my heart with their great markdowns and the way the store is laid out. Recently, they added some "real deals," weekly sales with prices from the good old days. It truly is amazing.
10 pounds of flour $6.50
2 pounds of brown sugar $2.99
6 packages of coffee @ $5.88 each
2 pounds of butter @ $2.50 each
1 pound of mushrooms, marked down to $0.99/8 oz. package
very ripe bananas @ $0.29/pound
2 whole chickens @ $0.65/pound
ham @ $0.77/pound
sunflower oil $6.19 (should have bought some at Costco!)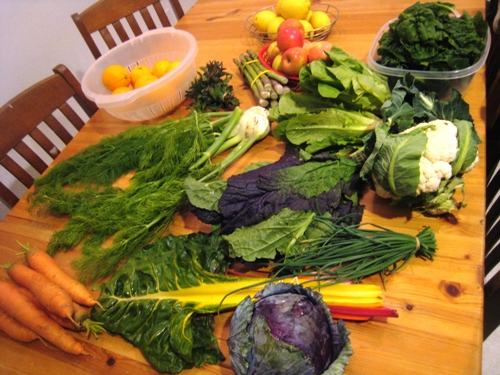 Abundant Harvest Organics – $37
I picked up the produce box as usual and found it full of lots of fresh yummy produce, including: red cabbage, carrots, swiss chard, chives, arugula, fennel, oranges, apples, cauliflower, lettuce, spinach, mint, lemons, and asparagus. I gave away the fennel. And unfortunately, I mistook the arugula for kale. I sauteed it, but it was really bitter. We might have preferred it in a salad, instead.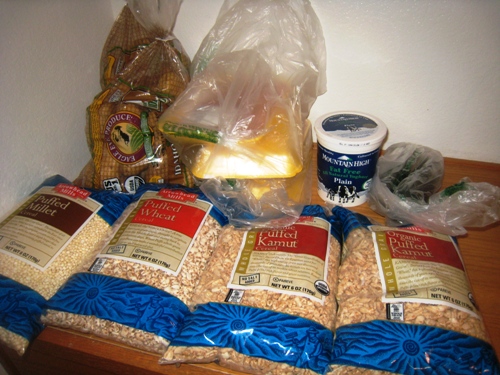 Sprouts – $29
Sprouts, what used to be my Henry's, is okay. I miss Henry's, even though they are very similar. I can count on finding "health food" at Sprouts. My kids really liked puffed grains. They eat them like breakfast cereal — when I let them. But, they are currently part of my recipe testing for Chewy Cereal Bars. Stay tuned.
4 bags of puffed cereals @ $1.50 each
10 pounds of organic potatoes $5.00
chicken tenders @1.97/pound
yogurt $2.69/32 ounces
cucumbers 2/$1
So, there we have it. My grocery shopping for the week included many items that went into my freezer cooking for the month. You can read how that went down over here.
I ended up spending $225. But, I have almost everything I need for the month. (Famous last words!) And a lot of it is already prepared, too!
On my list of things to buy in the next week are flour, milk, and kosher salt. Those are things that I need to be able to pull off our daily bread. We'll probably run out of fruit, so I'll need to add that to my list as well.
I set the produce box "on vacation" this week so that I can conserve some cash. I have a secret $ goal in mind for this month's spending. We'll see if it happens.
How are you geeking out over groceries?