I scrimped in some areas this month in order to come in under budget for grocery spending. I also found some math errors. This means our average for the year is more in my desired range!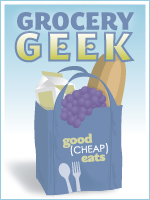 This week's shopping basically rounded off the month. Monday I'll be doing another round of freezer cooking, so it's time to start looking into next month. I ended last month on a downer note, what with my going over budget. However, this month, I think I made up a little for lost ground.
If you're late joining the party, my target budget is $800/month to feed a family of 8. This figure includes toiletries, cleaning and paper products, and groceries following a slightly healthier bent. You can read about our food goals here. Last month I went grossly over budget. So, this month, I've been trying to make up for lost ground, based on the grocery spending audit I did at the beginning of the month.
Does anyone else feel like the month just disappeared?!
I've continued to bake bread almost every day this month, experimenting with the dough recipes in  Artisan Bread in 5 Minutes. I love the Olive Oil Dough! It's fabulous for pizza and focaccia.
We have also eaten less meat over the past month, particularly at lunchtime. Lunches have been more difficult without sandwich bread and roast turkey breast, but omitting those things for a few weeks has saved us some coin. I'm still looking for the best meal ideas that everyone loves that also give us the biggest bang for the buck.
For example, homemade granola is much cheaper than boxed cereal and we like it almost as well. Oatmeal doesn't rank as high on the list, unfortunately.
With all the  peer pressure to make my own yogurt, I gave it a try, using both the crockpot method as well as the heating pad method. Honestly? I didn't love it. More next week on my yogurt making adventure…. I have lots of thoughts on the process and the cost analysis.
So here's how my spending went down on this week's groceries: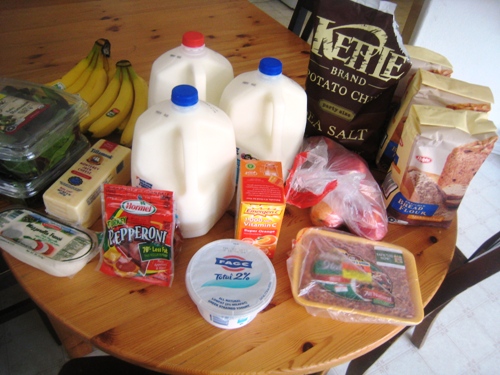 Ralphs
I went for the express purpose of buying pizza cheese. I thought we had more in the freezer, but no. I was in a hurry, otherwise, yes, I would have gone to Costco which has the best price.
Ralphs instead, where most of the brands of mozzarella had RBST in them, one of the things I'm trying to avoid if I can. So, I bought a block of Tillamook Monterey Jack which we like just as well on pizza as well as a lump of fresh mozzarella which I had never had. It's hormone-free — and a buck or two more. Seemed like a splurge until….
I found great deals on a lot of other items. Pepperoni on sale. Italian sausage was marked down, and minus a coupon, I paid $0.99! Organic baby salad greens for $0.99 each. Kettle chips for $0.99 after sale and coupon. Flour on sale for $2/bag. Nice,  eh?
I ended up spending $58. Seems like a lot, but it just adds up, doesn't it? Some things here were uber-cheap and some were splurges. I figure it all balances out.
Sprouts
We cruised through Sprouts on date night and picked up apples ($1.49/pound for organic) and protein powder for the teenager. (Sorry, no picture.)
Spent $28 at Sprouts.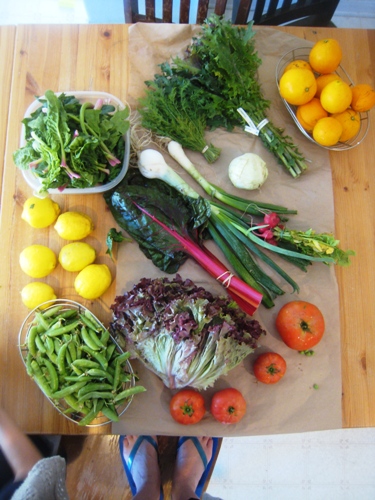 Abundant Harvest Organics
I picked up the produce box which held an abundance of organic produce, locally grown in California. Lemons, oranges, tomatoes, lettuce, snap peas, English peas, chard, spring onions, spinach, dill, kale, radishes and the smallest head of cabbage in the world.
That whole lot was $37.
It doesn't seem like I bought a ton of food this week, but the grand total was $123. Things are shaping up. I didn't exactly hit my goal for the month's spending, I did come under budget which helps offset last month's expenses. Our grocery spending for the month: $615
And the good news is that my math was wrong last month! I don't know what I did when I calculated our monthly average, but I was wrong. Our average year to date is not as bad as I thought. (I was a literature major, remember?)
But, thinking that the average was high made me spend less this month, so our average is even better. Yeah! That is a nice kind of mistake to make!
January = $442
February = $800
March = $1142
April = $615
Monthly average for the year to date: $750
I'm feeling kind of dumb that I can't do math. This time, I recalculated about ten times to make sure my math was right. And so, there we are. Under budget and right on track for the year. Who knew?
How did you do this month?