Meal times can be a great way to reconnect as a family. Meal planning helps you do that a little more easily.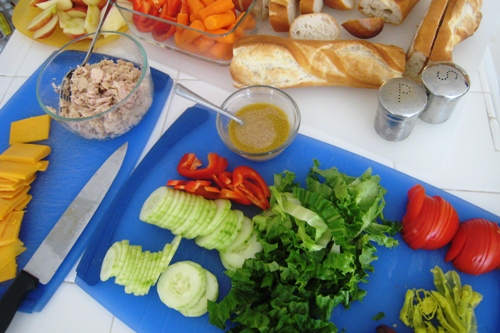 sandwich bar
Meal times are a crucial part of our family's day. Sometimes it's just for sustenance, but usually it's our chance to gather together and catch up with each other. The girls fight over who gets to sit by me. One boy has to be dragged away from his book. But, overall, it's a good time.
Especially when there are yummy meals on the menu. Like this week. At least two meals on this week's menu get a group-wide happy dance: tostadas and breakfast. Beats me. Sometimes it's the simplest of things that please.
Here's my plan for good eats this week:
18. Baked Chicken, Rice Pilaf, Beets, Chard, and Pea Tendrils
19. Sandwich Bar
20. Soup Night, good bread
21. Grilled Pork Tenderloin, Lemon Roasted Potatoes, Veg
22. Pasta Night, Garlic Parmesan Swirl Biscuits
23. Pizza Night, ChiChi's Salad
24. Breakfast for Supper
What's cooking at your house this week?
For more meal planning inspiration, visit Menu Plan Monday each week.