As I try to improve the nutritional quality of our diet, I find myself having to play with our grocery budget and find the new normal. This week I went over budget. Oops!
A few years ago, I set out on some baby steps to improve our diet. This was after we paid off our consumer debt, all 18K, and found that we had a little more wiggle room in our budget.
The first thing I endeavored to improve was the sweeteners I used. Over the last couple years, I've tried to source sugars that are less processed than regular beet or cane sugar. There are lots of choices in this area, but we landed on maple syrup, honey, and evaporated cane juice (like regular sugar, but less refined, with a light molasses flacor) as the three whose tastes we enjoyed and whose costs we could stomach. I buy my maple syrup and honey at either Costco or Trader Joe's and order ginormous bags of evaporated cane juice from Azure Standard.
Along with sweeteners, I addressed the fats to use in cooking and baking as well as increasing our whole grains. Regulars on my grocery list are butter, olive oil, coconut oil, rolled oats, brown rice, and quinoa. This list once contained some strangers, and now they are close friends of ours.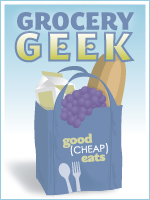 Next, I started looking at my dairy labels a little more carefully. I'd always avoided hormones in our milk, but, duh! forgot to check other dairy products, like cheese, butter, or yogurts. Now, thanks to reading The Unhealthy Truth, I read labels and am getting more familiar with the brands and sources that sell hormone-free dairy products.
Next on the list was moving my produce purchases from all conventional to mostly organic. Discovering Abundant Harvest Organics was the only way that I could pull this off without choking on the ticket price. As you know, I've learned a ton from getting a produce box every week.
Currently, I'm looking at being more selective in our meat purchases. We grocery geeks have discussed this in-depthly over the past few weeks. I am not sure I can "go organic" with our meats. The price is currently pretty high, but I'm going to keep my eyes open. Never say die. I'm just going to be sure to avoid pink slime.
With these things in mind, I present to you my purchases of the past week. I'm a little nervous to do so.
I went over budget.
Thankfully, I'm able to siphon money from one category to another and save face. But, in the efforts of full disclosure, I say that, yes, I spent a lot this week. But, I had some good reasons.
Here's how:
Vons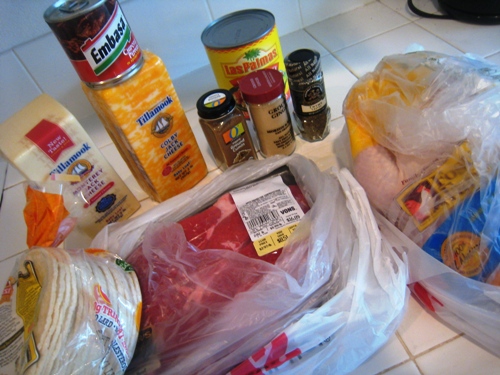 On a very rainy day I headed to Vons for chuck roast, chicken, and cheese. All three were on good sales: Tillamook bricks for $6, whole chicken for $0.77/pound, and chuck roast for $2.99/pound.
I couldn't get the cheddar that I wanted, so the other varieties prompted the other purchases: tortillas, chipotle peppers, enchilada sauce, and some spices (Buy 2, Get 1 Free) for next month's freezer cooking. I'll be cooking up several pans of enchiladas during my next cooking session, so I bought ahead.
Total spent: $44.56
Trader Joe's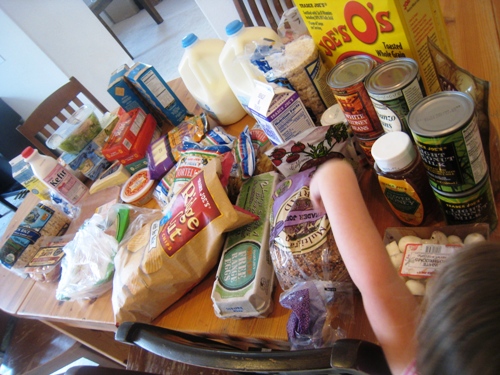 Trader Joe's tends to be my go-to source for foods that I know don't have extra "stuff" thrown in as well as the easy breakfast, lunch, and snack items that make the week go more smoothly. I bought bread, milk, eggs, rice cakes, bacon, cheese, yogurt, butter, beans, rice cakes, cereal, pasta, chicken, mushrooms, and some fun food.
Total spent $121.19
Azure Standard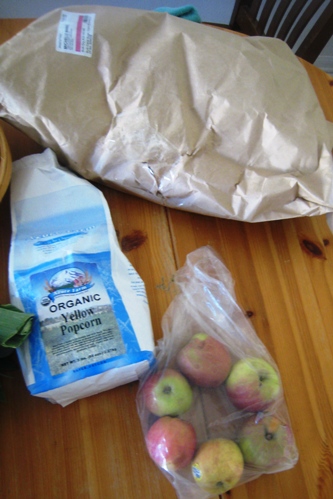 Every few months I place an order with Azure Standard, it's a health food co-op that sells a huge range of products. Typically, I usually find the best prices for flour and evaporated cane juice there. This month I bought more sweetener (25 pounds!) as well as their organic popcorn.
I also tried out their apples. I wasn't impressed. They arrived in very poor shape. Won't be doing that again.
Total spent $48.35
Abundant Harvest Organics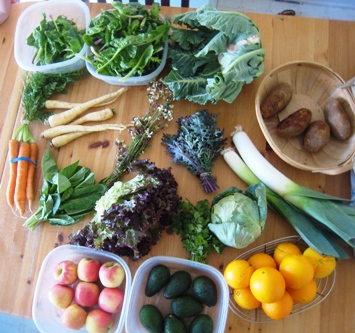 Our produce box from Abundant Harvest contained: apples, avocados, oranges, leeks, cabbage, cilantro, kale, arugula flowers, carrots, sorrel, parsnips, spinach, cauliflower, potatoes, and leeks. Sigh, no pea tendrils. Love those!
Total spent $36.80
So, the week's purchases totalled a whopping $250.90. This was way more than I had originally intended. And there's still one week in the month. (We need milk and bread!)
In my defense, several of these items will last well into April and 25 pounds of sugar much longer than that. Thankfully, we haven't eaten out a ton, so it all works out in the end.
I went over my monthly allowance of $800 for this month, but my yearly average is still below that. So, I need to do some reassessing. And we may be eating from the pantry a little more next month. Again, it's the delicate balance between spending wisely, eating healthfully, and staying sane. Our home is a busy one with 8 people coming and going and 4 ravenous BOYS in the mix. Some days I need something quick and easy like sunbutter sandwiches or boxed cereal.
My plan going forward is to do a lot of baking this weekend, including rolls and artisan bread dough so that I can stay out of the store. I'll pick up a gallon of milk and the produce box and try to keep us under $900 for the month.
MTD: $846.90 with one week left!