Grocery prices are rising. Is it realistic to buy healthier food in an already tough economy?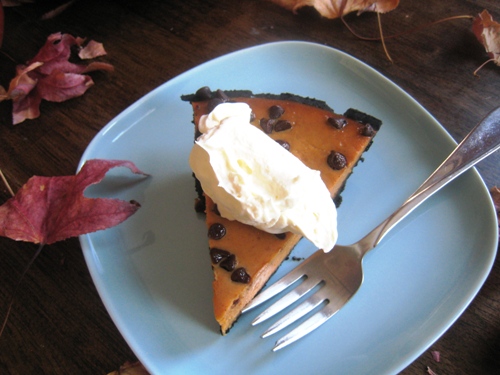 When I posted my first grocery geek post, it was a delight to brag on my couponing successes and how little I had spent on groceries in the previous week. This is not that post.
This is the post in which I eat humble pie.
It's been really bothering me that I spent so much on groceries this month. Four years ago, $400 was very doable each month to feed (then) 7 of us. Later we upped it to $500, then $600 as we had wiggle room in the budget. We could eat something more than beans and rice, rice and beans!
But, slowly, that number has been wiggling up some more. This month it topped the $800 I had hoped for. Now, don't get me wrong. I am very thankful to have this money on hand to spend. I'm not complaining. I know many, many families have much less to spend. I'm just stunned, is all, by the changes.
I've done some philosophizing about it — because that's what a (grocery) geek does – think about something a lot. And I'll share some of my conclusions. But, first here's a peek at this week's purchases: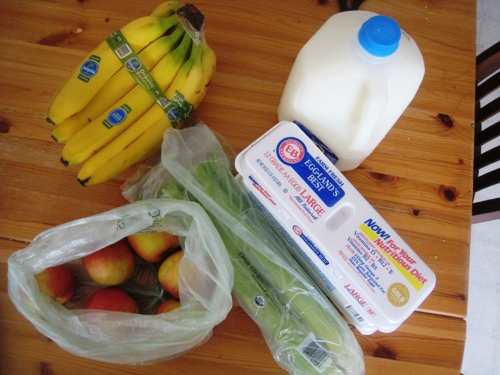 Sprouts
As the week started out, I exercised restraint. I bought eggs, milk, celery, apples, and bananas. I spent $12.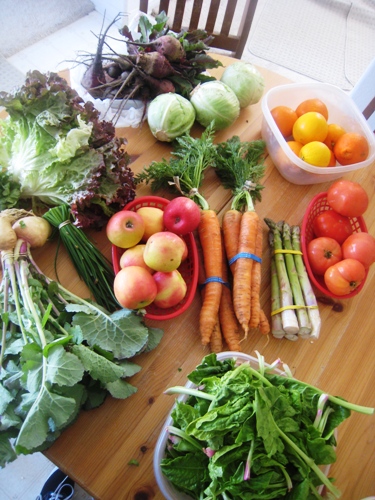 Abundant Harvest Organics
On Wednesday I picked up the produce box. For $38, we got spinach, apples, carrots, asparagus, tomatoes, beets, chives, oranges, cabbages, and lettuce. In retrospect, I could have done without this week's box. So, I've scheduled some "vacation weeks" on our subscription to offset next month's spending.
The month could have ended on Wednesday and I would have been a happy camper. But, it didn't.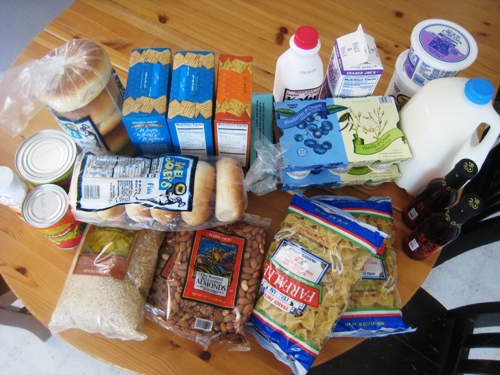 Trader Joe's
On Thursday, we started our Spring Break. And as I had just calculated our gas costs and our mileage record for last year and as we were in the very same parking lot as Trader Joe's which is not close to our home, I chose to buy for next month instead of make another trip and spend more for gas.
I spent $74 on milk, bagels, almonds, rice, tomatoes, pasta, red wine vinegar, yogurt, sour cream, kefir, crackers, vitamins, milk, and butter.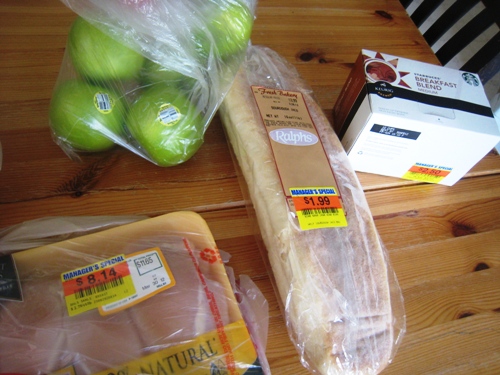 Ralphs
Thursday afternoon I spent a full day sorting through fifteen year's worth of toys. I was beat. My eldest and I took a full vehicle of stuff to donate. I was looking forward to leisurely cooking dinner when I realized that I had forgotten my tax meeting. So, we stopped quickly at Ralphs for an alternative (and quicker) dinner option: marked down chicken and bread to supplement with leftover rice and salad. I also found apples on sale and coffee marked down. Total spent $14.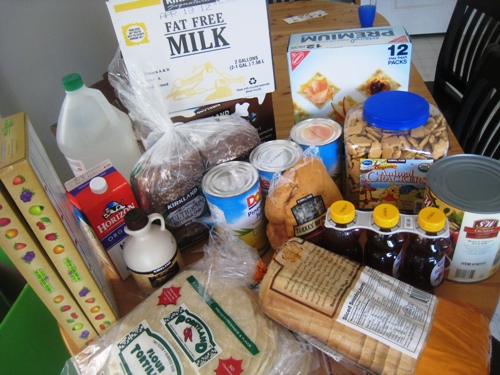 Costco
On Friday (Day Two of Spring Break) we stopped at Costco, again, not close to home, but on the path we driving anyway. I knew there was stuff on my Costco list, so we stopped. I spent $157 on milk, half and half, juice, honey, maple, crushed tomatoes, bread, tortillas, turkey, crackers, and vinegar as well as two huge bags of frozen berries and a large box of popsicles. It seems like a huge amount of money to spend, but it's all stuff we will use, in ginormous packaging.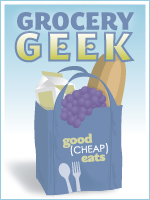 Total spent this week: $295
Total spent this month: $1142
Average/month YTD: $914
Ouchie, Mama! Clearly, something's amiss. I wish I could say my math was wrong, but I don't think it is.
Edited to add, 4/27: I recalculated my monthly expenses for Jan, Feb, and March, and found out that my year to date, monthly average is not as high as $914. It was actually, $795. Whew.
Clearly, it's time for a grocery audit. I'll share my findings on Monday. But, in the meantime, I'll open the floor to comments. Is this too much to spend for 8 people, including 1 male adult, 1 female adult, 4 boys (aged 7 to 14) and 2 little girls?
What do YOU think?