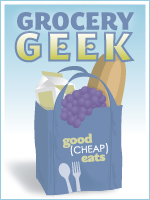 I feel like I've been extravagant in our grocery spending lately. But, really, I haven't been. My family is just eating a ton. I guess this is what it is to feed a small army of eight?
In case you didn't know, the good cheap eaters at our house are 2 adults, 14, 11, 9, 7, 5, 3. Only three of us are female. The guys eat a ton!
Last week I skipped my grocery report and instead we chatted about ways to reduce grocery spending. Visit that post if you haven't already. Good discussion!
Last week: Costco/Produce Box – $198
However, here 1/3rd of the way into the month, I must confess, we've been eating (and therefore, buying) a lot! Last week I did a big stock-up at Costco. I spent $160  on cheese, bread, milk, cream, half and half, chips, frozen fruit, tortillas, bagels, and a bunch of stuff I can't remember. I knew I was leaving the fam for a few meals to fend for themselves, so I just bought stuff to make sure there was "food in the house." I also picked up the produce box for $38.
This week I made three stops:
Sprouts – $25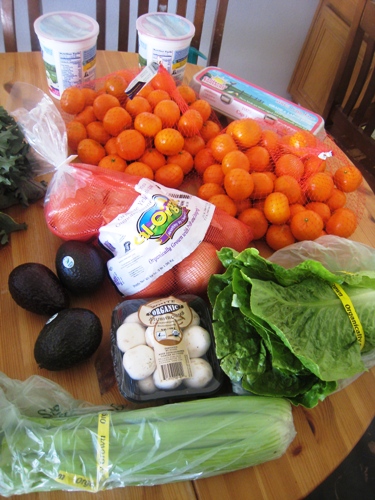 This would include mostly organic produce: celery, mushrooms, avocados, onions; Cuties, eggs, and yogurt.
Produce Box – $41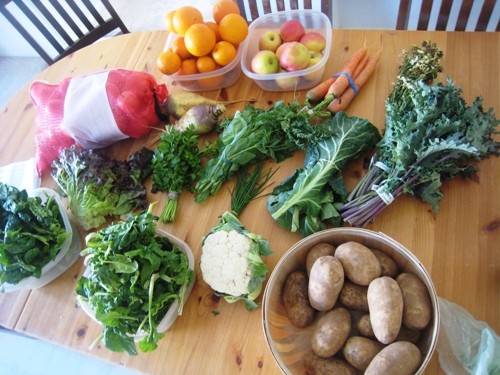 We got potatoes, spinach, lettuce, cauliflower, parsley, chives, collard greens, kale, carrots, rutabagas, apples, ugly apples, oranges, and mandarins as well as two new interesting items: pea tendrils and arugula flowers. Tasty on salads! (Some of this is extras or replacements from the previous week. Regular large boxes were not this full.)
Trader Joe's – $133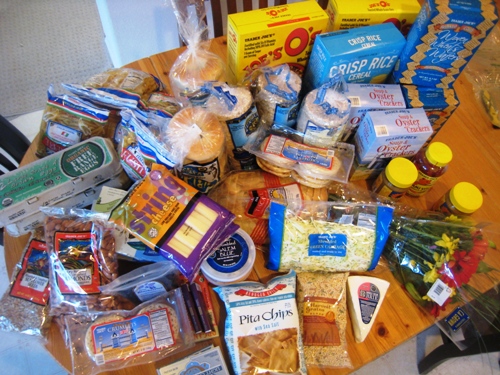 The cart was bursting and I felt like I splurged a little, but I was surprised that the total was so low. I know, $133 may not sound low. I got 8 pounds of pasta, bagels, crackers, cereal, rice cakes, eggs, nuts, dried fruit, cheese, vitamins, yogurt, grains, FLOWERS, sunbutter, and chocolate. While it is a lot, I feel good that we have food for awhile. Maybe even a week.
Total MTD: $397
So, ten days in, we've spent $397. And I haven't purchased any meat! That is a little disconcerting. We have plenty of protein: beans, cheese, and the meats in the freezer for this month. And I think we're good with fresh fruit and vegetables as well as grains, etc.
But, I'm really on the fence about how to source our meats. If you've watched the news and read any food-related writing, you know that there is a lot of controversy about the safety of our meat supply. So, I've been stretching what we have and feeding the fam more meatless meals. I'm considering purchasing a side of grass-fed beef. I've got the space in my freezer, just not sure I can swallow the purchase price. Costco offers organic beef for about $4/pound, so I may go that route for awhile. We'll see.
Total YTD: $1600
I'm talking in rough numbers here. I spent $400 in January and $800 in February. This month is about $400 so far. Not sure how the month will fall. But, I'm trying to be mindful of it.
How about you?
How's your grocery gig going?