Finding affordable sources, stockpiling, and readjusting my shopping mentality all help me buy better food on a budget.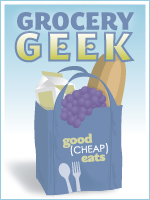 I've been doing a lot of thinking and eating this week.
In my brain are ideas of food sourcing. Four years ago my grocery shopping was dictated by the bottom line. We had limited funds, a growing family and a heap of debt to clean up. I bought what was cheapest, even if it wasn't all that healthy.
Today, our funds still have their limit, our kids are practically eating down the house, but the debt is gone. And that, thank the Lord, gives us breathing room. Now that we're paying for today and tomorrow —  instead of yesterday — I can put a little more thought and effort into what I feed my family.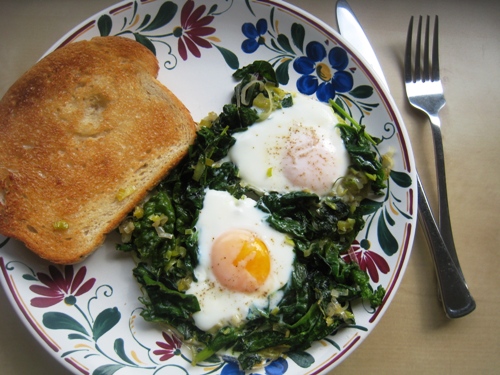 Learning more about food
Four years ago, I didn't pay much attention to health issues and nutrition. It wasn't that I didn't care. But, I knew convictions would then wage war. I would have to choose. And, really, I did have to choose, anyway.
I chose money and fiscal responsibility. And I'd still make that same choice today. However, one thing that I've learned is that healthy food choices and frugality can peacably coexist. And I'm learning more about food and determining what I want the new normal to be.
In 2008, we spent a tight $400/month on groceries. Meals out were few and far between. We ate little meat. Our oldest child was a mere 11 and one child wasn't even born yet.
Today I think it's safe to say that our food costs have doubled. However, my people are a lot bigger! The market has changed dramatically. And we enjoy more meat and eating out than we did. We've also increased the quality of the food we buy.
It's really not a question of "Should we eat healthy or not?" Rather, it's finding the right sources, reading labels, and be more intentional about what I buy. Depending on where you live, this can be more challenging or not.
Avoiding pink slime
Costco = $127
Lately, hubs and I have been talking up the pink slime issue and figuring out what our choices are. I'm the crunchier of us two. I was already thinking of buying a side of beef for a myriad of reasons. But, his objection is more to the "bait and switch" of the product. You're not buying what you think you're buying.
So, I bought organic ground beef at Costco this week. It's about $4.50/pound which is the cheapest I've seen. Their conventional ground beef is supposed to be slime-free. So, we may revert to that. The jury's still out. But, overall, Costco does seem like an easy source of some organic meats: chicken pieces, whole chickens, ground turkey, and ground beef.
I'm also finding hormone-free cheese at affordable prices there and their whole turkey breast is just that. No nitrates or nitrites are listed on the ingredients list.
My $127 worth doesn't look like much, does it? Thankfully, they are big bulk packages of each item.
Sourcing organic produce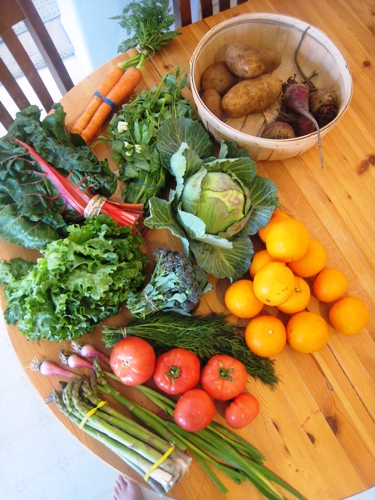 Abundant Harvest Organics – $37
One of the benefits of living in Southern California is the long growing season and, as I'm coming to find out, more sources of organic produce. In August I started subscribing to Abundant Harvest Organics, a produce co-op, thanks to a reader's suggestion. It's been a wonderful adventure.
While I am forced to cook things I would never buy (parsnips, anyone?) it's been a fabulous source of affordable organic produce. Coming from a long line of Minnesota farmers, it also makes me really happy to get closer to the source. And even the crazy things, like parsnips, have been a great education for me and the kids.
I've also had some amazing meals. Those eggs up there? Poached on a bed of spinach, leeks, and pea tendrils (yes, really), those eggs were some of the best I've ever eaten!
Stay tuned for the post on pea tendrils!
This week's box included carrots, potatoes, beets, Swiss chard, asparagus, green garlic, TOMATOES, oranges, cabbage, broccolini, lettuce, pea tendrils, and dill. Fun! I feel like I get the benefits of a garden without all the extra work.
Sprouts – $35
Anticipation buying
While I didn't "have to" buy anything this week, I'm trying to apply the "buy ahead" principle (aka stockpiling) to my healthier eating goals. Pineapples were a great price at Sprouts, $0.99 each. I didn't "need" pineapples, but at that price, who can resist? Organic eggs were on sale for $3 and organic potatoes were $0.50/pound. (The yogurt was to replace a container that I returned that was bad.) The mushrooms and tomatoes were for recipe testing.
As I learn the best prices for organics, I'll be adjusting what I buy to match this new way of thinking. While it might not be as cheap as the conventional prices I'm used to, I figure it's a reasonable way to make the switch. It will just take time to learn the new pricing structure.
Grocery spending MTD: $596
Last week's grocery tally ended at $397 month to date. This week's purchases bring it up by another $199. Next week's produce and Azure Standard purchases will bring it close to an $800 cap. That may be the new normal? I'm not sure.
Quite honestly, these numbers seem extravagant to me. I know I could spend less. But, I would also be buying different things that I may or may not want to feed my family. I still have a little grocery-budget envy when it comes to comparing myself to other folks. But, as we talked before, it's not a competition. I have to remind myself that it's not a race. Just gonna do the best I can with the information I have.
How do you buy better food on a budget?