While February doesn't seem like a fabulous month for fresh produce, here in Southern California, we're enjoying plentiful pickings.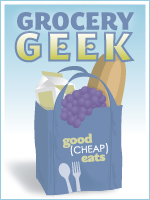 It would seem that Wednesday brought an influx of fresh produce to our house. Not only did I pick up the produce box, but I also cruised by Sprouts for some of their sale produce, to fill out what I knew wasn't in the produce box. (I get a head's up on box contents each Thursday so I can plan accordingly for the coming week.)
We The kids went through ten pounds of cuties in 2 days. This doesn't normally happen but they were the best cuties we've had in years. In years. YEARS, people. They tasted like candy, tart and sweet and juicy all at once. Wow! We got our Vitamin C this week, that is for sure.
And the kids and I ate the brussels sprouts the very next day, sauteed in bacon. Because bacon makes everything better. We redeemed a past bad experience with the lowly sprout. A child randomly requested them one day, and I randomly purchased a box of frozen brussels sprouts one day at Target. They were horrible. Right out of my childhood. And hubs, too. It was a family-wide mutiny against brussels sprouts.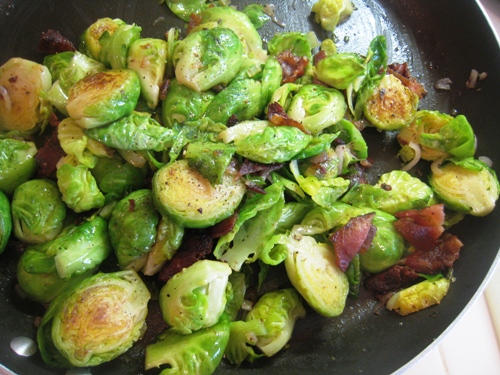 Until this week. They were great. Fresh. Sauteed. With bacon. Who knew?
So, enough of this chit chat. Here's the grocery geek lowdown for the week. In all honesty, I also made a $50 stop at Trader Joe's for "fun food," aka morale boosters, aka sanity savers, including the fabulous Dark Chocolate Almond Toffee. But, I'm taking that out of my allowance, not the grocery budget. So, you decide if that counts.
Abundant Harvest Organics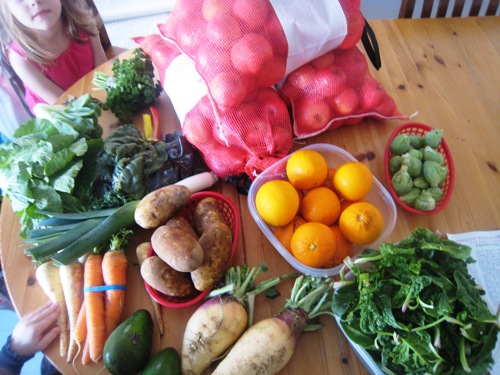 Purchasing a seasonal box of produce each week from Abundant Harvest Organics has obviously changed a lot of things in my cooking and shopping habits. I confess that I am a little overwhelmed by all. the. greens. But last week's yu choy was a big hit with the teriyaki chicken we had earlier in the week. And everyone is warming up to Swiss chard, slowly but surely. I haven't totally embraced the collard greens, but I blame that on my Yankee blood. 😉
This week's box from Abundant Harvest Organics included: potatoes, rutabagas, carrots, avocados, leeks, swiss chard, cabbage, baby choy, parsley, oranges, spinach, and brussels sprouts. I also loaded up on their "ugly apples" at 10 pounds for $3! We've already converted one bag into applesauce and will be working on the other two this weekend.
I spent $46.80 for all this organic fresh produce.
Sprouts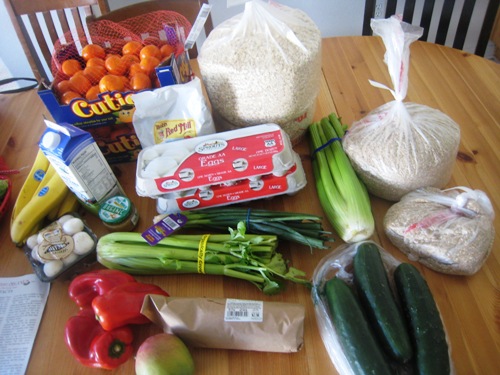 Sprouts has taken over my Henry's which made me sad, but we've survived the transition. They've had some exceptional sales on cukes and peppers lately. So good, 3 for $1, that I veered from my "organic produce only" baby step to add cukes and peppers to our regular munching. Same goes for the cuties at $4 for 5 pounds. I did buy organic celery, one of the Dirty Dozen, for munching. The blue band conventional is for a science project, $0.88. Oats and rice were both on sale for $0.69/pound so we loaded up on those. Eggs were $2/dozen. The ground flax meal was about $5. Also added some Italian sausage, bananas, garlic, mushrooms, half and half, and a mango.
My total bill was $50 and some cents for what's pictured above.
So, we spent about $97 this week, not counting the afore-mentioned Trader Joe's morale booster. Adding that to last week's freezer cooking purchases and other random lunch and breakfast items, I've spent a total of $557 for the month so far. With two weeks left in the month I have more than enough dinners to last us well into March. I will probably need to buy milk and cheese in the next couple weeks as well as the produce weeks remaining in the month. Our spending "should" fall between $600 and $700 for the month, but that will include restocking the pantry on some items. But, I am guessing that in March we'll have a surplus to draw from.
How do you handle spreading our your purchases over the month?