We interrupt our regularly scheduled episode of Grocery Geek for a giveaway from Vons, a Safeway affiliate, and a review of their "Just for U" shopping program.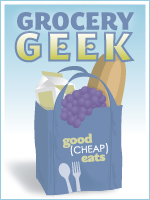 Recently, Vons wrote me with information about their new, personalized shopping program, called Just for U™. It "enhances your Club Card rewards and saves you additional money on products selected just for you based on products you normally buy, allowing you to save on the items you want without having to sort through ads and clip paper coupons."
I signed up last week for the program which took about 5 minutes, creating an account and linking the program to Vons Club Card that I already had. Then, I spent some time scrolling through the different offers. There are a number of sections to choose from: Coupon Center, Personalized Deals, and Your Club Specials.
Basically, Vons uses your club card to track your purchases and your preferences to customize coupons and deals to help you save money, just for you. I was pretty impressed by the experience. Not only could I load my card with virtual coupons, but I was able to get extra savings on top of their advertised specials. The Club Special section is excellent, too, because it scans the current ad for me, matching previous purchases to what's on sale, so that I can be mindful of buying the things that we normally buy.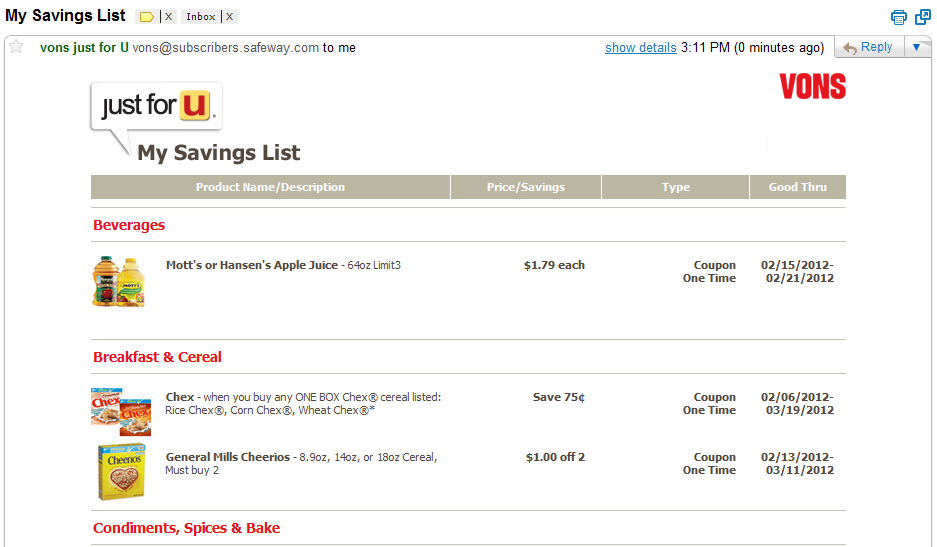 An extra plus was that the system emailed me the list of things that I had checked. While I was at the store I could look at my phone (instead of taking a written or printed list) and know what my "coupons" were. Very helpful!
Vons sent me a gift card to go shopping, so I scanned through the sale prices and picked up what we needed that matched.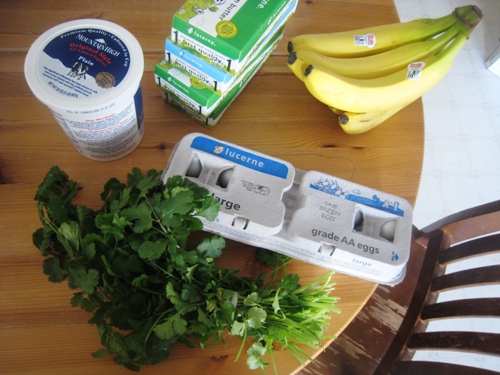 I spent about $15 for cilantro, bananas, 4 pounds of butter, and yogurt. I was really pleased to see that their store brand butter was not only $2.50 a pound, but it was also hormone-free, something that is a little trickier to find in a store brand. The eggs were free for signing up for Just for U.
This weekend, Vons is offering a $50 gift card to one Good Cheap Eater.
While the Just for U program is for Vons and Pavilions stores, the gift card is good at all Safeway affiliates.
To Enter
Simply complete the information on this form. Please know that the information is only being gathered for the purposes of mailing you your gift card in the event that you are chosen as the winner. This information will not be bought or sold.
This promotion is open until Sunday, February 26th, at 8 pm PST and is limited to US residents, 18 years or older. Friends and family of Jessica Fisher and Good Cheap Eats are ineligible for entry. The winner will be chosen randomly. This post will be updated with the beginning of the winner's email address. The prize for this promotion is provided by and shipped by Vons and/or its representatives. Jessica Fisher and Good Cheap Eats will not be held responsible for unclaimed or undelivered prizes.
THE GIVEAWAY IS NOW CLOSED. CONGRATS TO THE WINNER: LIZSELLSMARK@
Disclosure: I received a Vons gift card. However, all opinions are my own.