Grocery shopping can be costly, even when you are careful about your spending. I'm crunching numbers this week.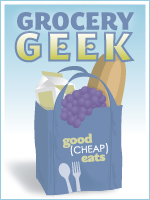 I really thought that this week I could limit my grocery shopping to pantry staples. I probably could have, but I didn't. Apparently, better planning is in order. It doesn't help that I've been reading a delicious cookbook and yearning to make the recipes that I'm reading about.
I made at least three stops over the course of the week, including picking up our produce box. Here's how it shook down: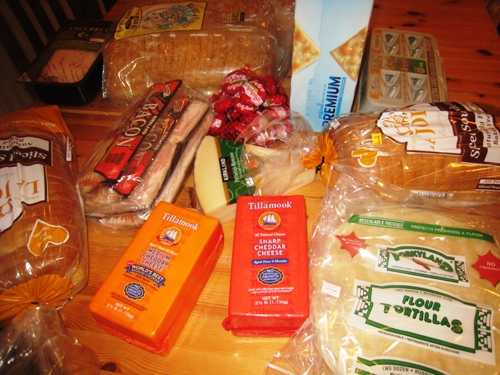 Costco
I spent $100 at Costco picking up "basics" like 2 gallons of milk, 4 loaves of bread, 2 dozen tortillas, 4 pounds of bacon, 18 eggs, 6+ pounds of cheese, 2+ pounds lunch meat, and crackers. $100? Yeah, surprised me, too. But, some of the cheese, like the romano, will last us for months.
I was unpleasantly surprised that Costco changed their packaging — and their price — on turkey deli meat. It's almost twice what it cost before. So, we'll be finding an alternative protein to put into sandwiches from now on.

Abundant Harvest Organics
I successfully processed all 30 pounds of last week's apples into applesauce and have it stashed in the freezer. This week's delivery brought apples, carrots, collard greens, arugula, green garlic, broccoli, lettuce, cabbage, spinach, lemongrass, parsnips, potatoes, tangelos, lemons, and romanesco cauliflower. Total spent was about $38.
To save some cash this month and give myself a change to catch up on some new and unusual ingredients, I set our produce box to vacation for next week.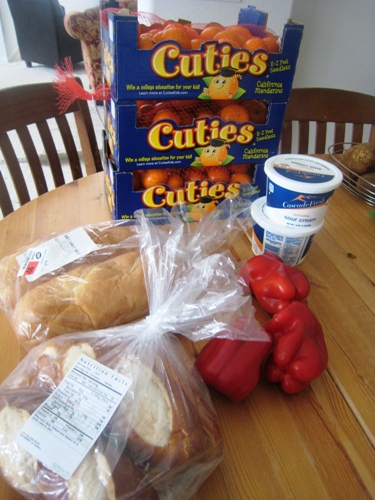 Sprouts
I cruised by Sprouts to get more Cuties (aka California Clementines). Last week's boxes were so good. Unfortunately, these were not up to par. Tasted like what happens when you drink orange juice after you brushed your teeth. I know, I could take them back. But, we're eating them, nonetheless, hoping we'll strike gold.
Bell peppers were 3/$1, sour cream was a $1 and the clearance bread was $0.99/package. So, after $12 worth of clementines, my bill was $16 and some change.
Total spent this week = $154, bringing my monthly total to just over $711.
Compared to the USDA estimate that I should be spending well over $1000 per month to feed my family of 8, it's not bad, but not that great, either. Last year my average grocery spending for our family of 8 to eat (plus buy toiletries) was a tad under $800 a month. This seems huge to me, about $200 more than it was two years ago. However, prices have increased dramatically over that time; my kids have grown dramatically in that time. And we're trying to increase the quality of the foods we eat.
Currently, my freezer is getting nicely restocked. We've barely made a dent in the stash from my recent freezer cooking day. That plus the applesauce and squash that I've been processing and freezing, will carry us well into the coming months. However, I do see us needing flour, sugar, and butter in the next week or two. While I would like to stay out of the stores next week, those are staples that I just really can't do without.
That said, I would like to get it back toward $650 to 700 over the course of the year. Last month I spent $446.33 during the pantry challenge. So, there's a chance that even if I spend the full $800 this month, we'll still be on track. And it's certainly less than what the government says I should be spending.
Do you have a trick for curbing your spending?