Butternut squash can be easily roasted in the oven and pureed in the food processor. Use the puree as you would pureed pumpkin.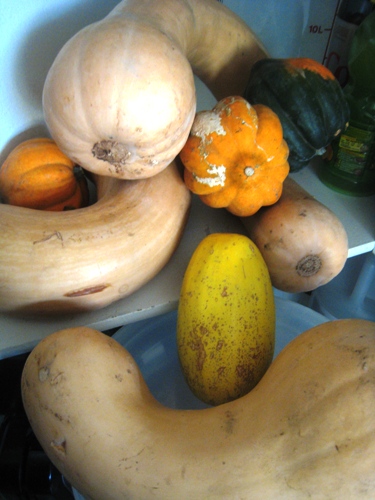 Recently I shared how I needed to deal with the inundation of squash at my house. Yes, four butternuts, a spaghetti and three acorn squash have been sitting snug and cozy in my pantry. Oh my! Time to start chipping away at them!
The hard part is that my family doesn't love squash as a vegetable. In fact, it's a new taste sensation for me even; my mom never ever served squash when I was growing up. Years ago I started preparing spaghetti squash to serve on pasta nights. Last year I used butternut for puree and soups.
Recently, I roasted one with olive oil and salt and pepper and served it on a bed of greens with grilled chicken, pomegranate seeds, and gorgonzola cheese. It was amazing.
But, my family needs a little coaxing. So, the squash has piled up. I decided to tackle the largest squash first.
To give you perspective: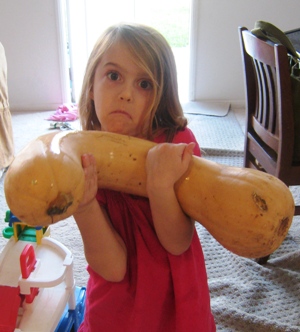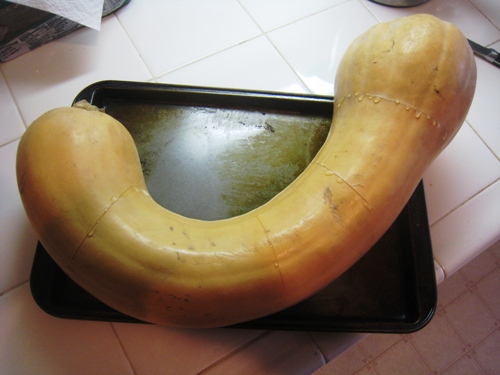 It's a big squash. Big.
I decided to tackle it Shaina's way. I put it on a cookie sheet, cut some slits into it, and roasted it for over an hour in the oven. Yes, it took up the whole oven.
And then I scooped out the meat: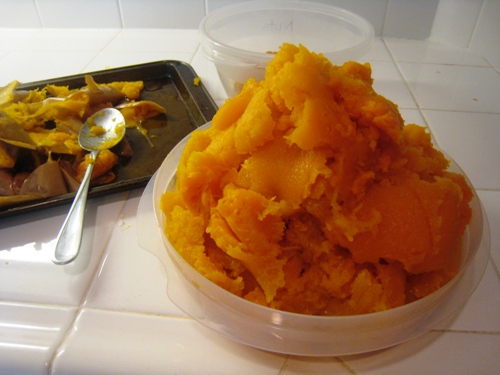 I pureed the meat, resulting in 14 cups of squash puree. Then I got to cooking. I spent the better part of last Saturday baking. First I made a delicious butternut squash soup with leeks and herbes de provence. THAT was yum! I had it for lunch on back to back weekend days and then froze the rest for another time.
Then, I baked. I used my favorite pumpkin recipes and just subbed squash puree for the pumpkin.
and I experimented with Butternut Squash Brownies. No one was the wiser.
Thankfully, I have enough squash to do that again. And again. And again.
Got a favorite use for squash?