Easy meals and pantry menu planning work really well together. The average kitchen cupboard holds some nice basics for pulling together a simple chili.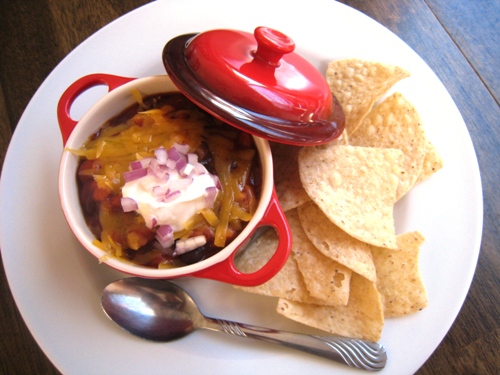 We're obviously tackling an easy week in the food arena. Gotta push through the Pantry Challenge, eh?
My kids love chili dogs with shredded cheese over the top. I buy kosher dogs and usually make my own buns and own chili, so this healthifies an otherwise carnival-kind of junk food. In fact, if you've got the sausages already, the chili and bun part is a perfect pantry staple.
I'm happy to see hot dogs on sale at my local Kroger affiliate (Ralphs) this week, so it shouldn't effect our grocery spending to add this little fun food to the menu. And they don't know that I'm going to be hiding all kinds of vegetables in the chili. Bwahaha!
Chili Dogs, Veggie Dippers
Pancake Night
Soup,  Bread
Potstickers, Stirfry Veg, Rice
Beans and Rice
Pizza Night
Chef's Choice
(You can read my daily updates of what we actually end up eating here.)
What's cooking at your house this week?
For more meal planning inspiration, visit Menu Plan Monday each week.