Shopping my kitchen is saving me at least $200 on groceries this month — and we still have food left to eat!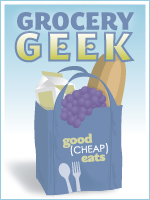 So last week's grocery basics trip did not last the week. We continued to have a wealth of dinner options, but lunches were sparse. In the words of my 14 year-old son, all that's left is "stuff that you have to cook." Ain't that the truth?
When I asked my people what they wanted for lunches this week, the answer was "sandwiches."
What kind of sandwiches?
Good ones, they said.
Excuse me while I roll my eyes back to the front of my head…. Everything is relative. My idea of good sandwiches, may or may not be the same as theirs. My land!
So, I stocked up on sandwich fixins so that lunches were quick and easy to prepare and so that we didn't have to cook every meal. I also grabbed a bunch of ingredients for smoothies. The kids ate both almost every day this week.
Here's the grocery haul for the week:
The Lunch Stop at Costco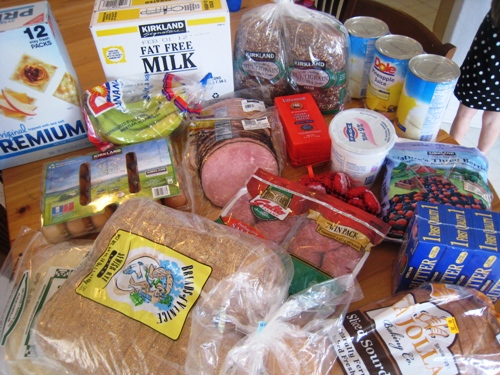 I spent about $100 at Costco and was stunned that the bill was so low, actually. I expected it to be much higher. I know, $100 sounds high, too. But, that was 2 dozen eggs, 4 pounds of butter, 5 loaves of bread, many pounds of lunch meat, 2 gallons of milk, 2 dozen tortillas, bananas, cheese, yogurt, juice, and crackers.
At this writing, we still have some salami, 3 pounds of butter, 1/2 gallon of milk, and the yogurt. Everything is almost gone. My word, but these kids are growing like weeds!
Total spent at Costco $100.
The Produce Box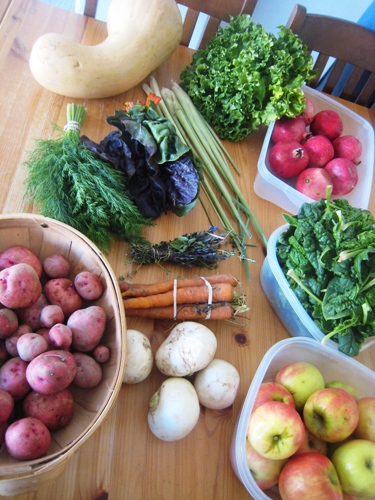 I picked up the produce box on Wednesday and did not find the avocados I was hoping for, but I found out they are coming next week. I told you there would be avocados in time for Super Bowl!
Instead I found potatoes, turnips, apples, spinach, carrots, choy, herbes de provence, pomegranates, dill, chard, lemongrass, and ANOTHER butternut squash. Clearly, I need to get with the winter squash this next week. See my little stockpile?
The box total was $37.80.
Weekly total: $137.80
Monthly total to date: $298
While this week's purchases were almost equal to the entire month's total previously, we're still hugely below what we regularly spend — and we still have a lot left. I know we need milk and some dairy products, as well as more children's vitamins, but not too shabby, all things considered.
But, my freezer is nowhere near empty! So, we'll see what kind of relocating between the freezers can happen in this next week. Regardless, I think this "shopping the kitchen" thing is saving us at least $200 this month, if not more.
So far, so good!