While a Pantry Challenge can save money on food costs, it can stretch you in terms of other resources, namely time and effort, depending on the contents of your pantry.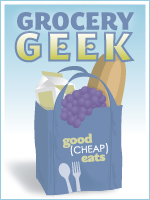 I must confess, I'm so excited to see the end of this final week of the Pantry Challenge. It's been good, to be sure. I think we saved some cash. And we used up some things that I might have continued to ignore. But, I'm done.
On Thursday Thaw Out, I was able to empty the deep freeze and place all the contents into the refrigerator freezer. It's a tight squeeze, but it works. I even let the kids eat Christmas cookies for breakfast one morning and then eat all the ice cream they wanted for dessert that night. I myself put gelato in my morning coffee because we were out of cream.
So, this is the final report on my pantry challenge shopping. Next week is more February than January and with a big freezer cooking session on Monday, I'm counting January done.
So, here's how we ended the Challenge at our house: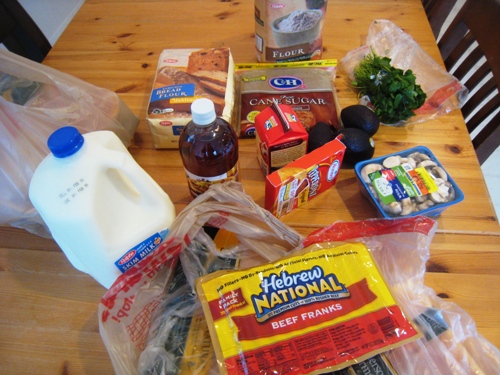 A trip to Ralphs: Ralphs is typically my clearance/sales stop. I found chicken and mushrooms on markdown as well as hot dogs and chicken breast on sale. I didn't want to completely empty our reserves and then miss chicken sales for the next six weeks. I picked up a few odds and ends: milk, apple cider vinegar (for the boys' shampoo), flour, sugar, cream, cilantro, and pepperoni. See? random.
I spent $55.00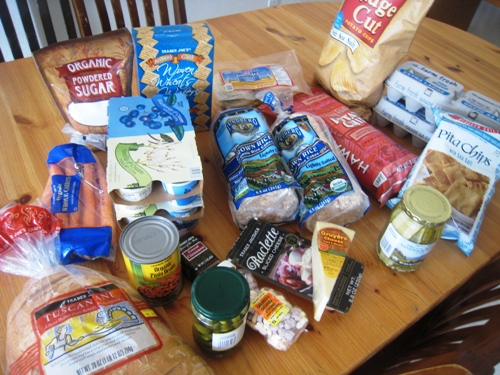 Stop at Trader Joe's: I picked up some of our regular staples like rice cakes, yogurt, bread, vitamins, and cheese as well as some snacky things and raclette!
Total spent: $55.53

Our produce box: The produce pickup was a little sparse compared to previous weeks. I think it's the lull of the season, as far as California is concerned. There were a few rutabagas in the box as well, but I gave those back. We are maxed out on the turnips and rutabagas.
But, we'll figure out something to do with that daikon radish! Holy root veggies, Batman! I have a feeling that I'll be supplementing with some fresh fruit next week though. Those oranges will not last long around here.
Total spent $37.80
So, after four weeks of shopping our kitchen and then shopping elsewhere, I spent a total of $446.33 for the month. Typically I spend between $600 and 800 each month depending on the sales and what stocking up I do. Obviously, this was a significant savings.
As I scroll through some of the purchases over the last month, I know that there were plenty of "extras" thrown in like chips and special cheeses. If push came to shove, we could probably reduce our grocery spending more if we had to. I find that good to know.
I also know that I still have several packages of meat, beans, and grains left in my stores, so it's possible that I could continue this challenge into next month. Gonna have to think on that one.
Total Spent in January: $446.33
Come back on Monday when we talk about how the Pantry Challenge ended as well as goals achieved.