A Pantry Challenge can help you reduce your grocery spending. We are down a significant amount this month thanks to eating what we have.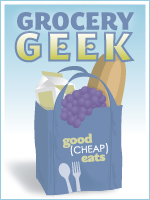 After I organized our freezer last weekend, I realized that we could and should probably continue this challenge into February.
I cringe when I open the kitchen freezer, the one in the refrigerator. It is full of all kinds of odds and ends that I've just stuffed in their on a whim so that it doesn't go to waste: heels of bread, overripe bananas, a small container of cream that would have spoiled while we were on vacation. There's no way I could transfer food from the deep freeze to the fridge freezer in order to thaw out the big guy.
So, we continue shopping our kitchen first.
As such, I pretty much stayed out of the stores this week. I made one run to Trader Joe's for basics and picked up our produce order. I also grabbed a bag of tortillas in Walmart one day and two pounds of butter in Target on another. Other than that, we've been good with what we had.
And aside from date night and a Costco pizza, we ate every meal at home. Whoohoo!
So, here's the grocery geek adventures of the week:
Trader Joe's & Target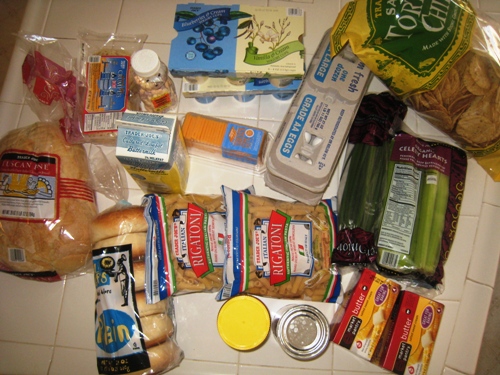 Just as it was a major feat to go into Costco and stick to a list, so it was with my trip to Trader Joe's! Man, they have good stuff. But, I used great restraint. The only "splurge-like purchase" was the sharp cheddar cracker cuts. We do have cheese at home, but I forgot to get sharp at Costco last week. And I like sharp.
'Nuf said.
Savvy shoppers will note that the butter is not Trader Joe's, but Target brand. Yes, I went to Target on the same day for freezer organizing supplies and their butter was cheaper than TJ's. ($2.50/pound for hormone-free)
Anyways, we added to our pantry: pasta,  bread, bagels, yogurt, eggs, butter, celery, green onions, buttermilk, cheddar cheese, sunbutter, tomato sauce, vitamins, crumpets, and chips. All told $45 spent, including the butter.
Almost all these things are gone right now.
Abundant Harvest Organics & Walmart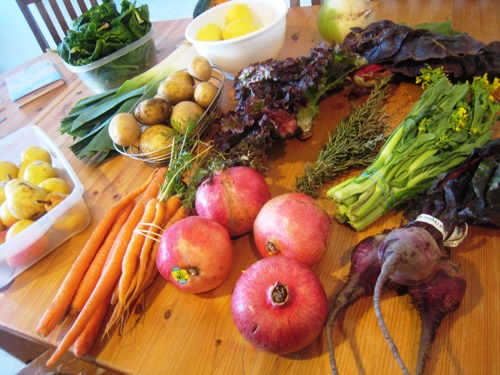 I picked up our produce box and was pleased to find all kinds of fun things, including more pomegranates, beets, pears, carrots, potatoes, leeks, lettuce, choy, rosemary, chard, lemons, spinach, a butternut squash, and a ginormous rutabaga.
I have LOTS of squash to deal with still, prompting me to consider putting it on hold for next week. But, last time I did that we missed all kinds of one-time things. So, I caved. What if I miss avocados? Surely those are coming.
I spent $37.80 on produce and another $3 for tortillas = $40.80
This week = $95.80
Last week = $64.40
Total this month = $160.20