Cinnamon and brown sugar form a crunchy topping that sits and settles into a spiced cake, making a perfect accompaniment to coffee, tea, or cocoa.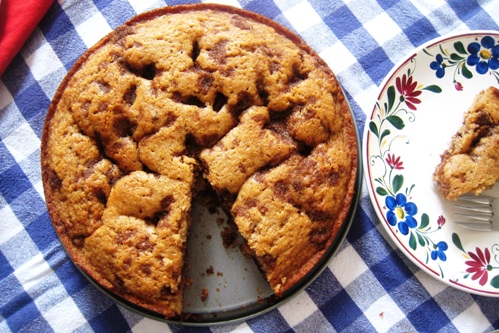 This Cinnamon Coffeecake is quickly becoming a favorite at our house. The cinnamon and brown sugar form a crunchy topping, some of it resting on top, some of it sinking to the cake. Either way delicious. The cake is easy to pull together, makes a great make-ahead baking mix, and it tastes great! Though, I rarely get to eat any since my family devours it every time.
We've They've been enjoying it quite a bit during The Pantry Challenge.

Recipe: Cinnamon Coffecake
Ingredients
3/4 cup sugar
3/4 cup oil
1 egg
1/2 cup milk
1 teaspoon vanilla extract
1 1/2 cups unbleached, all-purpose flour
2 teaspoons baking powder
1 teaspoon ground cinnamon
1 teaspoon ground nutmeg
1/2 teaspoon salt
Topping:
1/2 cup brown sugar
2 tablespoons unbleached, all-purpose flour
2 teaspoons ground cinnamon
2 tablespoons melted butter
Instructions
Preheat the oven to 350 °. Grease a 9×13 baking pan or a 9-inch springform pan.
In a large mixing bowl, combine the sugar and oil. Mix in the egg and vanilla until smooth. Stir in the milk.
Add the flour, baking powder, cinnamon, nutmeg, and salt. Blend just until mixed. Spoon into the prepared pan.
In a small bowl, combine the topping ingredients and sprinkle them over the batter.
Bake for 20 to 25 minutes or until a tester comes out clean. Cool on a rack slightly before serving.
The cooled cake can be wrapped in double layers of foil or plastic wrap and stored in the freezer, up to 2 months. Thaw, wrapped, at room temperature before serving.
Preparation time: 10 minute(s)
Cooking time: 25 minute(s)
Number of servings (yield): 8