Post-Christmas clearance sales can provide ample supplies for certain items that you use all year long, especially on paper and plastic goods.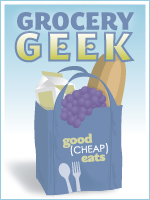 We've been out of town for most of the week. But, before we left Dodge, I did make after-Christmas shopping stops at both Target and Ralphs, my Kroger affiliate. I was disappointed that the baking supplies and regular groceries were slim pickings. The stores must have read my post and known I was coming.
But, the choice of paper and plastic goods was excellent. We don't use as many disposables as we used to, but I do like to use paper towels for some cleaning jobs, and we use a lot of freezer bags for freezer cooking. So, I stocked up for a good part of the new year.
Who cares that the plastic bags are holiday themed?
Freezer bags were $0.65 per box of 40, making them a little more than a penny a bag. Paper towels ranged from $0.37 to $0.63 per roll. I bought a lot. I also found graham cracker crumbs for $0.70/box, much lower than the price of a box of crackers as well as baking chocolate for $1 per box. Ziploc boxes were $1.25 for five and the Scotch tape was $1.50/package.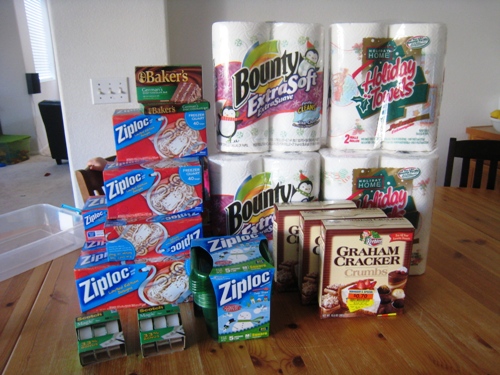 Grocery Spending Update
In the days leading up to Christmas I spent about $75 on miscellaneous purchases, including tamale supplies. I decided to go full bore and made 60+ tamales to freeze. Then, after Christmas I spent another $45 on some sale meat items as well as the above items in the picture.
That brings our monthly total to $690.
Pantry Challenge
Join me for a pantry challenge starting Sunday. Details are here. The basic plan is to make the most of what we already have and reduce spending over the month of January. You get to make your own rules, so don't feel intimidated. Some folks want to see how long they can go without shopping. I just want to be a good steward of what I have. Join us!
It'll be fun.
Really.
Did you find any great clearance finds this week?