Be prepared for guests and have your larder stocked with quick snacks and appetizers. Pulling together an impromptu snack tray will be quick and easy.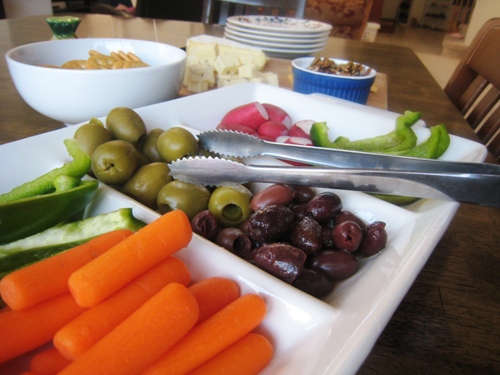 We like fun food around here. We like snacky food. We like to eat fun, snacky food with friends and neighbors.
And sometimes, especially around the holidays, friends and neighbors might drop by unexpectedly. I love a spontaneous little party.
And I love it even more if I have some snacks to offer my guests. Last week I told you about the Beverage Box. When I did my aisle by aisle cruise through Costco recently, I made sure we had everything we needed in terms of libations.
This week, the hospitality reminder is to stock up on snacks.
Consider the following to stash into the pantry, fridge, or freezer this week:
crackers and rice cakes
olives, pickles, and roasted peppers for a quick relish tray
tortilla or pita chips
nuts and seeds
hummus, salsa, or guacamole fixings
a variety of cheeses
cream cheese or Brie and a jar of raspberry jam
vegetable dippers
frozen spinach, yogurt, and cream cheese for Healthier Spinach Dip
apples and clementines
What did I forget?